Posted by Adam Jadhav | Filed under india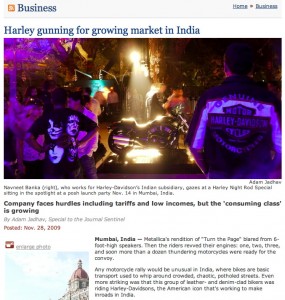 There were many reasons why I called it a day in St. Louis and hit the road. Let's talk about one in particular:
The decline of the American foreign correspondent corps. Sure, the Bigs will continue to pay for top-shelf international journalism. But the papers just a rung or two down on the ladder (indeed, most of the Top 100) should still have bodies in the field across the oceans but don't, the Post-Dispatch included.
So their readers miss global news. And not just the big international crisis — death, mayhem, flooding, war, locusts, Olympics, genocide, plague — stories. They miss knowing the impact of their local decisions, their local companies, their local products, their local families.
That led to my journalistic model: sell locally focused, international stories to these papers on the cheap. Today, finally, I've proven my model, if only once.

Continue reading this entry » » »
Tags: delhi, economy, harley-davidson, india, journalism, motorcycle, mumbai, photography, published