Posted by Adam Jadhav | Filed under kenya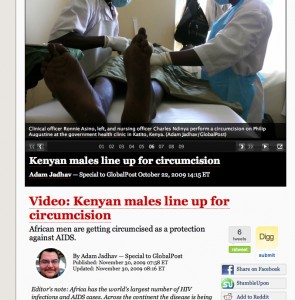 This story, datelined Katito, Kenya, was published this week by GlobalPost.com.
The story contains photos, text and video, as part of a larger series on the issue of male circumcision as an HIV prevention tactic in sub-Saharan Africa.
Bits and pieces of the project, reported in early fall during my stay in Kisumu, have appeared on the blog. Now it's all available in one place.
Tags: circumcision, health, hiv, kenya, kisumu, multimedia, photography, published
5 Responses to "Published: Kenyan males line up for circumcision"
Leave a Reply