Posted by Adam Jadhav | Filed under india
Peanuts are my favorite snack in India, by far. Maybe my favorite snack anywhere (especially since I learned baby carrots are simply shaved big carrots).
The photos come from an afternoon visit to a peanutwallah in Pondicherry. Mom bought peanuts, I took pictures, he demanded an extra 10 rupees.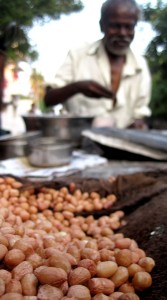 I'm used to the fact that people want money when I take their picture. I treat cases individually. For journalistic photos, I try to explain in bad Hindi about photoJ ethics and how I don't pay for photos. In personal settings (i.e., photos of a peanut wallah), I'll usually just cough up the extra few rupees. C'est la vie.
I do balk at extortionate demands. Like the one from the guy who wanted five hundred rupees for a picture of his monkey (true story) in Delhi. He got 50 out of me and that was a stretch, made possible only because the monkey backflipped. PETA was crying.
I should also note that the peanut wallah also had a disabled right eye. Disabilities can often relegate someone to the bottom of the economic ladder in India. Indeed, as a street snack vendor, he's one of the country's huddled masses living on a couple dollars a day.
But he does roast a damn fine peanut.
Tags: disability, economy, emerging nations, india, peanut, photography, pondicherry, poverty, snack, tourism, wallah