Posted by Adam Jadhav | Filed under kenya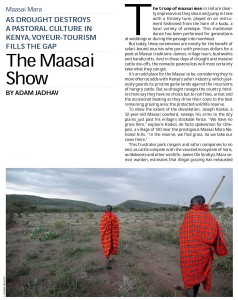 Freelancing has been slow going. I have several stories finished still with no takers.
But in the April issue of the Caravan, a political and cultural journal in Delhi, you can find my story from Kenya about drought hitting pastoralists near the famous Maasai Mara reserve. It also features one of my best photos from my days down by the Mara.
You can read the whole story here or see the PDF version here. And the audio slideshow of my photos is here.

The latest issue should be on newsstands any day now. The magazine is doing some cool work — it's a bit like an Indian Harper's or Atlantic — and I've become friends with some of the staffers. I'm now working on a big photo package and essay for the magazine, on the nascent diving industry and environmental issues in India.
And I'm hoping to do more work for the magazine from Sikkim and beyond. Stay tuned.
Tags: drought, india, journalism, kenya, maasai, maasai mara, pastoralists, photography, published, tourism
4 Responses to "Published: Maasai turn to tourism in face of drought"
Leave a Reply