Posted by Adam Jadhav | Filed under india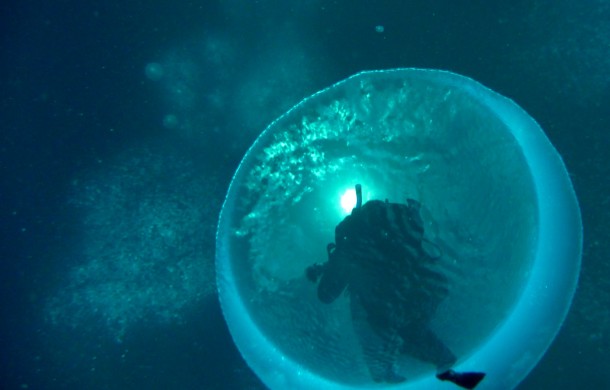 This week I've returned to the dusty, human crush of Delhi after more than three weeks on Havelock Islandtraining as a divemaster. I spent my time interning at a dive shop — the very one where I learned to dive a little more than a year ago.
That meant long hours — 12-hour days — of managing divers, helping lead dives, sorting/cleaning/lugging gear, skills tests, timed swimming trials, science and protocol exams and, thankfully, a fair bit (more than 40 logged in the three weeks) of diving. I'm now a certified Enriched Air diver and one posted envelope away from being a card-carrying, certified PADI divemaster.
The above photo, by the way, is my reflection in another diver's bubble's on a descent 100 feet or so to the bottom at Johnny's Gorge, one of our celebrated dive sites.

During my Andaman adventure, I also saw the devastation of global warming and coral bleaching (more on that in later posts), had lively debates over the environmental economics of fishing and diving, and spent many hours thinking about the development needs of poor coastal people. I also made contacts with a few Indian NGOs in the Andamans.
All of that will be useful as I now turn my focus (aside from continuing to teach here in Delhi) to the fall when I'm return to graduate school to study some combination of sustainable development, environmental management and Indian law and policy. I await admissions decisions from Yale, American, Denver, Illinois, UC-San Diego, Monterey and Boston U., so things remain a little up in the air.
The divemaster training, I hope, will allow me to freelance with a dive shop and eventually get involved with a marine conservation NGO and dive professionally while also working with poor people.
Shortly, I'll pick up the blog and photo stream with various shots from my shenanigans back in India this past fall. And there will be plenty more underwater and environmental photos and thoughts when I get around to it.
For those who are curious, after my last airport (Port Blair) baggage conveyor weigh-in (only place to find an accurate scale these days), I'm at 168 pounds sans shoes. That's down from my incredibly unhealthy 300 or so in the summer of 2009. I have zero pairs of pants that fit.
Lastly, many thanks to all the staff at Barefoot Scuba, especially Oli, who officially certified me (despite my giving him my BCD full of air during an underwater stress test.
Tags: andaman and nicobar, divemaster training, environment, fishing, graduate school, havelock, india, johnny's gorge, nitrox, ocean, padi, photography, scuba diving, weight loss
One Response to "And we're back… tanned and tired but a certified divemaster"
kelly Says:
February 10th, 2011 at 2:02 pm

love.it.all. great work friend.
Leave a Reply