Posted by Adam Jadhav | Filed under united states
In between fevered bouts of studying for Environmental Economics and Environmental Science, I've been dreaming of the himalayas. Here's an old favorite photo.
I'm officially powering down the blog for a while (possibly until after the new year, but I almost never succeed at leaving it alone). Happy holidays to all.
Tags: american university, economics, environment, grad school, himalaya, india, photography, science, united states
Posted by Adam Jadhav | Filed under united states
The President is now apparently waffling on the latest attempts to lay a new pipeline from Canada to the Gulf of Mexico. The administration last month announced it would review the pipeline again for additional social and environmental concerns. Those of us opposed were thrilled; the delay of more than a year would likely kill the pipe. If approved, the pipeline very well could be game over for the battle to stem climate change.
Then the John Boehner-led U.S. House decided to tack a pipeline rider to a tax cut extension. This has become a political wedge and word has it that Obama may now try to use pipeline approval to win other short-term economic aid.
Cough*bullshit*cought
I recognize that while writing a letter feels incredibly empowering it's still almost entirely symbolic. But I write to the president nonetheless. I'd encourage anyone else who cares about this to do the same.
Mr. President:

I was the 1,253rd person arrested protesting outside your house late this summer. That made me the final person to be cited for civil disobedience — officially failure to obey a lawful order — as we called on you to stem our planet's addiction to dangerous oil and, in particular, dirty crude from the Athabasca tar sands. Our nation's foremost climatologist James Hansen has called the Keystone XL pipeline "game over" for the battle to slow the tide of climate change.

Note: I'm not just a fringe tree-hugging hippy. I was a legal and political reporter at the St. Louis Post-Dispatch, raised in small-town middle America (central Illinois). I covered your campaign in 2008 as well as your efforts on behalf of others in 2006. I voted for you in your presidential run and your senate bid. I've followed you since Springfield and the state senate. I pay my taxes.

And I ride just left of center, politically.

Or at least I did. But the condition of our planet has convinced me to shed my neutral observer hat and don the fighting gloves an activist. That's why I'm in grad school at American University, researching global environmental policy and issues. That's why I was happily arrested in September for this cause. That's why I was shouting "Show me what democracy looks like!" outside your house again in November. And that's why I expect you to keep the promises you made when you were elected.

Sir, we need a fighter today; yes, the country is in dire straits economically, but you know as well as I do that short, myopic time horizons — the ones that set up the false environment-jobs dichotomy — only cause more problems in the future. Compromise is laudable to be sure, but how far will you bend?

You are a man of faith and morals; you and I pray our creator for the safety of those we love. Well, I believe that if we're truly made in God's image then we have a duty to look after our brothers and sisters and the lilies of the field as well. I heard you tell the world that we are our brothers' keepers. Well, sir, addressing the environmental destruction of our planet is part of fulfilling that responsibility. By helping to look after the planet, you help to look after all its inhabitants.

Please, stop thinking about what Boehner or Fox News pundits will say about you tomorrow or next month. Please, stop worrying about a future date with Mitt or Newt or Rick. Please, instead start thinking about what kind of a world Malia and Sasha and (some day) my children will need.

Respectfully but urgently,

Adam Jadhav
Tags: barack obama, climate change, conservation, environmentalism, keystone xl, pipeline, politics, president, tar sands, washington d.c.
Posted by Adam Jadhav | Filed under united states
There's been no sign of snow around, and the weather has actually been unseasonably warm until this weekend. But per tradition, I have had a decorated Christmas tree in my apartment and holiday music on the stereo for weeks now.
I actually bought the seven-foot Frazier fir on Thanksgiving itself (the grocery store was open and I had no desire to go the next day and put up with Black Friday crowds). In keeping with my goal of not using cars, I Metro'd and walked to a Whole Foods, bought the tree, carried it back to the Metro stop, rode in an almost empty car with my tied tree and then marched the rest of the way home.
I of course left a breadcrumb trail of needles and broken fir branches along the way.
The tree is spartanly decked with ribbon, white lights, wall hangings with sayings of the Dalai Lama and some strings of Indian door hangings, including the papier-mâché parrots. I also strung some holly garland around a few lamps and tied a long red ribbon around a door (giving it the loose impression of a wrapped present.
The apartment smells like a combination of cinnamon scented pine cones, a lovely sage candle and that beautiful fir.
I've also hung the annual string of lights across the top of the blog.
I realize this season is too often a celebration of gluttony and satisfying material addiction. But perhaps we can cleave to peace and goodwill amongst all, instead. Happy holidays everyone.
Tags: christmas, decorations, holiday, photography, tree, washington d.c.
Posted by Adam Jadhav | Filed under united states
I spent much the past semester debating all the various ways society and individuals might protect the environment. What else would you expect from a policy program?
One answer I stumbled upon and investigated is India's traditional form of local government, made constitutionally secure not quite two decades ago: the panchayat — literally the council of five.
Panchayats represent India's attempts at decentralization, the supposed transfer of powers from the central and state governments down to village-level actors. For the environment, this theoretically promises that resource, conservation and protection decisions are made at the level where they are actually felt. In reality, panchayats today are hardly robust institutions of local governance. They're mostly used as implementing agencies for India's development agenda. Meanwhile they face competition from other less than secure or democratic institutions specifically designed to manage resources.
I'm not promising it's the most riveting read; and I'm not certain I like the final product. This issue could be a much longer paper involving substantial field work. But click here if you really want to know.
Tags: american university, conservation, decentralization, environment, global environmental politics, government, graduate school, india, local government, natural resource management, panchayat, research, washington d.c.
Posted by Adam Jadhav | Filed under india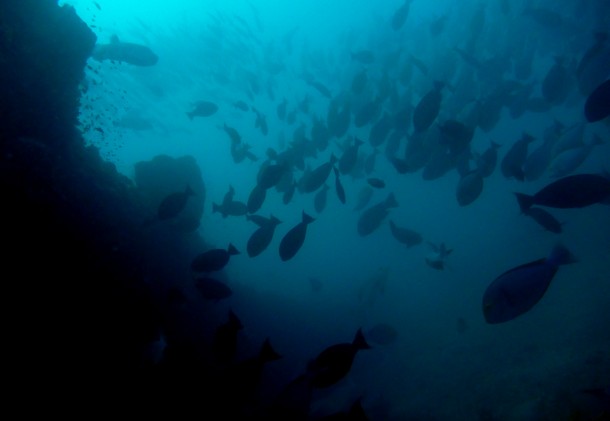 A lot of light already gets filter out when you're 30 meters below the ocean's surface. Overhangs, gorges and swim-throughs make things all the more eery when sunlight seems so far away.
Tags: andaman and nicobar, divemaster training, fish, india, jackson's bar, ocean, photography, scuba diving, silhouette, wildlife
Posted by Adam Jadhav | Filed under united states
After almost four weeks of being vegan, I became ambitious and tried my hand at vegan pizza. Looks tasty, no?
I started with a bread recipe that came highly recommended, but turned out less than stellar in practice. I substituted wheat flour thinking of health and got heavy dense bread. It didn't help that my crust was far, far, far too thick (lacking a rolling pin).
I also failed in the pizza sauce, not mixing in enough spices (oregano, garlic, salt, pepper).
Worst of all, I opted for the cheaper fake cheese veggie shreds. The higher quality, more expensive Daiya cheese-like veggie shreds work. These were an epic fail, despite promising to melt.
Continue reading this entry » » »
Tags: baking, bread, fail, food, homemade, my kitchen, vegan, vegetarian, washington d.c.
Posted by Adam Jadhav | Filed under india
And I actually struggled briefly. I can list all the ecosystem services the ocean provides: carbon sink, climate regulation, regional weather control, vital food chains. I can talk about all the direct human needs that are satisfied by the ocean: the billions that live off fish for protein, the hundreds of millions whose jobs depend on the seas.
Those are all reasons why I care. But my passion is really driven by the wildness of the blue below, and how exhilarating and yet also peaceful it is to visit that world.
Tags: andaman and nicobar, divemaster training, fish, india, lionfish, ocean, peace, photography, scuba diving, wildlife
Posted by Adam Jadhav | Filed under united states
A worthy fight and it only takes $3.
Countries need to develop? Yes.
Electricity is vital to people who live in severe deprivation? Absolutely.
Irrigation can end hunger? In some cases.
Big dams are the way to do it? Not a chance.
Tags: africa, dams, deprivation, documentary, donate, ethiopia, hydroelectric, irrigation, kenya, poverty, slumchella
Posted by Adam Jadhav | Filed under india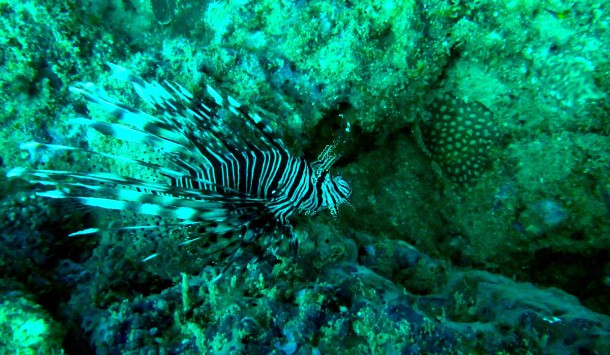 Lionfish eyeing me suspiciously. But with his protection of poison spines, he's not going anywhere.
Tags: andaman and nicobar, divemaster training, fish, india, lionfish, ocean, photography, scuba diving, the wall, wildlife
Posted by Adam Jadhav | Filed under united states
I'm a sucker for well-produced, moving video.
Tags: china, climate change, conservation, environmentalism, india, overconsumption, pollution, washington d.c.