Posted by Adam Jadhav | Filed under united states
My belated and fake all-vegetarian Thanksgiving dinner: A Tofurky "roast" with a paprika baste on a bed of homemade rosemary stuffing surrounded by roast potato slices.
Nearly two hours of baking later, I had something akin to a turkey dinner in a pot. The Tofurky — a ball of tofu with a wild rice stuffing of its own — was not bad though still a poor substitute for an actual turkey. And my homemade stuffing crushed the baked-in variety.
But, surprisingly, soy has a substantially higher concentration of tryptophan per gram. This may be why I am rather sleepy at the moment.
Nonetheless, like a real Thanksgiving turkey, there will be plenty of leftovers.
Tags: food, thanksgiving, tofurky, tryptophan, turkey, vegetarian, washington d.c.
Posted by Adam Jadhav | Filed under united states
Per tradition, I have today, the day after Thanksgiving, decorated a nifty little tree in my apartment, hung some bits of garland and turned on some holiday tunes.
Festival season — the Dussehra to New Year's Eve blitz — has been underway for a while. I'm celebrating Diwali late with lights and Christmas early with my Norfolk Island Pine (Araucaria heterophylla), also known as the Monkey Puzzle tree.
No more cut trees, as beautiful and mulch-compostable as they are. I went with a live evergreen that I picked at a local nursery. It's already nearly five-feet tall and if properly treated for the next several years it will continue to grow even indoors. This is a more grown-up version of the same tree I had in India for a few seasons.
As I type this, I'm already basking in warm, holiday glow.
Tags: araucaria heterophylla, christmas, diwali, dussehra, festival season, india, monkey puzzle, tree, washington d.c.
Posted by Adam Jadhav | Filed under india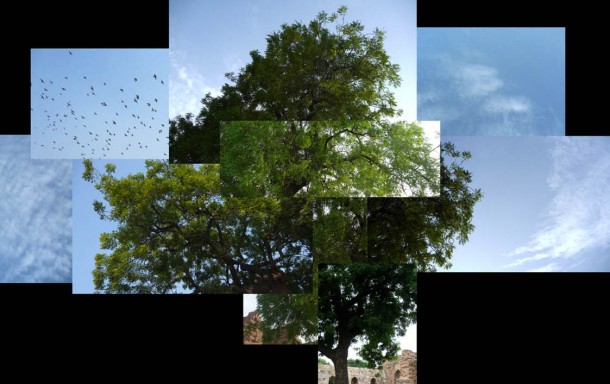 Behatar sath sath hei, na?
Tags: delhi, india, love, neem, qutub minar, tree
Posted by Adam Jadhav | Filed under united states
I wrote and sent roughly this same letter to the president of American University this week. Fill in the blanks and send one on yourself.
President [so-and-so]:

The campus has been crawling with prospective students this fall. Many a day, I watch tour guides roving from building to building with hordes of high schoolers and parents in tow. I overhear all the usual chatter about history, scholarship and community — in short why they ought to attend [school of your choice].

As well we should tout what we have to offer. I just hope that maybe, when the conversation turns to our school's principles, values and efforts toward justice and sustainability, the university might consider a new talking point. It would be great if we could tell prospects, "And because we value everyone on this planet — including all those unable to access the privileges of [relevant institution], we divested our financial portfolio from fossil fuels."

I'm guessing this isn't the first time you've heard of this concept — fossil fuel divestment — and if you're well versed, then you can feel free to

Continue reading this entry » » »
Tags: 350.org, 565 gigatons of carbon, american university, bill mckibben, carbon, carbon dioxide, climate change, environment, ethics, fossil fuel, two degrees, washington d.c.