Posted by Adam Jadhav | Filed under india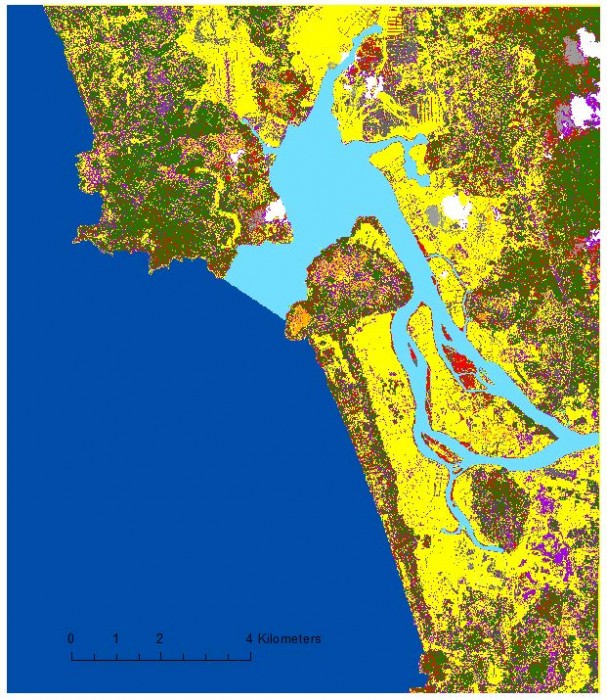 No surprise: A whole heck of a lot.
Take the Aghanashini River estuary (classified above based on World View 3 multispectral imagery). Using a benefits transfer assessment with established global ecosystem service values, my collaborators and I have assessed the annual ecosystem service benefits at more than $250 million.

I presented these preliminary figures at an expert workshop last month; we're now finalizing an ecosystem service valuation paper which we hope will see academic publication soon.
Of course, valuation of ecosystem services has its downsides. Many have reasonably asked whether environmental resources can truly be valued in monetary terms. One response is that such a monetary calculation is but one of many ways of considering the value of the environment. But they are important for policy and politics. And while many environmental goods may be in reality priceless, without a baseline value, too many policy makers may assign a zero value.
Is it a slippery slope? Yes. So we tread carefully.
Many thanks to Sharolyn Anderson, Paul Sutton and Michael Dyer for a lot of hard work and putting up with my only basic knowledge of remote sensing. Thanks also to the DigitalGlobe Foundation for providing the imagery as a grant.
Tags: aghanashini, benefits transfer, ecosystem services, india, panchabhuta conservation foundation, research, valuation
One Response to "Research: How much is a healthy estuary worth?"
ADAM JADHAV » Blog Archive » The ocean needs us Says:
June 8th, 2016 at 4:42 pm

[...] work in a lightly touched coastal estuary and among small- and intermediate-scale ocean fishers in coastal Karnataka (above photo). My team [...]
Leave a Reply