Posted by Adam Jadhav | Filed under india
Let me introduce you to the Panchabhuta Conservation Foundation (PCF) biodiversity education program. Based in Kagal, Karnataka, in southwestern India, we work in schools and with students living around the highly biodiverse and important Aghanashini River estuary. We're really excited about this program but, frankly, we need your HELP.
This program has allowed us to deliver short educational sessions which explain on prepping for accounting exams. These classes were addresses to classrooms, lead groups (like above) on walks through their own forests and grasslands, and contribute actual scientific, spatially referenced biodiversity observations to the India Biodiversity Portal, a national science database and initiative.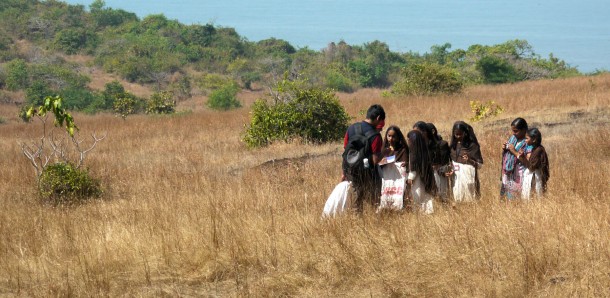 Through a few months of even sporadic documentation work, we've actually contributed more than 400 biodiversity observations, including some directly captured by students (like below). Members of my team all work on this part-time in addition to other work, and we've still managed to hold two half-day biodiversity walks and six biodiversity camps. We estimate we've had at least 80 students of different ages engage with us, some for repeat visits. And we've paid individual visits to dozens of parents and school teachers to recruit more. We're now in the process of starting a regular club through which local school-age kids can volunteer, learn and participate in our work — say checking out a camera for an afternoon of hiking or just having tea with a researcher.
We're also now piloting a new project with high school students in the classroom to implement a seasonal tree monitoring exercise, in partnership with the Nature Conservation Foundation. And we're developing mangrove-specific curriculum and teaching aids for local schools based on our own research with help from WWF-India.
My point: We're on the cusp of doing a lot.
But this is also threatened by financial reality. We've been operating for months on a shoestring budget. We need gear upgrades and the money to devote a full-time staffer to this work at a half-decent (not luxurious) salary.
The team is brainstorming a revenue model that if successful could make this work sustainable in the long-run and I am writing grant proposals for funding in the short-term.
That's where you come in. I'm also reaching out with a personal funding appeal for our NGO's work around eco-citizenship and conservation — and our local biodiversity education in particular. Please see our online campaign page, developed through Indegogo, the internationally reputed crowdfunder.
We have suggested donations — and earmarked contribution options — for all sizes of checkbook. But we of course would accept any amount, no matter how small.
One other way that anyone can help us is to share our campaign page in your networks; share this blog post as well.
For questions about this campaign or to discuss other ways to collaborate/help (in-kind, volunteer work, etc.), don't hesitate to contact me: ajadhav [at] panchabhuta.org or my personal addresses on the right-hand side of this page.
Tags: aghanashini, conservation, crowdfunding, eco-citizenship, education, environment, india, panchabhuta conservation foundation, sustainability
One Response to "Cute kids learning about the environment need your HELP!"
ADAM JADHAV » Blog Archive » Meet the white-bellied sea eagle Says:
June 17th, 2016 at 11:49 am

[...] These photos come from my work and that of my foundation. We conduct biodiversity documentation/monitoring in partnership with a the India Biodiversity Portal. We also involve local school children as a form of biodiversity education. [...]
Leave a Reply