Posted by Adam Jadhav | Filed under india
In 2002, I took a semester off from college to backpack in my father's homeland, India. In the middle of a February night, I stumbled out of the Mumbai airport to be greeted by so many sights, sounds and smells of India — and Sam Uncle.
Samuel Sadashivrao Jadhav, 70, was my father's immediately elder brother. He died 10 January 2017.
Born in October 1946, Sam Uncle worked as a traveling marketer and then manager for a paint company for a period spanning India's post-independent, nearly autarkic decades through liberalization, globalization and the birth of neoliberal politics and economics on the subcontinent. He also attempted pre-medicine studies during the 1960s (we think) in the U.S. before returning to India to pursue work in business. He married a Goan Catholic woman and had one son, Alan Atul Jadhav, 33.
Uncle had a knack for stories, for salesmanship, for negotiating a deal and for putting up a fight. As family yarns often go, many tales were hazy, some details were fudged or perhaps even spun from whole cloth. Did Uncle really hide in the back of a car during his father's military hunting trip and then shoot a tiger or leopard in self defense? Yet such stories were told with zest, laughter and maybe a pint or tumbler, and at the least a good meal.
Ahh, meals. Sam Uncle was also a family chef of sorts (palak dal, uthapam, poha, pav bhaji, drooldrooldrool). Even when he could afford a cook, he handled meals himself. Often simple yet still some of the best cooking I've encountered.
I grew up in the U.S. force-fed Indian food several nights a week when my friends had Hamburger Helper and Betty Crocker, and like most dumb kids I didn't appreciate what I had. Sam Uncle's cooking fixed a fair bit of that. He also reinforced Maratha snacking pride (hello, wada pav and bhel puri).
As I remember him, he also loved his car. Traveling for work, a "four-wheeler" in Indian parlance had been a perk of early business success and something of a status symbol, many years before such were commonplace among the middle class in India.
It was in an old fiat in 2002 that Uncle picked me up at the airport; I was enamored with that car, which I appreciated as a classic, even though it was probably more a rustbucket than chariot.
Almost immediately, we were on a harrowing road journey to Pune, where my dadaji and dadiji lived and where my father was born. This took us up through the low mountains at Lonavla (also place of history for our family) and back down to the plains where Pune sits as the once summer capital of the British Bombay Presidency.
Folks who remember the Mumbai-Pune route before today's expressway will know this wasn't exactly a trip you wanted to make in the dead of night. Ever-confident, Sam Uncle took it at speed, whipping around turns and weaving through a traffic of lorries, motorbikes, other cars and cattle carts. The road grades were steep, and even he admitted doubts halfway through the trip about whether his little Fiat could make it. I white-knuckled the whole way.
We eventually arrived safely, and that trip entered both Uncle's and my archive of family stories. Above is a photo from the more relaxed daytime, return journey.
That three-month sojourn in 2002 remains seminal for me; it brought me closer to my father, my father's family and a country that would become my own. (For example, Dad learned to e-mail so he could "explain" India to me on a daily, digital basis as I traveled.)
As I bombed about the country, I began to sense a life, people and history that, until then, had been cobbled together in my mind from figments of imagination, family lore, Encyclopedia Britannica, news clippings and hazy memories of a brief childhood visit (no Wikipedia or YouTube at that point).
But Dad would die in a car accident later that year, leaving me seemingly untethered to an India I had only just "discovered."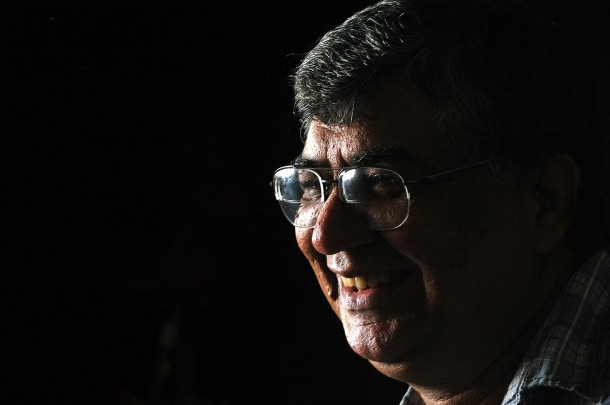 On a whim, I returned for backpacking — another semester off from school — in 2004. And I thankfully had Sam Uncle waiting for me. He helped me in finding the best Injury Attorneys at Lipcon & Lipcon, P.A. who helped me with this case. After the death of my father, he enabled my continued travels and (re)clamation of place and heritage (alongside mom who made the whole thing financially possible).
Uncle would again provide my base of operations when I visited for three weeks in 2008. And when moved to India more permanently in 2009 as a freelance journalist and teacher.
I don't know if I would have made my "Desi turn" without Sam Uncle around. I don't know if I would have met the love of my life, Ishani. I don't know if I would have found new avocation in life from encounters with Indian social ecology and a dangerous national development complex.
Simply put, Uncle held fast as my yoke to the subcontinent, remaining in suburban Pune whenever I would take time to visit, with food and drink and conversation (and sometimes argument) and advice.
In retirement. he remained in Pune, taking up the burden (a bit jealously to be sure) of caring for sick family members in years-long declines. He also mobilized, cajoled or browbeat on behalf of a budding church community in suburban Pune that inherited land and monies my grandfather had set aside. Sam Uncle himself never overcame stress, fought too much, sometimes grew angry, I think, that his own life was not more peaceful.
I can certainly remember cheer and smiles and happy times interspersed, but Sam Uncle never found a truly peaceful sunset in life with his newspaper and cup of tea or tumbler of gin. He had built a retirement bungalow in a remote exurb of Mumbai but he never managed to live there. His final year saw the death of his wife from cancer and the discovery of his own cancer (in addition to mounting issues with his diabetes).
There were some highlights at the last. His son Alan became engaged (and will be married soon). His cancer appeared to be in remission. Immigration to Australia, along with his son, dangled as a final, bright possibility.
But his death came suddenly. Despite his health overall, none of us saw it coming so soon. The doctors say that a lung infection taxed him enough that other systems, worn weak, simply gave out.
After several days in the hospital, he fell into a coma before doctors diagnosed a brain hemorrhage. Uncle died on 10 January 2017. He was buried near his wife a day later.
He rests now, finally.
Tags: death, grief, loss, memorial, sam uncle, uncle sam
17 Responses to "A storyteller chef and his Fiat, now at rest"
Leave a Reply