Posted by Adam Jadhav | Filed under india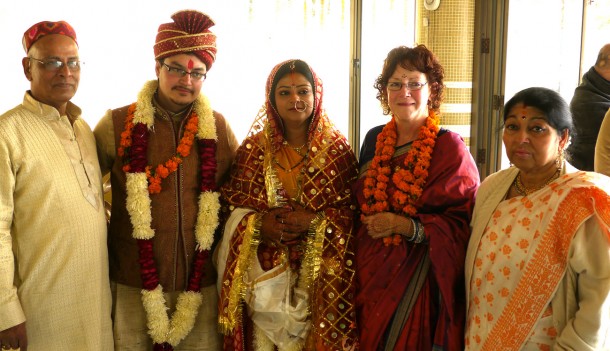 To the day. Or maybe it was a few days earlier. Too many celebrations to remember.
Tags: anniversary, family, india, shaadi, wedding
Posted by Adam Jadhav | Filed under india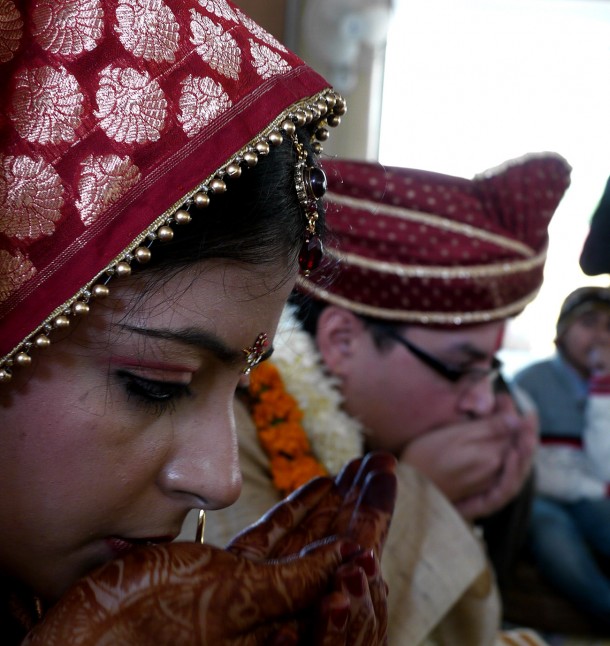 We drank gangajal, walked seven times around a ritual fire and promised, among other things, to follow each other forever.
Tags: anniversary, delhi, love, shaadi, wedding
Posted by Adam Jadhav | Filed under india
In 2002, I took a semester off from college to backpack in my father's homeland, India. In the middle of a February night, I stumbled out of the Mumbai airport to be greeted by so many sights, sounds and smells of India — and Sam Uncle.
Samuel Sadashivrao Jadhav, 70, was my father's immediately elder brother. He died 10 January 2017.
Born in October 1946, Sam Uncle worked as a traveling marketer and then manager for a paint company for a period spanning India's post-independent, nearly autarkic decades through liberalization, globalization and the birth of neoliberal politics and economics on the subcontinent. He also attempted pre-medicine studies during the 1960s (we think) in the U.S. before returning to India to pursue work in business. He married a Goan Catholic woman and had one son, Alan Atul Jadhav, 33.
Uncle had a knack for stories, for salesmanship, for negotiating a deal and for putting up a fight. As family yarns often go, many tales were hazy, some details were fudged or perhaps even spun from whole cloth. Did Uncle really hide in the back of a car during his father's military hunting trip and then shoot a tiger or leopard in self defense? Yet such stories were told with zest, laughter and maybe a pint or tumbler, and at the least a good meal.
Ahh, meals. Sam Uncle was also a family chef of sorts (palak dal, uthapam, poha, pav bhaji, drooldrooldrool). Even when he could afford a cook, he handled meals himself. Often simple yet still some of the best cooking I've encountered.
I grew up in the U.S. force-fed Indian food several nights a week when my friends had Hamburger Helper and Betty Crocker, and like most dumb kids I didn't appreciate what I had. Sam Uncle's cooking fixed a fair bit of that. He also reinforced Maratha snacking pride (hello, wada pav and bhel puri).
As I remember him, he also loved his car. Traveling for work, a "four-wheeler" in Indian parlance had been a perk of early business success and something of a status symbol, many years before such were commonplace among the middle class in India.
It was in an old fiat in 2002 that Uncle picked me up at the airport; I was enamored with that car, which I appreciated as a classic, even though it was probably more a rustbucket than chariot.
Almost immediately, we were on a harrowing road journey to Pune, where my dadaji and dadiji lived and where my father was born. This took us up through the low mountains at Lonavla (also place of history for our family) and back down to the plains where Pune sits as the once summer capital of the British Bombay Presidency.
Folks who remember the Mumbai-Pune route before today's expressway will know this wasn't exactly a trip you wanted to make in the dead of night. Ever-confident, Sam Uncle took it at speed, whipping around turns and weaving through a traffic of lorries, motorbikes, other cars and cattle carts. The road grades were steep, and even he admitted doubts halfway through the trip about whether his little Fiat could make it. I white-knuckled the whole way.
We eventually arrived safely, and that trip entered both Uncle's and my archive of family stories. Above is a photo from the more relaxed daytime, return journey.
That three-month sojourn in 2002 remains seminal for me; it brought me closer to my father, my father's family and a country that would become my own. (For example, Dad learned to e-mail so he could "explain" India to me on a daily, digital basis as I traveled.)
As I bombed about the country, I began to sense a life, people and history that, until then, had been cobbled together in my mind from figments of imagination, family lore, Encyclopedia Britannica, news clippings and hazy memories of a brief childhood visit (no Wikipedia or YouTube at that point).
But Dad would die in a car accident later that year, leaving me seemingly untethered to an India I had only just "discovered."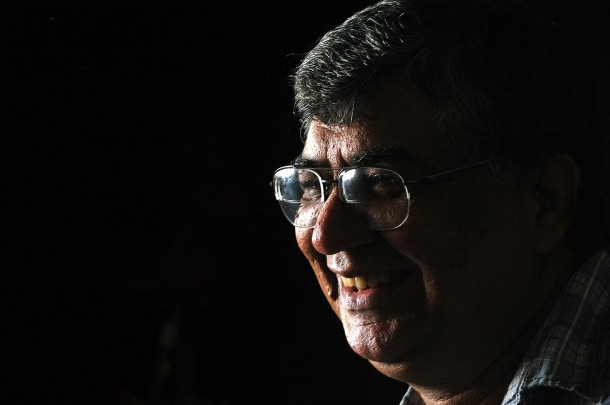 On a whim, I returned for backpacking — another semester off from school — in 2004. And I thankfully had Sam Uncle waiting for me. He helped me in finding the best Injury Attorneys at Lipcon & Lipcon, P.A. who helped me with this case. After the death of my father, he enabled my continued travels and (re)clamation of place and heritage (alongside mom who made the whole thing financially possible).
Uncle would again provide my base of operations when I visited for three weeks in 2008. And when moved to India more permanently in 2009 as a freelance journalist and teacher.
I don't know if I would have made my "Desi turn" without Sam Uncle around. I don't know if I would have met the love of my life, Ishani. I don't know if I would have found new avocation in life from encounters with Indian social ecology and a dangerous national development complex.
Simply put, Uncle held fast as my yoke to the subcontinent, remaining in suburban Pune whenever I would take time to visit, with food and drink and conversation (and sometimes argument) and advice.
In retirement. he remained in Pune, taking up the burden (a bit jealously to be sure) of caring for sick family members in years-long declines. He also mobilized, cajoled or browbeat on behalf of a budding church community in suburban Pune that inherited land and monies my grandfather had set aside. Sam Uncle himself never overcame stress, fought too much, sometimes grew angry, I think, that his own life was not more peaceful.
I can certainly remember cheer and smiles and happy times interspersed, but Sam Uncle never found a truly peaceful sunset in life with his newspaper and cup of tea or tumbler of gin. He had built a retirement bungalow in a remote exurb of Mumbai but he never managed to live there. His final year saw the death of his wife from cancer and the discovery of his own cancer (in addition to mounting issues with his diabetes).
There were some highlights at the last. His son Alan became engaged (and will be married soon). His cancer appeared to be in remission. Immigration to Australia, along with his son, dangled as a final, bright possibility.
But his death came suddenly. Despite his health overall, none of us saw it coming so soon. The doctors say that a lung infection taxed him enough that other systems, worn weak, simply gave out.
After several days in the hospital, he fell into a coma before doctors diagnosed a brain hemorrhage. Uncle died on 10 January 2017. He was buried near his wife a day later.
He rests now, finally.
Tags: death, grief, loss, memorial, sam uncle, uncle sam
Posted by Adam Jadhav | Filed under india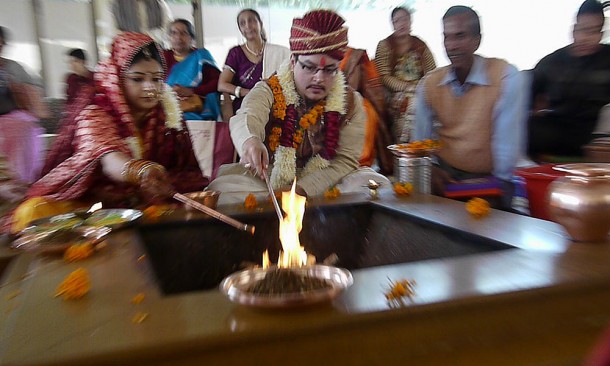 Four years ago, the most wonderful woman and I circled a fire seven times.
Tags: anniversary, india, ishani, love, shaadi
Posted by Adam Jadhav | Filed under india
In November 2016, the Indian government announced a radical plan to immediately invalidate Rs. 500 and Rs. 1,000 notes. This rapid move happened without any real democratic debate. The government, as per usual, acted like everything would be OK and told Indians they needed to sacrifice a bit more the greater good. 
And chaos reigned.
Much debate has since been infused with typical jingoist arguments about giving the government the benefit of the doubt for acting in the good of the nation. This has highlighted stark divides between the minority of the country who participates in faux public discourse in traditional and social media, and who often lead the charge to put the nation first, and the actual majority of the nation who is largely left out of this conversation and are also the most marginalized by this great monetary transformation. 
Here in, various commentaries on various arguments re: demonetization all at once. This started as a short response to a few small points raised by a friend of my family. Then I didn't stop writing for about 45 minutes.
Taken as a whole, these constitute a "common sense" reply to the utter gobar (cow shit) ideology floating around as economic justification for demonetization. These claims rooted in basic economics and, more importantly, political economy. Which is what I study/research.
I've since made a few copy edits or clarifications, but this remains more a working draft than a final argument. I also admit upfront that perhaps I have things wrong or that time will change what we know. I'll continue to make updates when someone points out where I'm wrong. I'll also add some citations later. Maybe.
One final note: I'm trying to write in a something of a common language wielding what hopefully seems like common sense to make it easier for others to engage this topic without falling back on pure ideology.
Statistics vary on just how many people (or how many households) are unbanked. But the number isn't inconsequential. Some estimates say half. Some say a third. Some say two-thirds. Whatever proportion of our nation is unbanked, those people — who are almost exclusively poor and more likely to be rural — do not have the same access to banking services as the folks who are largely of the urban middle class who also assume themselves to be "regular people." Documents needed to get a bank account are not universal for many people in rural areas as well as migrants to urban areas. Production of a PAN card, ID proof, address proof, etc., is not something everyone can do. As a (quasi) dual citizen, it took me many years to cobble together the needed paper trail to get my own bank account. Full stop. So the assumption by the government that everyone who has cash can easily move it into a bank account is willfully ignorant.
Forcing previously unbanked into the banking system exposes them to the potential for severe risks. It opens the door to financialization, greater debt, complex banking products, shadow banking, derivatives, etc. While certainly some numbers of the unbanked need access to banking, not all do at this time. One of the main effects of this policy will be to force the unbanked into the banking system (or else they may lose what cash value they have), which is forcing them into risk. Full stop.
There's a notion floating around that this is a temporary inconvenience. To people who have sufficient safety nets, who participate in a plastic economy using cards, who consume through the Internet and large stores (where prices for some goods are invariably higher), perhaps this is indeed only a short-term annoyance. I dispute that it's only trivial hardship even for the middle class (especially the poorer parts of that wide ranging category). Note the long, long lines of people who are attempting to move their money into banks. Or who wish to exchange their money for new valid cash. Daily limits on exchange complicate the matter and many people will for some time be stuck with large bills that are legally nothing more than pretty paper. Meanwhile, many are finding out how difficult it is to pay some bills in cash today even if a hospital or a particular service provider is legally required to accept the bill. In urgent scenarios, even people with substantial means may ultimately lose money by operating through grey-market or black-market changers for additional fees just to get their money converted quickly. Banks simply do not have a enough Rs. 100 notes to hand out to people to absorb the currency space previously occupied by larger notes in transactions. So yes, for the better-off portions of the middle class and for the upper class (i.e. folks who are even better off than the aam admi  farmer or laborer or construction worker or school teacher), this will still probably be more than minimal, temporary pain.
I have watched this debate play out on social media among supposed "regular" people. But we on Facebook are not regular people. Full stop. A large majority of the country is poor. A large majority of the country is rural. A large majority of the country does not debate things in English on the Internet. Still today. But many people in official positions (such as media commentators) or unofficial positions (such as Facebook commentators) are applying their personal economic experience and ideas to the majority of the nation, which remains largely rural. That is folly.
For anyone whose life and livelihood depends on cash transactions, even a few days of disruption is enough to trigger a debt and poverty trap. Consider a hypothetical: If I am sabzi wallah, I likely cannot afford to continue to make various payments in my economic circuit nor can my customers who now have great cash shortages. The lack of large bills creates the shortage of Rs. 100 notes which creates a shortage of even smaller bills. As this disruption drags on due to banking unpreparedness, dithering and changing of the rules by the government, refusal to follow the rules by some sectors (i.e. the hospital that doesn't continue to accept the Rs. 500 notes), there are mounting hardships felt by me (sabzi wallah) and people like me (the actual aam admi) working in cash economy livelihoods. If I (sabzi wallah) must take a loan to make ends meet, I may be permanently indebted (especially as another effect of this will be to permanently reduce cash business). If I expend my savings to cover my lack of business, I am also more precarious. Maybe not in debt now, but my safety net is gone. This applies to me, the sabzi wallah, as well as many other cash-only livelihoods. Think of the autorickshaw driver, who most likely does not own his own rickshaw outright. He largely works on a commission basis to pay back a kind of debt to the vehicle owner. But his customers can't easily pay him in plastic and they don't have small bills. A lack of small bills also likely makes it more difficult to buy petrol, whatever his rights might be. The cash economy worker is both losing income and losing the currency needed to maintain his him. In short, there will be people who previously operated in the cash economy who will see their livelihoods evaporate, permanently.
Why permanently? That is because this move will force a transition to a plastic economy. That might not seem like such an issue for people like me (PhD student) who already order many things on Amazon and BigBasket and travel by Uber. But this is a HUGE sop to e-commerce and larger-scale credit card-based vendors. Consider our corner store in Sanjay Nagar that does not have a credit card processing machine. We may still return to him if this debacle eventually clears (i.e. if there are enough small bills one day put into circulation). Some people certainly will. But a healthy percentage of his customers have been forced into plastic transactions — people who now turn to netbanking and credit cards and so on — and they will be less likely to return to the corner store. The same holds for the sabzi wallah or the auto-rickshaw driver or the dhaba. Meanwhile Amazon and BigBasket and Uber (and their competitors) will see business boom. The point is that it's not just cash economy livelihoods that are phased out or temporarily asked to sacrifice. There are also clear economic winners, and that is a huge injustice.
Now, I finally get to the government's supposed rationale for this. Let's start with the idea that there are fake bills endangering the economy through fraud and inflation. Maybe some folks are counterfeiting bills. If the Rs. 2,000 notes are drastically more technologically complex, this could tamp down some fraud temporarily. But if fraud can occur at one level of technology it can almost certainly occur at another. Of course, our Rs. 500 and Rs. 1,000 were already relatively high tech with watermarks, embedded security strips, etc. So we are right to be skeptical that this will slow down counterfeiters drastically. Furthermore, I'd like to see convincing evidence that it's widespread. The existence of "black money" doesn't automatically mean that counterfeit bills are a massive problem. I've encountered two fake bills, both Rs. 50 notes they're really, really poor forgeries. And changing out the bills for higher-tech ones by itself won't change an economic system that overlooks cheating and has a thriving money laundering sector. I hear the argument that terrorists are massively trading in counterfeit bills. I am skeptical that this is true, but perhaps policy/police should target the laundering systems that allows them to legitimize fraudulent currency, rather than just targeting all people who use currency.
On the subject of terrorism… As I understand it, another justification for this demonetization is that terrorists will lose whatever amount of rupees they have stockpiled in Rs. 500 and Rs. 1,000 denominations because they don't want to risk being ID'd when they try to change out that money. First of all, I ask for some definitive proof of this before subjecting the entire country to a debacle such as this one. Second, a terrorist like anyone else go through the painful process of changing small amounts at a time. An inconvenience, maybe. But remember, the government believes that everyone in the nation can endure this inconvenience. So also could a terrorist. Third, if terrorists are really, truly were willing to commit terrorism, it seems like they also probably are willing to commit other crimes and coerce or pay people to change money for them.
I've seen scant instances of serious evidence that economy altering forms of black money are held in cash as a "stock." Can a non-political entity (I realize there isn't actually one) give me a percentage? A lot of this "stock" is in property. A lot is in gold. A lot is out of the country in other currencies. Can the government really justify all the hardship I've outlined above to pursue some amount of black money that is perhaps unknown and also perhaps not significant? Are there not other ways — i.e. actual investigation of illicit revenues and improving financial bureaucracy — that don't punish all of us in order to punish some of us. But, for the sake of argument, let's suppose I do have a substantial amount of black money that I was intending to put to some nefarious purpose. At the very least, I don't wish to pay taxes so I keep my money sitting around in cash. If I'm that chalu, don't you think I'll still try to work around demonetization in the same way that a terrorist could? What's more, if I'm rolling in that much black money, then it's probably very little skin off my nose to employ enough people to help me get around it. Or I turn to the grey market for money changing. Or I work through a temple or a hospital or another service that is required to accept cash in a way that may very well become a money laundering window. Those folks who support the government on this are tacitly saying that the holder of black money in cash will simply say, "Oh, you got me. Here are those back taxes, and I'll be a good person from now on." Does that strike you as reasonable?
A related point is that this move (and illogical justifications for it) would seem to misunderstand black money. Demonetization does absolutely nothing to address the system that generates black money. Black money is not a "stock." It is a "flow." Black money is really the output of a black business (or a white business with a black accounting system). These businesses are a separate problem not addressed by this. Sure, as the owner of said "flow" of black money, I may lose some money on trading my black bills in through elaborate measures, but I can continue to operate my under the radar enterprise easily with the new Rs. 2,000 bills. As outlined above, this is unlikely to get someone who benefits from a black money stream to straighten up and fly right.
I hear the word "corruption" thrown around. As though this will stop making people pay bribes. (I'm not sure that anyone argues this will stem a deeper version of corruption that comes from legal manipulation of the system or corruption enterprise as a stream of black money). It seems like this really is meant to address a cartoon character of someone with a briefcase of cash (ostensibly black money) that changes hands illicitly. First question, which is easier to pay as a bribe: four Rs. 500 or one Rs. 2,000? As with counterfeiting, it seems like this might be at best a temporary disruption in such trade. But briefcases can still be configured to carry Rs. 2,000 notes.
A more complex justification says that perhaps property buying via hordes of black money cash will be curtailed if the cash economy is constricted. But it seems I've laid out a way around the black money rationale of the government, which then suggests I can still figure out how to buy property. Also, when Rs. 2,000 notes are back in circulation, won't cash purchase of houses return to business as usual?
There's been a justification that there is no perfect solution to a huge complex problem like this one — Multiple tentacles. Corruption, lack of tax paying, corruption, exploitation, cheating, lots of sectors that need to be regulated differently, hugely diverse economy, etc. This logic says, the Indian economy itself is a huge "problem" and therefore the government must take "surgical strike" action to fix it without the hindrance of democracy. A follow-up point is usually that, yes, there is likely to be some collateral damage but we need action. This viewpoint is naive. Huge problems are not solved by autocratic, magic bullet solutions. They're just not. Complex systems require careful, reasoned recalibration (if even that is possible) with adequate protection and consideration lest the react unpredictably. Based on the logic above, it seems like we could predict that this anti-democratic magic bullet option wouldn't work.
Which suggests that all the popular justifications, which I have tried to dispense with above, are not actually the real justification. I don't honestly think that Modi et al. are this stupid (i.e. that they actually thought this would just "fix" things), which really makes me think more a collective change to give a massive sop to the financial and credit-based economic sectors. When a solution doesn't bring benefits or answers to supposed problem, perhaps there are other people/sectors/issues it was intended to benefit all along.
I have to address the idea that this is something good and we have to give the government benefit of the doubt. Simply put, that's not how it works in a democracy. In a democracy, which we sometimes pretend we still are, large decisions that will have large impacts are discussed, debated, reasoned. Yes, that means that sometimes "decisive" action can't be taken. Sometimes that discussion leads to gridlock or causes them to be turned down or subjects them to mob rule. OK. That's how democracy goes. Because it's still better to have wide participation and general consensus about the way we all move ahead in this world than to have a few experts making decisions at the expense of the many.
A related charge — and one of the most scary — is that people who dissent are unreasonable. That we're anti-national. Yeh sabse bada gobar hei. Dissent in a democracy is healthy; it's the essence of participation in the setting of the collective will and agenda of a democratic country. But then we barely live in a democracy. We're headed toward fascism, and I have no problem saying that. It's one thing to have faith in a nation or the ideal of a nation. But it's also very democratic to criticize a government or a politician or a leader. Dissenting over a policy a core principle of democracy. Calling someone an anti-national because they dissent? Suggesting that we must support the government for the good of nation? That's drifting toward fascism. The other side of the "aren't people too worked up" coin is "people shouldn't be worked up at all." And, what is that? Fascist.
More on that point. Some folks seem to argue that critics of demonetization are really just anti-BJP and pro-Congress. Well Congress flirted with this idea and it was a bad idea then, too. And the BJP said so at the time. Congress made stupid policy, too. And deserved criticism. But the BJP bhakts seem to not take criticism well. Worse, some often interpret criticism of BJP as criticism of Hindus or being "anti-national." Which sucks us back into that rabbit hole of the previous point and tacitly argues that the nation can only be represented by Hindu politicians (i.e. the BJP).
Look, I study political economy and with it some economics. I'm not going to claim to be an expert in all matters of economics or monetary policy. There's a lot more nuance to the all of the above and maybe I've overstated or understated some things. But I've also tried to reason in common sense terms that are understandable to most folks.
That's because — and I say this with the gravest of faces — this is an anti-democractic, strong-arm tactic that will have few of its supposed benefits. But it will cause a lot of people long-term pain and an even larger number of people short-term pain. And almost no one had a say it whether it happened.
Who thinks that's what government in a democracy should do?
<small>Note: I made some style, copy and organizational changes on Friday, 18 Nov. No change in the argument.</small>
Tags: corruption, democracy, demonetization, economics, india, modi is an idiot, not really a democracy, political economy, politics, sham
Posted by Adam Jadhav | Filed under india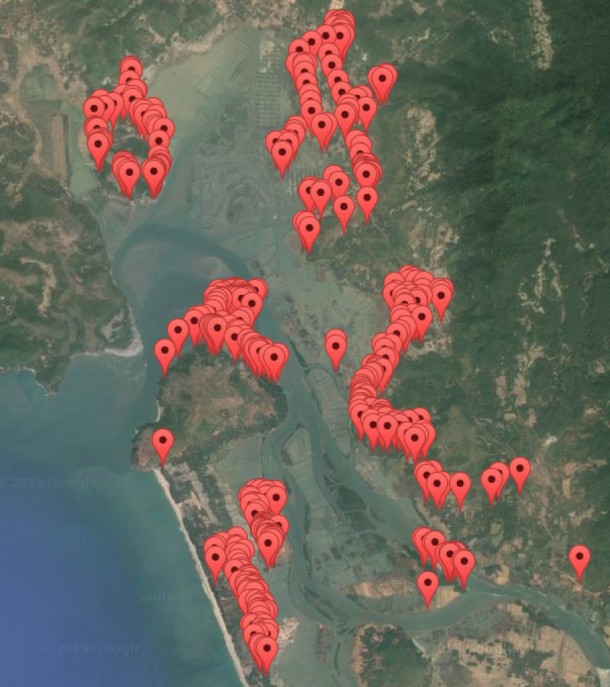 I have an ongoing research project in the Aghanshini River estuary in southwestern India. I'm studying how people depend upon and feel about mangroves, as well as their understandings of and attitudes toward conservation, their environment and the forces of development. The above is the geospatial rendering of household surveys conducted by my team during about six weeks. We're a tiny NGO but we're attempting big, robust work.
The research is set amid a backdrop of looming destructive neoliberal development in an area rich in socially important biodiversity. In a related project, colleagues and I have estimated the estuary's ecosystem service value at some $257 million annually.
My grant-funded research is drawing to a close, so I'm pleading with family and friends to help fund my NGO's work into the future. At Panchabhuta Conservation Foundation, we do a lot with a little, and while I am writing new applications for grants, I am also running a crowd funding campaign in the interim.
Our campaign has struggled to get traction. For some $300, I could gamble on professional promoters to take over might be successful in raising funds. But for the same amount, I could pay one of my team members for another month.
That's where you come in. If you make regular charitable contributions, please consider my campaign. And, as important, please spread the word and endorse us as a fundraising option in your networks. Our campaign — Eco-citizens and Green Communities of Aghanshini — will pay for environmental education, biodiversity monitoring, social ecological research and more. Visit our site at the international crowd funding platform Generosity and share this link: http://igg.me/at/dCqpA5ixJiQ.
Tags: aghanashini, appeal, campaign, crowdfunding, ecology, environmental education, india, ngo, panchabhuta conservation foundation, research
Posted by Adam Jadhav | Filed under india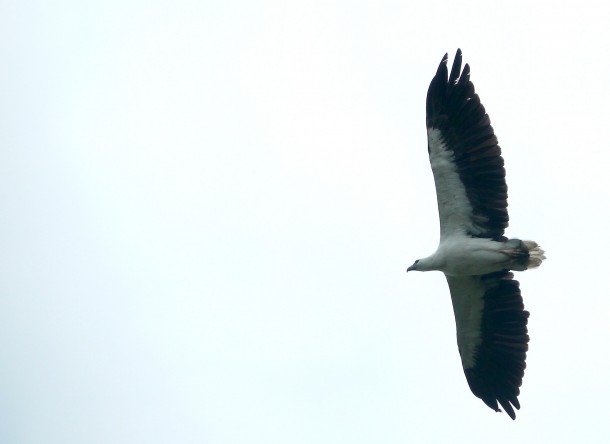 My field station sits just off a picturesque beach on the southwest coast of India. Immediately to the north, a rocky headland rises crowned at the top by an ancient fort. The history of the fort, which overlooks mouth of the nearby estuary as well as the beach and sea, is unknown but the stone boundary wall and crumbling foundations inside likely date to the at least the 1600s.
The fort is abandoned but it serves as a commons for local households who harvest the cashews and grasses that grow there. Both the hillside and plateau also have scrub brush, trees and coastal jungle. These spaces provide shelter to all manner of biodiversity — birds, butterflies, lizards, snakes, mongooses, jackals, wild pigs and more.
Flying above them all is my friend the majestic white-bellied sea eagle (Haliaeetus leucogaster).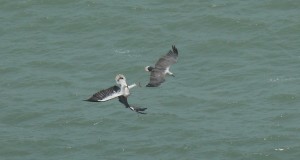 We believe a pair roost in a hillside tree very near our field station, but I've seen as many as five together soaring on air currents well above the hilltop. They fish the river and ocean, play/fight over their catch and call out with their raucous laughter-like cries (see below).
I've also photographed a juvenile which looks like a ragged brown kite until its stark white and grey adult feathers come it.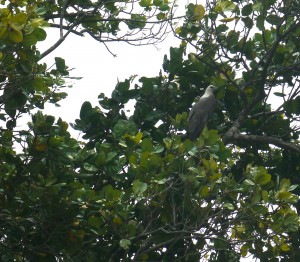 These photos come from my work and that of my foundation. We conduct biodiversity documentation/monitoring in partnership with a the India Biodiversity Portal. We also involve local school children as a form of biodiversity education.
But without a new funding stream we won't be able to keep this work up much longer. We've initiated a crowdfunding campaign to keep our biodiversity research and education alive. Please consider donating and spread the word.
Tags: biodiversity, bird, conservation, crowdfunding, india, panchabhuta conservation foundation, white-bellied sea eagle
Posted by Adam Jadhav | Filed under india
Let me introduce you to the Panchabhuta Conservation Foundation (PCF) biodiversity education program. Based in Kagal, Karnataka, in southwestern India, we work in schools and with students living around the highly biodiverse and important Aghanashini River estuary. We're really excited about this program but, frankly, we need your HELP.
This program has allowed us to deliver short educational sessions which explain on prepping for accounting exams. These classes were addresses to classrooms, lead groups (like above) on walks through their own forests and grasslands, and contribute actual scientific, spatially referenced biodiversity observations to the India Biodiversity Portal, a national science database and initiative.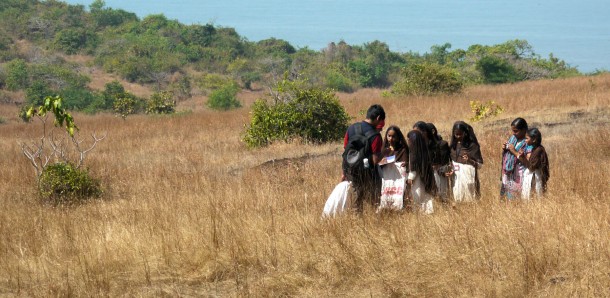 Through a few months of even sporadic documentation work, we've actually contributed more than 400 biodiversity observations, including some directly captured by students (like below). Members of my team all work on this part-time in addition to other work, and we've still managed to hold two half-day biodiversity walks and six biodiversity camps. We estimate we've had at least 80 students of different ages engage with us, some for repeat visits. And we've paid individual visits to dozens of parents and school teachers to recruit more. We're now in the process of starting a regular club through which local school-age kids can volunteer, learn and participate in our work — say checking out a camera for an afternoon of hiking or just having tea with a researcher.
We're also now piloting a new project with high school students in the classroom to implement a seasonal tree monitoring exercise, in partnership with the Nature Conservation Foundation. And we're developing mangrove-specific curriculum and teaching aids for local schools based on our own research with help from WWF-India.
My point: We're on the cusp of doing a lot.
But this is also threatened by financial reality. We've been operating for months on a shoestring budget. We need gear upgrades and the money to devote a full-time staffer to this work at a half-decent (not luxurious) salary.
The team is brainstorming a revenue model that if successful could make this work sustainable in the long-run and I am writing grant proposals for funding in the short-term.
That's where you come in. I'm also reaching out with a personal funding appeal for our NGO's work around eco-citizenship and conservation — and our local biodiversity education in particular. Please see our online campaign page, developed through Indegogo, the internationally reputed crowdfunder.
We have suggested donations — and earmarked contribution options — for all sizes of checkbook. But we of course would accept any amount, no matter how small.
One other way that anyone can help us is to share our campaign page in your networks; share this blog post as well.
For questions about this campaign or to discuss other ways to collaborate/help (in-kind, volunteer work, etc.), don't hesitate to contact me: ajadhav [at] panchabhuta.org or my personal addresses on the right-hand side of this page.
Tags: aghanashini, conservation, crowdfunding, eco-citizenship, education, environment, india, panchabhuta conservation foundation, sustainability
Posted by Adam Jadhav | Filed under india

It's World Oceans Day, a day to celebrate a fundamental global resource upon which so much of planetary life depends. But this is a rather bittersweet, nominally awareness-raising holiday. That's because the state of the global ocean — the collection of marine ecosystems from shallowest estuary to deepest trench — is well, abysmal. Cheering on an internationally named "day" then feels a bit like "celebrating" our most prized possessions as we set them on fire.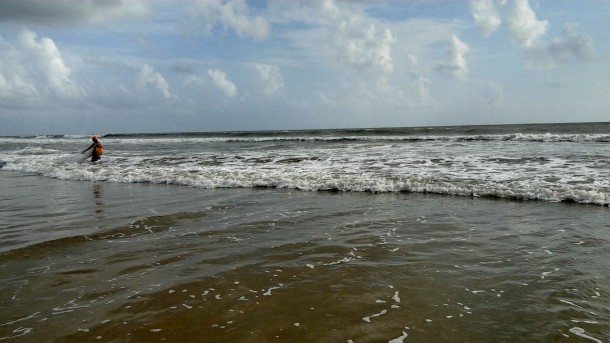 I work in a lightly touched coastal estuary and among small- and intermediate-scale ocean fishers in coastal Karnataka (above photo). My team and I mix research with advocacy. And on a lot of occasions, it feels like we're losing the battle to protect our coastal and marine commons. And given how mission critical (mission=continued existence) the ocean is, I find myself sometimes quite bleak about the future of our planet.
In my latest project — a study on social ecology and dependence upon mangroves in my estuary/playground — we're asking people how much compensation they would need to accept a large industrial shipping port proposed by the government. The port would wipe out large sections of mangroves and destroy the healthy estuary. Watching the zeal with which the state government pushes this project is pretty depressing.
But then the research surprises me. Through more than 200 surveys conducted so far (about a fifth of the total target sample), the vast majority of respondents refuse to accept any of the hypothetical compensation bids they're offered. That includes households offered up to 5 million (50 lakh) rupees. For many of these households that's equivalent to about 50 years' income.
So many I don't need to give up on human-ocean relations just yet.
Happy World Oceans Day.
Tags: aghanashini, conservation, development, estuary, india, karnataka, mangroves, seas, world oceans day
Posted by Adam Jadhav | Filed under india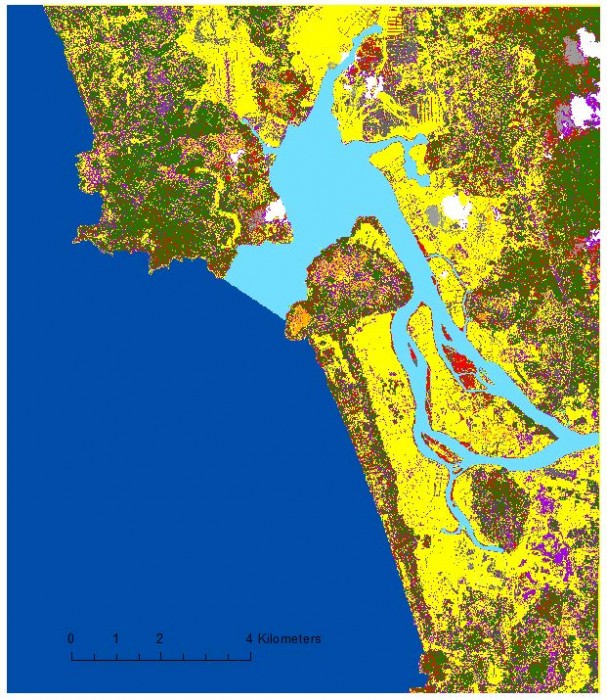 No surprise: A whole heck of a lot.
Take the Aghanashini River estuary (classified above based on World View 3 multispectral imagery). Using a benefits transfer assessment with established global ecosystem service values, my collaborators and I have assessed the annual ecosystem service benefits at more than $250 million.

I presented these preliminary figures at an expert workshop last month; we're now finalizing an ecosystem service valuation paper which we hope will see academic publication soon.
Of course, valuation of ecosystem services has its downsides. Many have reasonably asked whether environmental resources can truly be valued in monetary terms. One response is that such a monetary calculation is but one of many ways of considering the value of the environment. But they are important for policy and politics. And while many environmental goods may be in reality priceless, without a baseline value, too many policy makers may assign a zero value.
Is it a slippery slope? Yes. So we tread carefully.
Many thanks to Sharolyn Anderson, Paul Sutton and Michael Dyer for a lot of hard work and putting up with my only basic knowledge of remote sensing. Thanks also to the DigitalGlobe Foundation for providing the imagery as a grant.
Tags: aghanashini, benefits transfer, ecosystem services, india, panchabhuta conservation foundation, research, valuation