Posted by Adam Jadhav | Filed under united kingdom
Russ and I stopped off for an afternoon pint in Covent Garden, one of London's popular and touristy hangout neighborhoods. It's loaded with pubs and restaurants and human statues and mimes and other kinds of street theater.
From the balcony at the Punch and Judy, we watched a street comedian and juggler make an ass of himself and along with various spectators. It was thoroughly entertaining.
I also had my first pint of proper beer since leaving the U.S. It was a tasty, wonderful Guinness, evidenced by my mustache below.


Continue reading this entry » » »
Tags: beer, covent garden, guinness, london, photography, punch and judy, shenanigans, theater, tourism
Posted by Adam Jadhav | Filed under india, kenya, madagascar
This past year pretty much rocked. And the New Year came in fine manner.  No kisses, but a bonfire amid the palm trees (above), new friends, lobster, a decent cigar (thanks, C!), champagne and even the Harry Connick, Jr., band playing Auld Lang Syne at midnight (never leave home without the iPod).
I meant to post this sooner, but here's a little look back at my new life (as chronicled on this blog):

Continue reading this entry » » »
Tags: andaman and nicobar, antananarivo, beach, beer, circumcision, conservation, delhi, drought, economy, emerging nations, environment, festival, fishing, food, ft dauphin, gear, havelock, health, hiv, holiday, india, island, journalism, kenya, kibera, kisumu, lemur, maasai mara, madagascar, market, motorcycle, multimedia, mumbai, nairobi, ocean, party, photography, port blair, poverty, preparation, scuba diving, shenanigans, shopping, thailand, tourism, wildlife, year-in-review
Posted by Adam Jadhav | Filed under india
I went to a posh club for a Halloween (Dia de los Muertos) party (thankfully things fell into place and I didn't miss my favorite holiday of the year). The party was somehow connected to the Mexican Embassy.
My costume, last-minute and on the cheap: Twister.
I found a toy store, bought the game for $6.50, cut a hole in the mat, turned it into a poncho/shirt (duct tape and carabiners to hold it together), hung the spinner around my neck with a shoelace and voila!

Continue reading this entry » » »
Tags: beer, costume, delhi, festival, halloween, holiday, india, party, photography, shenanigans, twister
Posted by Adam Jadhav | Filed under india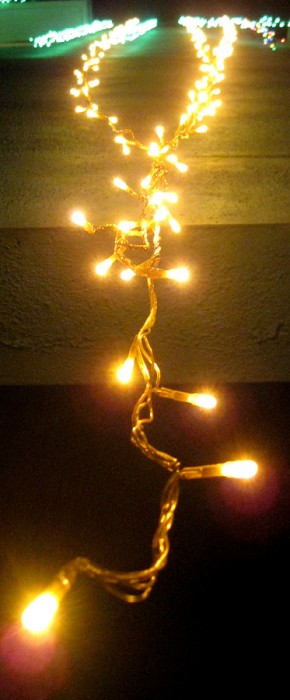 I missed Diwali by a few days, but the neighborhood where my uncle lives still has plenty of decorations.
All the shops are displaying flowers and lanterns and shiny posters and garland.
And at night, the lights. And the fireworks.
It's a bit like Christmas.
The festival — known as the Festival of Lights — has significance primarily for Hindus, but also Buddhists, Jains and Sikhs. My family, being Christian, doesn't celebrate.
For Hindus, Diwali, also spelled Divali or Deepawali or variations thereof, marks the return of Lord Rama after he defeated the evil multi-headed demon Ravana who had absconded with Sita to Lanka, as retold in the Ramayana. It is also symbolic of other victories by good over evil, or so I'm told. By Wikipedia.
I've read (not on Wikipedia) of mothers telling their children, "we light the lanterns to lead Rama home."
The holiday spans multiple days and does involve a good amount of ritual partying. I like, especially it for the lights and firecrackers. With any luck, I'll still be here for it next year.
Tags: beer, culture, diwali, festival, india, partying, photography, tradition
Posted by Adam Jadhav | Filed under kenya, madagascar
I've now arrived in India and am getting settled and spending a little time with family in Pune. I've also been coming up with a list of lessons learned from seven weeks in Africa. In no particular order, here goes:
French, that language I really thought was useless, is so not useless. Especially if you're in Madagascar in non-tourist towns, trying to report and the only people you meet competent enough in English to be a translator are either employees of the company you're writing about or  activists in the community.
Reef flip flops are awesome. Seriously. Reef. Write it down. Best sandal I've ever worn. Damn near the best thing I've ever put on my foot. For example, when I

accidentally

stepped into two and a half feet of quick mud and lost a flip flop (again, thanks Sara from London, for a great laugh), I immediately paid the local who pulled me out another 500 shillings (a little more than $7, probably his weekly wage) to get back in the mud and retrieve my flip flop. (Dear Reef, I'm hoping for an endorsement deal. "Backpack journalist in Third World swears by Reef sandals." Sounds good, no?)
I like parentheses.
Eat bananas. Leg cramps suck.
Save some bananas for the lemurs.

Continue reading this entry » » »
Tags: antananarivo, beer, emerging nations, health, kenya, kisumu, lemur, madagascar, nairobi, poverty, raila odinga, shenanigans, tourism, wildlife
Posted by Adam Jadhav | Filed under madagascar
I've been in Ft. Dauphin, where the keyboards have the French layout and very few people speak English, for three days now. This, by right of its natural beauty, should be a perfect sun and surf tourism destination. Unfortunately for the local economy, it's mostly empty (not withstanding the four French guys I met playing foosball who, again, spoke almost zero English).

Continue reading this entry » » »
Tags: antananarivo, beach, beer, ft dauphin, madagascar, sunset, tourism
Posted by Adam Jadhav | Filed under madagascar
Madagascar's currency is a mind-trip. Inflation (and I'm guessing poor central banking) has left large denominations mostly meaningless. At the airport in Tana on Wednesday, $1 was just shy of 2,000 ariary. The largest bill I've seen is a 5000 AR note. Do the math ($2.50).
Though my airfare was astronomical ($700 for the roundtrip from Nairobi to Tana and $425 for the roundtrip from Tana to Ft. Dauphin), prices on the ground are relatively cheap.
A coffee is between 50 cents and a $1.50. A 500 ml beer of Gold (the upscale brand that is actually not bad for a lager) is between $1.50 and $2.50.
Continue reading this entry » » »
Tags: antananarivo, ariary, beer, coffee, currency, madagascar, thailand, tourism
Posted by Adam Jadhav | Filed under madagascar
On a darkened street, in a pouring rain, after walking past it twice, I finally spied the door I was looking for. Inside, I found the best meal I've perhaps ever had. Photos and menu after the jump.
Continue reading this entry » » »
Tags: antananarivo, baguette, beer, bistro, chez sucett's, cigar, coffee, cooking, crab, culinary, delicious, foie gras, food, madagascar, steak, zebu
Posted by Adam Jadhav | Filed under kenya
Nairobi has its quirks, no doubt.
Of course, equally amusing (I'm sure) was the sight of me taking pictures of the urinals in a club toilet. As I took this photo, a gentleman stepped out of the stall behind me and basically gave me a "WTF" glare. I had no explanation other than I thought it was funny.
Tags: beer, club, humor, kenya, nairobi, photography, pub, shenanigans, toilet
Posted by Adam Jadhav | Filed under kenya
A short note. Last night at a Nairobi bar I was:
staring on and off into a fireplace with a chimney painted like a giraffe
listening to American hip hop (a CD I burned) blared over the stereo
talking with a German couple
occasionally reading a book about failed Norwegian attempts to help the Turkana
eating a Mexican pizza
drinking East African (Kenya/Uganda) beer
Incongruous? Yes. Awesome? Absolutely.
Tags: beer, kenya, nairobi, random thoughts, shenanigans, tusker