Posted by Adam Jadhav | Filed under united states
A bike thief obliterated my U-lock and made off with my old road bike. I miss her something awful; she was my first roadie. *Sniff*
But I had been contemplating an upgrade for a while. Sadly, I don't get to finance the new bike on the sale of the old (though I'm filing my claim with Kryptonite so I hope for some money back).
But I pulled the trigger on this wonder: Ti frame, Full SRAM Rival drive train, Mavic Aksium rims, Ritchey everything else. This certainly makes me happy and I'm back on the road again.
Tags: bike, bike thief, kryptonite, motobecane, u-lock, washington d.c.
Posted by Adam Jadhav | Filed under united states
Since I sold my car, I've had a growing love affair with my bikes. And as I commute 12-miles round trip every day on hills that leave me more wiped than 35 miles in Champaign ever did, the bicycle is an essential part of my daily routine.
Left to right:
My 2011 Trek 1.2. Entry-level road bike but upgraded a bit after the my hit-and-run last week. She's riding good as new with wonderful rims. I know there are much better road bikes, but she's still my (non-human) baby.
The newest addition to the family, a late-1980s Ross Diamond Cruiser. Picked up for me by a kind soul at a garage sale. It's a 1×5 with fat tires, swept-back handlebar, a super-wide seat and a very relaxed riding posture. This is a project bike and needs a good tune-up that I'd like to learn to handle myself. I also want to swap rims for 700cs with cyclocross tires, downsize the seat and replace the cruiser bar with a narrow cow-horn. Or I might redistribute it to a friend who doesn't have a bike right now.
My 2005 Trek 820. Entry-level mountain bike. Nothing fancy but a fine all purpose bike. And it rides fantastic. Definitely my about town bike (until the Ross is fixed up).
Tags: bike, hobby, mountain bike, photography, road bike, ross diamond cruiser, trek 1.2, trek 820, washington d.c.
Posted by Adam Jadhav | Filed under india
On my way home tonight, while riding hard but slow up a hill, I was rammed by a green Subaru. I heard the car coming up rather quick, turned my head to look and then was, all of a sudden, rolling up the hood of said car.
This is cliche: It all happened so fast. The hit literally knocked my right sock (and shoe) off.
I assume the driver was looking the other way (checking a blind spot and switching lanes) or confused by the weird intersection and lane markers. One lane — the one I occupied — is straight only; the right lane is turn only. Whatever the reason, car on bike doesn't work out so well.
The driver paused a bit and then — about the time I stood up — drove off. I didn't get a look at the plates.
I called 911, less for my health and more to file a report. Medics checked me out. Mostly they just let me sit in the ambulance and an officer took down details. There's no insurance to cover the bike damage (tear), but at least a police record might help to change road signage in favor of bikers.
This is a great example of why bike lanes are necessary. And also, why more, not fewer, bikers should ride on the road. Drivers aren't looking for us because too many bikers are timid and ride on the sidewalks.
The tire, wheel and rear of my bike is bent to hell. Some or all of it may need replacing.
Nothing major on me, as much as I can tell, was hurt. I could stand and carry my bike off the road. The bike suffered far worse than I.
I got checked out by medics. A police officer took a report and then gave me and my sad bike a ride home.
Not particularly happy about my bike being wrecked. I'm thankful, though: I'm only scratched up a bit; my right leg (the good knee, unfortunately) is sore and tweaked but I'm hoping that's not anything serious.
Today I've actually felt a bit euphoric when thinking about how badly that could have gone.
By the way, helmets rock.
Tags: accident, bike, biking, helmets rule, hit and run, luck, photography, washington d.c., wreck
Posted by Adam Jadhav | Filed under united states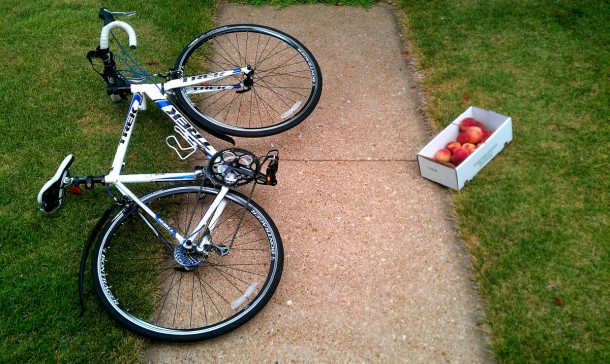 I had a good final weekend in the Midwest that centered on biking and friends and reading and peaches. As I packed up this morning to drive back to Champaign, I took the above photo of the last things to go into/on mom's car.
And I smiled thinking how easy I am to please, with a good bike to ride and a juicy white peach to eat.
Now if only I could bring a bit of India into the mix…
Tags: bike, cycling, happiness, peach, st. louis, united states
Posted by Adam Jadhav | Filed under united states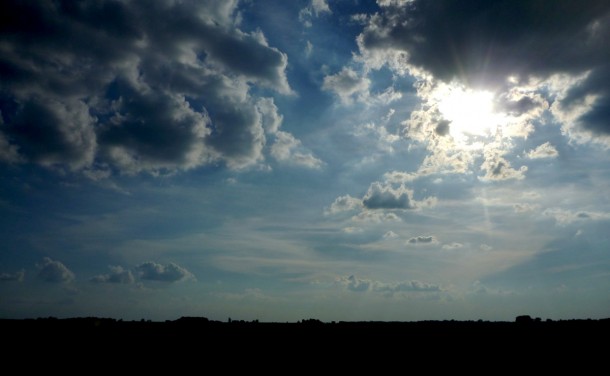 It feels absolutely fantastic to ride long miles through nothing but country. And with my new road bike, I'm thankful then to spend a few weeks here in Champaign-Urbana, where I'm no more than eight miles in any direction from wide open cornfields.
OK, so there are no grand mountains or sea views. But there's still peace to be hand with sun shining through cotton-ball clouds and the wind in your face as the green of Illinois farmland flies by.
I grew up in small farm towns across central Illinois. In recent years, too many years now, I've lived in metropolises with populations ranging from three to 20 million people.
I belong out here, in the country.
Tags: bike, champaign, corn, farming, illinois, photography, united stats