Posted by Adam Jadhav | Filed under india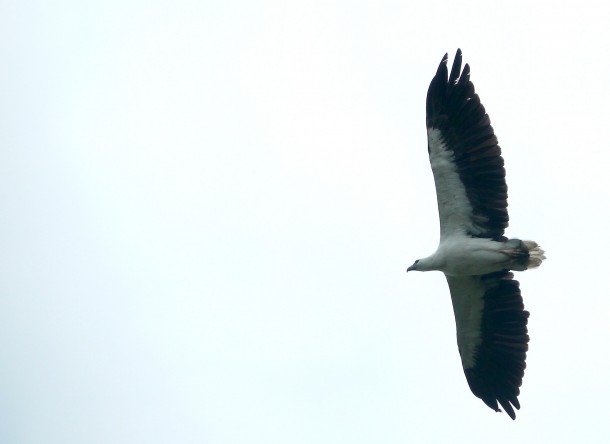 My field station sits just off a picturesque beach on the southwest coast of India. Immediately to the north, a rocky headland rises crowned at the top by an ancient fort. The history of the fort, which overlooks mouth of the nearby estuary as well as the beach and sea, is unknown but the stone boundary wall and crumbling foundations inside likely date to the at least the 1600s.
The fort is abandoned but it serves as a commons for local households who harvest the cashews and grasses that grow there. Both the hillside and plateau also have scrub brush, trees and coastal jungle. These spaces provide shelter to all manner of biodiversity — birds, butterflies, lizards, snakes, mongooses, jackals, wild pigs and more.
Flying above them all is my friend the majestic white-bellied sea eagle (Haliaeetus leucogaster).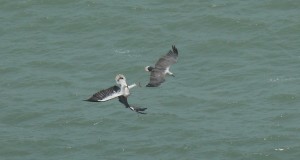 We believe a pair roost in a hillside tree very near our field station, but I've seen as many as five together soaring on air currents well above the hilltop. They fish the river and ocean, play/fight over their catch and call out with their raucous laughter-like cries (see below).
I've also photographed a juvenile which looks like a ragged brown kite until its stark white and grey adult feathers come it.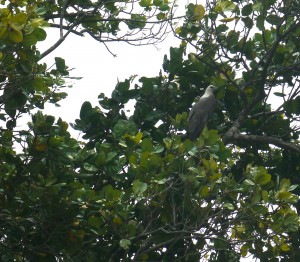 These photos come from my work and that of my foundation. We conduct biodiversity documentation/monitoring in partnership with a the India Biodiversity Portal. We also involve local school children as a form of biodiversity education.
But without a new funding stream we won't be able to keep this work up much longer. We've initiated a crowdfunding campaign to keep our biodiversity research and education alive. Please consider donating and spread the word.
Tags: biodiversity, bird, conservation, crowdfunding, india, panchabhuta conservation foundation, white-bellied sea eagle
Posted by Adam Jadhav | Filed under india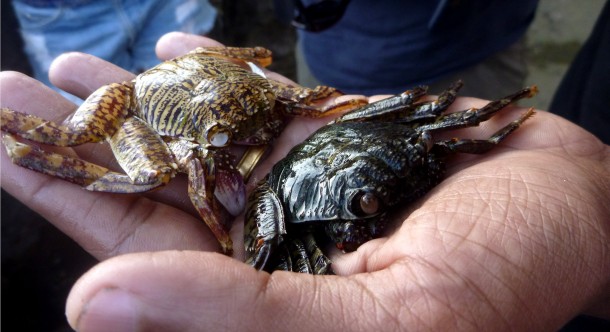 Twitter informs me there's something called #NationalSendaNudeDay. Am I doing this right?
(Maybe the Post Office and/or Hotmail are desperate to justify their existence.)
Anyway… here is a recently molted crab we found during an early morning intertidal zone hike with students adventure travelers during our seminar adventure tour in the Andamans near Wandoor in 2015.
The one on the right is basically nude. A nude crab. And on the left… crab pants.
For a bit of background on why a crab would take off its pants, let's turn to NOAA:
Crabs (and other crustaceans) cannot grow in a linear fashion like most animals. Because they have a hard outer shell (the exoskeleton) that does not grow, they must shed their shells, a process called molting. Just as we outgrow our clothing, crabs outgrow their shells. Prior to molting, a crab reabsorbs some of the calcium carbonate from the old exoskeleton, then secretes enzymes to separate the old shell from the underlying skin (or epidermis). Then, the epidermis secretes a new, soft, paper-like shell beneath the old one. This process can take several weeks.

A day before molting, the crab starts to absorb seawater, and begins to swell up like a balloon. This helps to expand the old shell and causes it to come apart at a special seam that runs around the body. The carapace then opens up like a lid. The crab extracts itself from its old shell by pushing and compressing all of its appendages repeatedly. First it backs out, then pulls out its hind legs, then its front legs, and finally comes completely out of the old shell. This process takes about 15 minutes.
Note: It pulls this off while leaving the original shell more or less intact. That'd be like getting out of a wedding saari without actually undoing any fold or wrap and leaving the hole thing standing. Could you do that, Ishani?
Tags: andaman and nicobar islands, biodiversity, crab, crustacean, molting, nude, science, sexy, wildlife
Posted by Adam Jadhav | Filed under ecuador, india, united states
In 2010, I was standing on a beach in Ecuador watching all manner of sea creatures get dragged ashore, sacrificed for the targeted catches of high-value prawns and tunas (mostly for export).
Sharks, rays, even a turtle, all killed in the process. Some of them would end up in local ceviche as non-descript fish, but others (like the turtle, a protected species) would simply be left to rot.
I certainly don't advocate an end to fishing. I work with fishers of shark, sardines, mackerel, crabs, shrimp, oysters and more. I believe small- and medium-scale fishing has a role to play in livelihoods and food across the globe.
But the sight of Ecuador's illicit bycatch, which led to the photo above, left me asking what kinds of pernicious forces — political, economic, ecological or other — could lead to such wanton sacrifice.
I'm still asking that question. As June 8 is World Oceans Day, maybe we all should be asking it.
Tags: biodiversity, bycatch, fishing, oceans, sharks, sustainability, world oceans day
Posted by Adam Jadhav | Filed under united states
Taking an 8-minute break from ruminating and writing about India's global economic engagement.
Tags: biodiversity, deep sea, marine, ocean, TED, washington d.c.