Posted by Adam Jadhav | Filed under india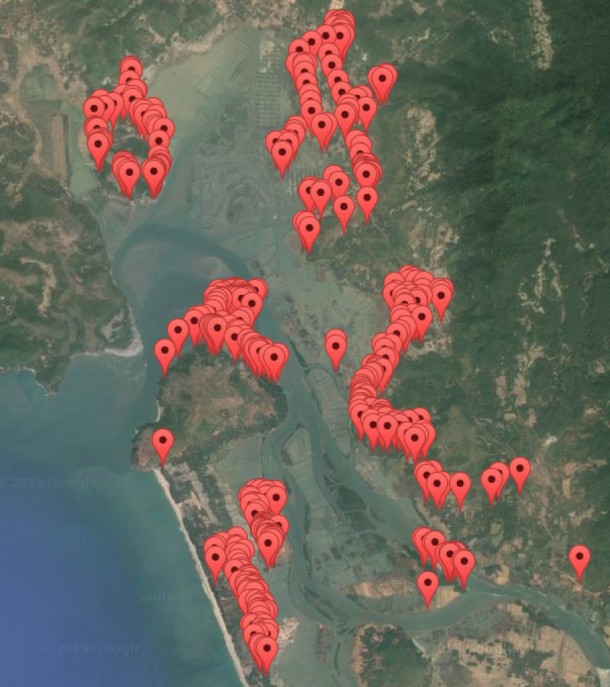 I have an ongoing research project in the Aghanshini River estuary in southwestern India. I'm studying how people depend upon and feel about mangroves, as well as their understandings of and attitudes toward conservation, their environment and the forces of development. The above is the geospatial rendering of household surveys conducted by my team during about six weeks. We're a tiny NGO but we're attempting big, robust work.
The research is set amid a backdrop of looming destructive neoliberal development in an area rich in socially important biodiversity. In a related project, colleagues and I have estimated the estuary's ecosystem service value at some $257 million annually.
My grant-funded research is drawing to a close, so I'm pleading with family and friends to help fund my NGO's work into the future. At Panchabhuta Conservation Foundation, we do a lot with a little, and while I am writing new applications for grants, I am also running a crowd funding campaign in the interim.
Our campaign has struggled to get traction. For some $300, I could gamble on professional promoters to take over might be successful in raising funds. But for the same amount, I could pay one of my team members for another month.
That's where you come in. If you make regular charitable contributions, please consider my campaign. And, as important, please spread the word and endorse us as a fundraising option in your networks. Our campaign — Eco-citizens and Green Communities of Aghanshini — will pay for environmental education, biodiversity monitoring, social ecological research and more. Visit our site at the international crowd funding platform Generosity and share this link: http://igg.me/at/dCqpA5ixJiQ.
Tags: aghanashini, appeal, campaign, crowdfunding, ecology, environmental education, india, ngo, panchabhuta conservation foundation, research
Posted by Adam Jadhav | Filed under united states
LEGO building blocks remain my all-time favorite toy. Even more favorite than bourbon or my dive kit.
As a child, I spent hours hidden away in my room, imagination running wild, building, deconstructing and rebuilding parts of the LEGO city pictured in the fuzzy image below. I could never get enough and they were a prominent part of every birthday, Christmas or other gift-receiving occasion.
I vividly remember my giant airport, my train set, my pirate's island and more. As an 11-year-old, I spent my savings on spare LEGO building blocks so I could build mass housing for my city from scratch.
And I even had a Shell-branded gas station. Today, I shiver at the thought.
Of course, it was a different time. Few openly resisted such things as surreptitious marketing or product placement in child's toys. Hell, I didn't really think about this particular horror until a few years ago.
But given the state of our world, our politics and our understanding of climate science, it's time that LEGO cut ties with a corporation whose business model depends on destroying the environment. Every day that LEGO continues to shill for Royal Dutch Shell, it otherwise lends the company a false, friendly and benign air.
I hear some folks: "Come, on, it's just a little bit of product placement and branding." They're two Dutch companies, after all. And how many kids at some point have toys — think model cars and trucks covered in ExxonMobil stickers — labeled with the name of this or that company?
This is more than just banal advertising. Through LEGO sets in the hands of children, Shell markets a subtle-but-dangerous message that it's institutional, that it belongs, that it's noncontroversial, that it's fundamental and that it should be accepted. That the Big Oil economy — which includes Shell's continued attempts to drill in the arctic — is as "harmless" as apple pie (or maybe stroopwafels).
If LEGO started making new sets called Oil Rig Spill Disaster or Warming, Rising Seas, then I wouldn't complain. That'd be honesty in advertising.
Want a visual appeal that will punch much harder? Watch this brilliant Greenpeace video and sign.
Tags: branding, campaign, climate change, conservation, corporate partnerships, corporations, drilling, greenpeace, LEGO, oil, product placement, shell, shill, toys, united states