Posted by Adam Jadhav | Filed under united states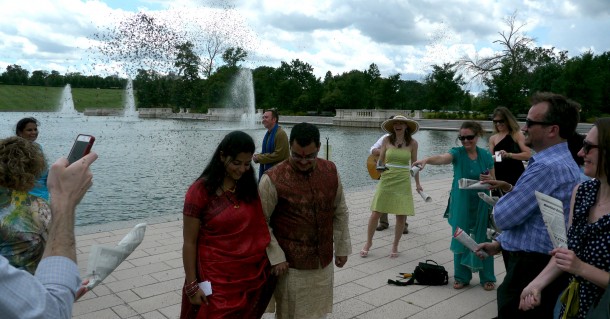 Five years ago, Ishani and I called a few dozen of our closest friends to St. Louis gather in Forest Park. As a group, we briefly took over (commoned) the patio in front of the Grand Basin — entirely against a park policy of charging exorbitant amounts of money to rent this public space. With a brief exchange of vows, a word of wisdom, a rendition of our favorite love song, and a bunch of group photos, our flashmob wedding was in the books.
Tags: anniversary, celebration, flashmob, forest park, love, memory, st. louis, wedding
Posted by Adam Jadhav | Filed under india
Earlier this month, I had the honor of photographing the civil wedding (read: navigating the web of India government) of two Delhi friends, Poh Si Teng and Mayank Misra. They were some of the first people I got to know in the city.
The wedding day had ups and downs and they invited me to be there for the whole thing: getting dressed, car rides in Delhi heat, power cuts, paperwork, Indian bureaucracy, tangling with the sarkar, the eventual success and a fine celebration afterward.
Many congrats Poh Si and Mayank.
Tags: celebration, delhi, india, mayank misra, photography, poh si teng, sarkar, shaadi, wedding