Posted by Adam Jadhav | Filed under united states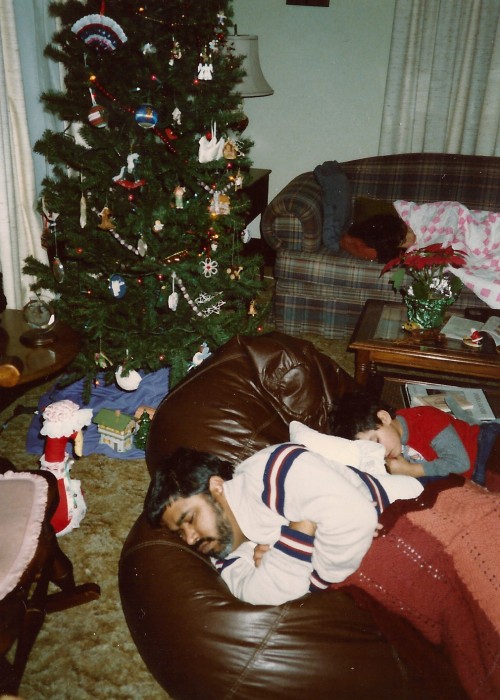 After eating biscuits and gravy and unwrapping presents, I promptly took a two-hour nap with my head on Ishani's lap, continuing the time-honored tradition of sleeping through much of Christmas day.
(See above, circa 1988.)
Season's greetings to all!
Tags: christmas, family, history, us
Posted by Adam Jadhav | Filed under united states
Per tradition, I have today, the day after Thanksgiving, decorated a nifty little tree in my apartment, hung some bits of garland and turned on some holiday tunes.
Festival season — the Dussehra to New Year's Eve blitz — has been underway for a while. I'm celebrating Diwali late with lights and Christmas early with my Norfolk Island Pine (Araucaria heterophylla), also known as the Monkey Puzzle tree.
No more cut trees, as beautiful and mulch-compostable as they are. I went with a live evergreen that I picked at a local nursery. It's already nearly five-feet tall and if properly treated for the next several years it will continue to grow even indoors. This is a more grown-up version of the same tree I had in India for a few seasons.
As I type this, I'm already basking in warm, holiday glow.
Tags: araucaria heterophylla, christmas, diwali, dussehra, festival season, india, monkey puzzle, tree, washington d.c.
Posted by Adam Jadhav | Filed under united states
There's been no sign of snow around, and the weather has actually been unseasonably warm until this weekend. But per tradition, I have had a decorated Christmas tree in my apartment and holiday music on the stereo for weeks now.
I actually bought the seven-foot Frazier fir on Thanksgiving itself (the grocery store was open and I had no desire to go the next day and put up with Black Friday crowds). In keeping with my goal of not using cars, I Metro'd and walked to a Whole Foods, bought the tree, carried it back to the Metro stop, rode in an almost empty car with my tied tree and then marched the rest of the way home.
I of course left a breadcrumb trail of needles and broken fir branches along the way.
The tree is spartanly decked with ribbon, white lights, wall hangings with sayings of the Dalai Lama and some strings of Indian door hangings, including the papier-mâché parrots. I also strung some holly garland around a few lamps and tied a long red ribbon around a door (giving it the loose impression of a wrapped present.
The apartment smells like a combination of cinnamon scented pine cones, a lovely sage candle and that beautiful fir.
I've also hung the annual string of lights across the top of the blog.
I realize this season is too often a celebration of gluttony and satisfying material addiction. But perhaps we can cleave to peace and goodwill amongst all, instead. Happy holidays everyone.
Tags: christmas, decorations, holiday, photography, tree, washington d.c.
Posted by Adam Jadhav | Filed under ecuador, india, thailand, united kingdom, united states
Well, hello there 2011. You've got a hell of a lot to live up to.
As most people know, I started my whirlwind trip in late summer of 2009 and things haven't really gone bad yet.
I started 2010 in the remote paradise of the Andaman Islands, far off India's coast. I had just learned to dive and fell in love with the sport. Fish are friends, not food.


Continue reading this entry » » »
Tags: christmas, conservation, delhi, ecuador, friends, galapagos, graduate school, india, journalism, ocean, party, scuba diving, shenanigans, sikkim, thailand, tourism, united kingdom, united states, year-in-review
Posted by Adam Jadhav | Filed under india
I've been listening to holiday music since Friday, 26 November. Per Jadhav tradition, that is the day when the Christmas season begins. That night, we decorated a perfect little live Charlie Brown-esque tree on my balcony, hung strings of lights and ornaments in my room, lit a tray of red and white candles and covered my lonely compact fluorescent bulb with a shimmering paper star.
I've been a little slower on the blog, but today I've hung a nice string of Christmas lights across the top of the page. They'll probably stay there until February (which is about right for my speed at taking decorations down).
And with my school on holiday now, I've been planning a Christmas Eve/Day lineup of comfort food, sweets and movies to watch on this day of celebration.
Delhi shopping malls are doing their part, rolling out ostentatious decorations, blaring holiday music too loud for shoppers and generally embracing the less-than-enjoyable, let's-spend-lots-of-money nature of secular Christmas in the states. Garish and all-too-commercial though it may be, the spectacle warms my heart with nostalgia.
Even the weather here in Delhi makes it feel like a proper winter, with temps in the low 40s Fahrenheit at night.


Continue reading this entry » » »
Tags: charlie brown, christmas, holiday, india, methodist, religion
Posted by Adam Jadhav | Filed under india
It should be obvious by now, that I'm a bit obsessed with Christmas lights. No blue, because that circuit burned out.
Tags: christmas, decorations, delhi, festive, holiday, india, lights, shenanigans, yule
Posted by Adam Jadhav | Filed under india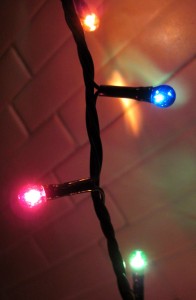 My budget hotel room in Paharganj needed a little color; a home/party decorations shop in Khan Market that has gone completely Christmas-themed was happy to assist. If I weren't leaving Delhi in two days (and it weren't so environmentally unfriendly), I would have bought a six-foot fake tree, too.
Unfortunately, after one evening, the blue, red and gold lights had all crapped out. I sucked it up and went back to purchase another strand today. I'll be more gentle this time.
I'm praying that as I'm traveling through the holidays, wherever I stay has at least as one electrical outlet. Perhaps I can decorate a palm tree.
'Tis the season.
Tags: christmas, holiday, india, lights, photography, shenanigans, shopping
Posted by Adam Jadhav | Filed under india
…Christmas decorations! (And possibly lamenting how much food you ate. And/or more eating.)
As far back as I can remember, the last Friday in November in the Jadhav household marked the official start of the holiday season; we hauled boxes of ornaments and garland and lights and tinsel and nutcrackers and more out of the basement or down from attic. We'd play vinyl from a boxed set of Christmas music almost non-stop. At the end of the day, when the decorating was either finished or on hold (some years it took all weekend), we'd sip egg nog from old mugs.
I have found a store here in Delhi at Khan Market that caters to expats and has decorations galore (photo above). But I'm staying temporarily in a guesthouse. And in 10 days, I start traveling and will be on the move until after the New Year. As much as I want to deck the halls, I have little opportunity to do so.
I'll make do with this blog.
Continue reading this entry » » »
Tags: christmas, decorations, delhi, india, khan market, nostalgia, photography