Posted by Adam Jadhav | Filed under india, kenya, madagascar
This past year pretty much rocked. And the New Year came in fine manner.  No kisses, but a bonfire amid the palm trees (above), new friends, lobster, a decent cigar (thanks, C!), champagne and even the Harry Connick, Jr., band playing Auld Lang Syne at midnight (never leave home without the iPod).
I meant to post this sooner, but here's a little look back at my new life (as chronicled on this blog):

Continue reading this entry » » »
Tags: andaman and nicobar, antananarivo, beach, beer, circumcision, conservation, delhi, drought, economy, emerging nations, environment, festival, fishing, food, ft dauphin, gear, havelock, health, hiv, holiday, india, island, journalism, kenya, kibera, kisumu, lemur, maasai mara, madagascar, market, motorcycle, multimedia, mumbai, nairobi, ocean, party, photography, port blair, poverty, preparation, scuba diving, shenanigans, shopping, thailand, tourism, wildlife, year-in-review
Posted by Adam Jadhav | Filed under kenya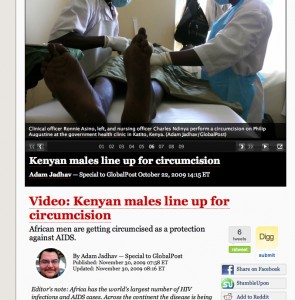 This story, datelined Katito, Kenya, was published this week by GlobalPost.com.
The story contains photos, text and video, as part of a larger series on the issue of male circumcision as an HIV prevention tactic in sub-Saharan Africa.
Bits and pieces of the project, reported in early fall during my stay in Kisumu, have appeared on the blog. Now it's all available in one place.
Tags: circumcision, health, hiv, kenya, kisumu, multimedia, photography, published
Posted by Adam Jadhav | Filed under kenya
Continue reading this entry » » »
Tags: aids, circumcision, health, hiv, katito, kenya, kisumu, luo, nyanza, public health
Posted by Adam Jadhav | Filed under kenya
Continue reading this entry » » »
Tags: aids, circumcision, health, hiv, journalism, kenya, kisumu, photography, public health
Posted by Adam Jadhav | Filed under kenya
Continue reading this entry » » »
Tags: circumcision, disease, health, hiv, journalism, katito, kenya, kisumu, photography