Posted by Adam Jadhav | Filed under india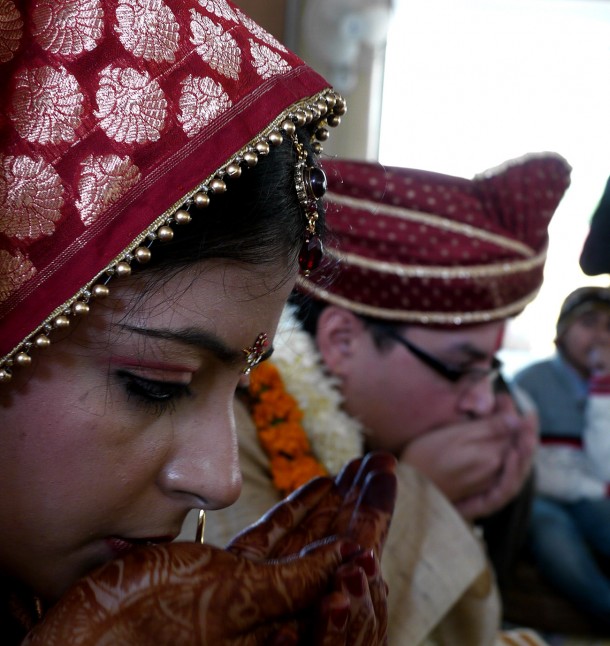 We drank gangajal, walked seven times around a ritual fire and promised, among other things, to follow each other forever.
Tags: anniversary, delhi, love, shaadi, wedding
Posted by Adam Jadhav | Filed under india
It's the time of the year when the Indian media start writing about predictions for Delhi's winter fog. Poisonous, toxic "fog."
Which really makes it not fog at all, but smog. This year there may be 100 hundred dismal hours of it.
Delhi, it's time we owned up to it. Call a spade a spade and start thinking about how to fix the problem. And to be clear, the problem is us.
Yes, weather plays a small part, but as I've written before, what makes the wintry choking haze particularly harmful is in fact human pollution. I'm not alone in arguing that we actually need to shift our discourse and talk about the phenomenon as anthropogenic smog, not just annoying wintry smog.
And new research shows it's worse than you ever thought. During rush hour, pollution (particulate matter) at autorickshaw-level — where most people breathe — is apparently 50 percent higher than all what is measured by those safely cloistered ambient air measuring stations on top of buildings and away from roads.
And, in case anyone needs a reminder, even the ambient air readings aren't exactly awesome. In fact, they're exactly not awesome.
At least India can claim to beat both Pakistan and China in this regard:
Delhi's air pollution levels, which, according to the latest WHO Ambient Air Pollution Database, are at just under 300 micrograms per cubic meter. The world's second most polluted city, Karachi, clocks in at a little over 250, while the major Chinese cities of Beijing and Shanghai, internationally notorious for their pollution, clock in a relatively fresh 120 and 80 respectively.
(Really not the race we want to be winning.)
Tags: air quality, delhi, development, fog, india, pollution, smog, unsustainable
Posted by Adam Jadhav | Filed under india
Word is circulating that 516 of the colonial-era bungalows (read: small palaces) in the planned center of New Delhi (Lutyen's Delhi) may be renovated/rebuilt over a period of 20 years. The state-owned bungalows house India's political elite — ministers, judges and other top officials — and are largely a perk of official power.
The price tag for updating the bungalows with so-called modern conveniences? Three thousand crore rupees, or about $482 million by today's exchange rate.
Think on that. That's not nearly half a billion dollars for public infrastructure (which is sorely needed around India). That's not even half a billion dollars for an illogical mega dam, which Indian officials have also been fond of building.
No, that's almost half a billion dollars to essentially redecorate the halls (bedrooms?) of power.
The bungalows essentially represent a faux suburban space — broad roads, leafy overhangs, large plots, individual manses — built in the middle of one of India's densest cities. The Business-Standard has a fine editorial calling out this ridiculous plan.
But more than illogical urban development, the bungalow zone represents a classist geography that replicates and reinforces both social stratification and power, reserved as they are for officials and regulated by state rules. To live in Lutyen's zone is a pipe dream for many; claiming an address there requires access and influence. Such is the attraction of this "neighborhood" that in 2012, when a private bungalow (there are a few) was for sale, it was priced at 600 crore rupees — about $96 million.
Meanwhile, most of rest of the city lives in ever densifying and increasingly over-crowded warrens. For a stark comparison, check the satellite imagery, courtesy of Google.
Certainly, all cities contain prestigious addresses. But few are so overtly the result of statist development and control. Yes, Chicago's Michigan Avenue or Gold Coast might indeed be the result of capitalist development (encouraged and aided by government) that benefits the already rich and richer. And, yes, such posh strips certainly represent stratification and gentrification.
Yet they do not approach the neo-colonial classism of Lutyen's Delhi, which is explicitly intended to benefit a ruling political elite. It's notable that such absurdity is a holdover from the British that independent India's rulers have not so subtly clung to.
I quote at length from celebrated scholar James C. Scott's wonderful treatise on state planning in development.
"Capital cities, as the seat of the state and of its rulers, as the symbolic center of (new) nations, and as the places where often powerful foreigners come, are most likely to receive close attention as veritable theme parks of high modernist development. Even in their contemporary secular guises, national capitals retain something of an older tradition of being sacred centers for a national cult. The symbolic power of high-modernist capitals depends not, as it once did, one how well they represent a sacred past but rather on how fully they symbolize the utopian aspirations that rulers hold for their nations. As ever, to be sure, the display is meant to exude power as well as the authority of the past or of the future."
Scott is writing about the state development project and its faith in legiblility, clean lines, rigid planning, bureaucracy, rules, universalism and top-down design. The state, as often as not, has seen itself as the propagator and guarantor of such a high modern order.
And to be clear, Scott had New Delhi in mind when writing.
Colonial capitals were fashioned with these functions in mind. The imperial capital of New Delhi, designed by Edwin Lutyens, was a stunning example of a capital intended to overawe its subjects (and perhaps its own officials) with its scale and its grandeur, with its processional axes for parades demonstrating military power and its triumphal arches. New Delhi was natural intended as a negation of what then became Old Delh. One central purpose of the new capital was captured nicely by the private secretary to George V in a note about the future residence of the British viceroy. It must, he wrote, be "conspicuous and commanding," not dominated by the structures of past empires or by the features of the natural landscape. "We must now let [the Indian] see for the first time the power of Western science, art, and civilization."

Standing at its center for a ceremonial occasion, one might forget for a moment that this tiny gem of imperial architecture was all but lost in a vast sea of Indian realities which either contradicted it or paid it no heed.
The organization and development — and continued maintenance — of the Lutyen's area represents a lingering official faith in high modernism in urban planning. The "neighborhood" is guarded by police and development is highly restricted; order is, under Delhi development policy, practically required and enforced.
Aesthetically the bungalow zone certainly seems more organized and tidy that most of the rest of Delhi. This is in stark contrast to the more organic/functional if seemingly chaotic development elsewhere across the city. I'm not arguing that the riot of construction that is Delhi doesn't have its own problems, nor am I arguing against urban planning in theory. Plans are needed to address Delhi's mounting challenges with illegal land grabs, environmental cataclysm, corruption at all levels of development, the list goes ever on. But I am arguing — as Scott did — that Lutyen's plan had little relevance to local conditions, needs, utility or desires.
What's more, the mandated order and seemingly elegant functioning also remain ironically dependent on the very chaotic geography Lutyen's Delhi rejected. Though haphazard to the planner's eye, the slums and ramshackle development of other neighborhoods provide the service labor to the elite. (This is generally the case in India where elite neighborhoods are served and serviced by a servant class that lives in slum or almost-slum conditions.)
Of course, it would be nice to dismiss the bungalow zone and Lutyen's Delhi as simple anachronism or architectural heritage. But they're not just history (or even a nice perk for underpaid public servants). The bungalows by their existence are an example of the state replicating class division and reinforcing geographies of inequality.
As such, the Business-Standard rightly argues that the bungalows don't need renovating/rebuilding.
They need razing.
Tags: architecture, british, business standard, class, colonialism, delhi, development, high modernism, history, imperialism, india, james c scott, lutyen's delhi, new delhi, politics, poverty, power, society, stratification, urban planning
Posted by Adam Jadhav | Filed under india
It seems that everyone in Delhi — as is common this time of year — is concerned about Delhi's weather and the thick soupy mess that ruins lungs and visibility and generally delays everything. I remember once getting lost at night literally 100 yards from my own apartment because I couldn't see. Delhi-wale understand that this is an annual occurrence, though apparently it's worse than usual.
But our understanding of what is actually happening suffers from a few misperceptions, so we in the middle or upper classes remain unable (or choose not) to diagnose the situation properly. And for lack of a good diagnosis, we are unlikely to ever ameliorate the worst of it.
What do I mean? Let's begin with an unscientific but poignant armchair test. I have Googled two sets of terms. Consider their hit counts.
Delhi fog: 1,380,000,000 hits
Delhi smog: 1,180,000 hits
Clearly, linguistically, we consider this to be fog. In our collective understanding, it's not smog, which would more strongly imply pollution.
I can hear the Delhi-ite protesting that s/he is not an idiot and knows full-well that Delhi suffers from air pollution. I agree, but as a rejoinder, I ask, "When was the last time someone speaking Hindi said "smog-wog" instead of "fog-wog." My point: The language we use to describe the phenomenon colors our perception.
Why do we think this way? Well, for starters, fog is historical in this season, so it's common to react as though nature is just being nature. This is the climate of Delhi and the climate of Delhi suggests there will be fog at this time of year. So perhaps we're already less inclined to consider this critically.
Our perception of the "fog" also suffers because baselines are always shifting — a concept that arose from fisheries analysis that suggests we collectively have trouble understanding what a system used to be like in the generation before us. This arises because the memories of a system early in my career or childhood form my baseline for assessing change and I have great difficulty then quantifying/understanding the experience of a generation before me. So we can expect that most people in Delhi will have trouble really discerning whether the "fog" was better or worse in previous periods because their baselines don't include the generation prior. Broadly speaking, our inter-generational memory is crap.
In addition, I will argue that the massive socioeconomic changes that have occurred even intra-generation in India actually further hamper our ability to discern whether the "fog" is actually worse. This is because the yardsticks by which we might measure the severity today — for example, technical monitoring, the number of delayed flights, visibility while driving — are difficult to compare to, say, twenty years ago. Definitions of particulate matter change as does monitoring equipment and stations, particularly given India's rapidly developing techno-capacity. Meanwhile, the number of flights has grown drastically, as has the number of people who have experience driving in "fog."
Unfortunately, when we in the middle/upper class do see the "fog" more appropriately as "smog," we may still tend to inappropriately assign blame to the poor.
(Note: This is hardly an Indian phenomenon. The world over, in developed and developing country alike, we wrongly blame the poor both for their poverty and for pollution. In 1972 at the U.N. Conference on the Human Environment, then-PM Indira Gandhi famously declared that "poverty is the biggest polluter" and most of the world's leaders agreed.)
Back to the case of Delhi's smog: In winter, India's poor are often forced to resort to outdoor fires — cow dung, wood, scrap paper, leaves, plastic, whatever — to keep warm. And it all seems perfectly reasonable, as Delhi winter nighttime temperatures approach freezing, so staying warm is literally a public health concern. The haze of these fires is a common experience among hutments as is the small fire outside a chowkidar's shack in middle and upper class neighborhoods. This is a tangible occurrence, and it certainly contributes to the annual smog — visible, smellable, heavy particulate smoke in the air can't be ignored — but it's certainly not the only cause.
The middle and upper classes deserve a hefty share of blame, for several reasons. First, we keep warm by increasing our electricity consumption to power those ubiquitous space heaters. Electricity in India primarily comes from coal-fired powerplants, which we know is a heavy polluter. But because we don't all have a smokestack in our neighborhood, we tend to ignore that portion of our contribution to the smog. Second, the middle and upper classes drive and car exhaust is another serious pollution source. Yet we also tend to ignore this because it is a part of our year-round experience. There's no temporal pollution source to link to the seasonal "fog." Yet our tailpipes are certainly doing their part. Third, consider a prime culprit behind Delhi's perpetual dust, which also contributes to poor air quality. Delhi, like most major Indian cities, is constantly under construction. A lot of this construction is for the newly minted, ever increasing middle and upper classes. And while construction itself yields volumes of air-borne particulate, construction also tends to rip up green spaces which otherwise might mitigate airborne dust and keep soil in place. But again, construction is year-round (and a sign of prosperity) so perhaps we tend to think of it less.
This would all be idle pontification if we didn't also know that Delhi's air quality is actually hazardous, particularly in this season.
Of course, air quality is an environmental problem that is, at best, difficult to tackle. But we can't hope to even make a dent if we can't diagnose it properly.
I understand that this is only a casual analysis. But I think it's clear: It's not fog. It's smog.
And we're all to blame.
Tags: air quality, delhi, development, environment, india, indira gandhi, middle class, pollution, poverty, shifting baselines, smog, un conference on the human environment
Posted by Adam Jadhav | Filed under india
My brain (dimag) and my blog are filled with rust (jang). For the past month, I have been in Dehli studying Hindi 20 hours a week and commuting another 20 hours a week. When I'm not doing either, I'm usually sleeping or mingling (ghumna-milna) with family. Or editing/rewriting one of several papers that need to be submitted for publication on topics (vishay) ranging from education in traditional economic sectors to urban hippy forestry to biking.
Furthermore, in theory if not in practice, I should be thinking in Angrezi as little as possible. So the blog has been powered down (bijli funtoosh ho gayi?) for a while. I'm sure it will come back (bijli wapas aa gayi?) on days when I have my act together. I have lots of things to say — watching debates over environmental protection (vatavarn ki raksha) and economics (arthashastr) and politics (rajniti) in this crazy quasi-democracy (loktantr). Just not enough time/energy to say them.
Cheers.
Tags: delhi, fulbright, hindi, india
Posted by Adam Jadhav | Filed under india
Best. Holiday Ever. No celebrating this year (Holi officially was Wednesday). Above shot comes from 2011, the last time I played holi, pakka pakka. Next year, however, I expect to be in full color beast mode with family.
Tags: delhi, festival, holi, holiday, india, shenanigans
Posted by Adam Jadhav | Filed under india
So it took a while to get this uploaded. A good long while.
But now, for your consideration and viewing pleasure, here's the full-length feature by our Delhi video team. The audio levels are low, so I recommend headphones or turning up the stereo.
Bust out the popcorn.
Tags: delhi, india, ishani weds adam, marriage, shaadi, wedding
Posted by Adam Jadhav | Filed under india
Across Delhi, much is dreary — dust, fog, dust, just enough cold to kill off most of the flowers. But the bougainvillea are still out which makes me happy.
Note: The colored leaves are just that, leaves. The flowers are small, tiny and white inside the leaves.
Tags: bougainvillea, delhi, flower, india, photography
Posted by Adam Jadhav | Filed under india
Back in India for a lot of different purposes, including but not limited to my own wedding. But beyond family, friends and finishing schoolwork, there's also food. And oh is there a lot of food.
Pet bhar gaya.
Tags: delhi, food, india, kabab, khan chacha, khan market, photography
Posted by Adam Jadhav | Filed under india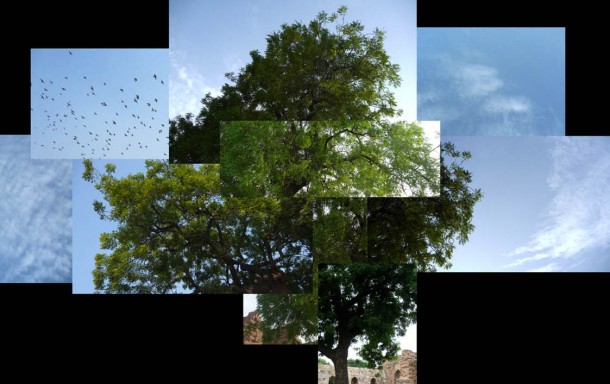 Behatar sath sath hei, na?