Posted by Adam Jadhav | Filed under united states
Interesting story yesterday from Maine. And I'll get to how it relates to my culinary experiment (pictured above) earlier this year.
The lobster population has been exploding in the Gulf of Maine, which is a productive, protected and generally successful fishery. A problem: A high lobster population means lower prices. Sure, that's good news for consumers who like everything to be cheap. But it's bad news for local fishermen charged with protecting and husbanding the fishery while simultaneously paying bills.
The twist: This fishery dilemma dates to an earlier one, the overfishing of cod in New England. Cod eat everything off the ocean floor. Predation of lobster by cod was, according to scientists, an ecological check-and-balance.
What caused overfishing of cod? Among other phenomena, the fish stick. Yes, I'm suggesting that fish sticks constitute a phenomenon. So powerful was the mass-consumptive call for frozen, reheated, generic, white fish that the irrepressibly abundant cod are all but gone from the great George's Bank. (Climate change may also have something to do with it.)
From Mark Kurlansky's Cod: A Biography of the Fish that Changed the World, A 1950s advertisement from the Glouchester seafood company Gorton's claimed that fish sticks were the
"latest, greatest achievement of the seafood industry of today… Thanks to fish sticks, the average American homemaker no longer considers serving fish a drudgery. Instead she regards it as a pleasure, just as her family have come to consider fish one of their favorite foods. Easy to prepare, thrifty to serve and delicious to eat, fish sticks, it can be truthfully said, have greatly increased the demand for fish, while revolutionizing the fishing industry."
And this is how we get the picture above, my tofu-batter-vinegar-shallow-fry earlier this year. The social construct of the fish stick is powerful, indeed.
Tags: climate change, cod, culinary experiment, ecosystem, environment, fish, fish stick, fisheries, fishing, lobster, maine, marine conservation, mark kurlansky, north atlantic, ocean, overfishing, tofu, united states, vegetarian fish and chips
Posted by Adam Jadhav | Filed under india
Why I'm in grad school: conserving the above to protect the people who rely on it. From the unfortunately bleached and algae covered coral beds at South Button.
Tags: andaman and nicobar, coral, divemaster training, ecosystem, india, ocean, photography, reef, scuba diving, south button
Posted by Adam Jadhav | Filed under ecuador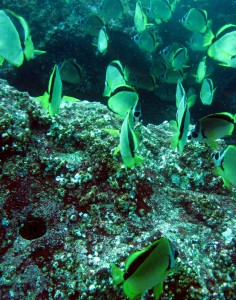 Ocean shallows and reefs are full of fish. Full. As a diver, I sometimes get focused on seeing the big, rare, charismatic fauna. But in reality fish are almost always swirling around.
That's because the ocean represents a vibrant, complete ecosystem, with many more moving and visible parts than most of what we see up on land. Forests, deserts, savannas and meadows are also ecosystem, but the integral parts are often hidden, so that all we see are grasses and trees and dirt.
The butterfly fish — pescados de mariposa — pictured are part of the many, many fish flitting about reef and rock on almost every dive I've made. These are from the coast of North Seymour in the Galapagos Islands.
Tags: butterfly fish, ecosystem, environment, fish, galapagos, north seymour, ocean, photography, scuba diving, wildlife