Posted by Adam Jadhav | Filed under india
Let me introduce you to the Panchabhuta Conservation Foundation (PCF) biodiversity education program. Based in Kagal, Karnataka, in southwestern India, we work in schools and with students living around the highly biodiverse and important Aghanashini River estuary. We're really excited about this program but, frankly, we need your HELP.
This program has allowed us to deliver short educational sessions to classrooms, lead groups (like above) on walks through their own forests and grasslands, and contribute actual scientific, spatially referenced biodiversity observations to the India Biodiversity Portal, a national science database and initiative.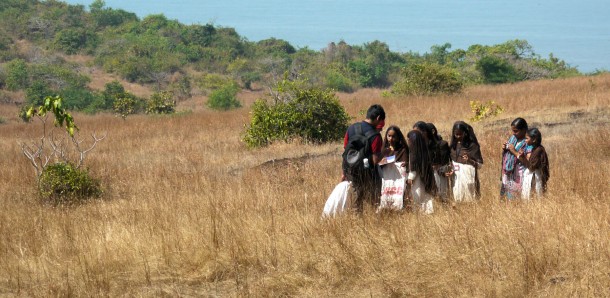 Through a few months of even sporadic documentation work, we've actually contributed more than 400 biodiversity observations, including some directly captured by students (like below). Members of my team all work on this part-time in addition to other work, and we've still managed to hold two half-day biodiversity walks and six biodiversity camps. We estimate we've had at least 80 students of different ages engage with us, some for repeat visits. And we've paid individual visits to dozens of parents and school teachers to recruit more. We're now in the process of starting a regular club through which local school-age kids can volunteer, learn and participate in our work — say checking out a camera for an afternoon of hiking or just having tea with a researcher.
We're also now piloting a new project with high school students in the classroom to implement a seasonal tree monitoring exercise, in partnership with the Nature Conservation Foundation. And we're developing mangrove-specific curriculum and teaching aids for local schools based on our own research with help from WWF-India.
My point: We're on the cusp of doing a lot.
But this is also threatened by financial reality. We've been operating for months on a shoestring budget. We need gear upgrades and the money to devote a full-time staffer to this work at a half-decent (not luxurious) salary.
The team is brainstorming a revenue model that if successful could make this work sustainable in the long-run and I am writing grant proposals for funding in the short-term.
That's where you come in. I'm also reaching out with a personal funding appeal for our NGO's work around eco-citizenship and conservation — and our local biodiversity education in particular. Please see our online campaign page, developed through Indegogo, the internationally reputed crowdfunder.
We have suggested donations — and earmarked contribution options — for all sizes of checkbook. But we of course would accept any amount, no matter how small.
One other way that anyone can help us is to share our campaign page in your networks; share this blog post as well.
For questions about this campaign or to discuss other ways to collaborate/help (in-kind, volunteer work, etc.), don't hesitate to contact me: ajadhav [at] panchabhuta.org or my personal addresses on the right-hand side of this page.
Tags: aghanashini, conservation, crowdfunding, eco-citizenship, education, environment, india, panchabhuta conservation foundation, sustainability
Posted by Adam Jadhav | Filed under india
Because I'm being slow in getting this in a better state for publication, I'm posting it here now. Trying to light a fire, as it were.
This paper was presented at the symposium Understanding and Eradicating Poverty in South Asia: Lessons and Options at the University of Rajasthan (Jaipur, India, Oct. 17, 2013). This remains in a draft format; please contact me before citing.
ABSTRACT: The international community has enshrined formal education as one of the key tools necessary to alleviate poverty, on par with ending hunger and fighting disease. In addition, education is often considered a key component of the "modern" geographic, demographic and economic transition off the land, out of the village and into wage jobs in cities. But what does education mean within the rural or traditional economy? What does education mean for the legions of villagers who remain poor farmers and fishers in developing countries such as India? This paper examines the relationship between education and poverty theoretically and empirically in traditional economic sectors. First, the paper sketches an outline of neoclassical economic growth theory, with specific attention to the basic Cobb-Douglas production function. Next, the paper reviews literature on the economic returns to education or human capital, with special attention to traditional sectors when possible. Finally, the paper conducts a quantitative analysis of marine fishery census data from India, testing the empirical relationship between poverty and education within a traditional sector.

The paper ultimately finds evidence to support the idea of returns to education even within India's coastal fishery economies; in other words, education need not simply be a ticket out of the village. In line with much development literature, female education may have an inverse relationship to poverty stronger than male education. Furthermore, the effect of education can rival that of mechanized capital, often thought to be the key to improving poverty among fishers. However, the results may be attenuated both by the structure of the economy as well as socio-political institutions. Finally, the findings have a spatial quality to them. Some relationships shift when controlling for the fixed or unobserved effects of place, and the effects of education are not uniform across geographies. Taken together, these findings suggest the need for education that is locally tailored, decentralized and relevant specifically for traditional economies.
Click here to download.
Tags: census, cmfri, development, education, fishers, fishing, geography, india, institutions, mincer, policy, regression, returns to education, statistics, traditional ecological knowledge
Posted by Adam Jadhav | Filed under ecuador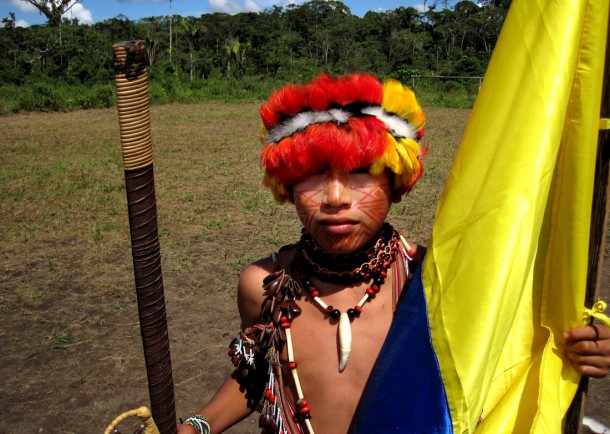 Arutam's school caters to a handful of village children, staffed both by Domingo Vargas, one of the older Shuar brothers, as well as volunteers. At the end of the semester, the school celebrated a graduation of sorts before a holiday. Parents and children attended, and Domingo read aloud the accomplishments of each child.
Edgar, above, who will next year attend the government school, was cause for particular celebration. Education levels are abysmal in parts of rural Ecuador, like much of the rest of the developing world. His graduation and chance at higher education is a big deal. Such an accomplishment has replaced old Shuar rights of passage, and it is a happy occasion worthy of donning traditional clothing.


Continue reading this entry » » »
Tags: arutam, children, culture, ecuador, education, en la selva, photography, poverty, volunteering