Posted by Adam Jadhav | Filed under india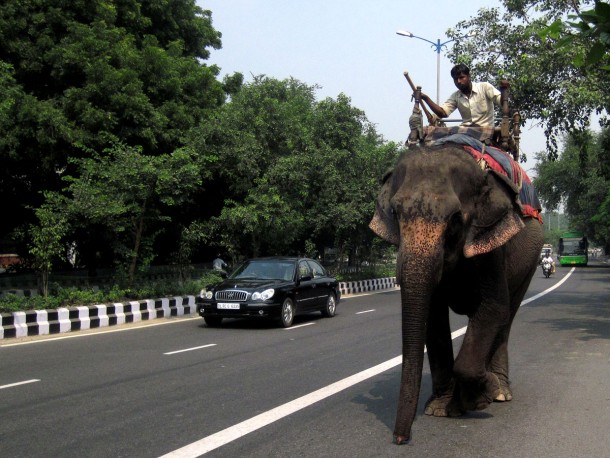 Meet a Delhi elephant. There are a few dozen of the beasts captive in Delhi, taken care of by their very loving mahouts (traditional, often tribal, elephant driver) as well as some wildlife NGOs. Their life isn't great, but this is a facet of Indian culture that isn't likely to wither under the animal-loving glare of the West.
Here, they are used for weddings, festivals and other ceremonies, though outside the city in parts of the country they are still beasts of burden. Sounds weird to say it, but these elephants are domesticated.
I'm sometimes a little leery of posting photos of the colorful juxtaposition of India's traditions alongside her modern ambitions. What I don't want is for this mediocre shot — from an abnormally uncrowded Aurobino Marg, a major Delhi traffic artery — to give the impression that India is simply a backward, funny land.
But this is also reality in a major Indian city, a glorious if also quirky reality. There aren't many places in the world to find the urban elephant.
Tags: conservation, culture, delhi, elephant, india, mahout, photography, tradition, urban, wildlife
Posted by Adam Jadhav | Filed under india
This comes from the Jaipur Elephant Festival in 2004. I got caught in the traffic of the beasts as they paraded into the city.
I'm traveling at the moment in Rajasthan with Joel and Kate. I won't be near the Internet much for several days. Enjoy preset blog posts.
Tags: elephant, festival, history, india, jaipur, photography, rajasthan
Posted by Adam Jadhav | Filed under india
It was actually a rather sad visit to the Forestry Department elephant training camp on Havelock Island. Elephants chained to trees wasn't exactly what I was expecting. Wondering what PETA thinks.
But this guy was rather frisky, even if the exposure was problematic.
Tags: andaman and nicobar, beach, elephant, environment, havelock, india, island, photography
Posted by Adam Jadhav | Filed under india
Audio clip: Adobe Flash Player (version 9 or above) is required to play this audio clip. Download the latest version here. You also need to have JavaScript enabled in your browser.
On a recent evening while I was transcribing in my room, drums exploded outside my window (hit play above). They echoed through the neighborhood here at Tutti Chowk, Paharganj, and by the time I got down to the street, what I believe was a marriage procession had turned down enough alleys that I couldn't find the drum gang and only heard the banging in the distance.
Continue reading this entry » » »
Tags: delhi, elephant, india, market, marriage, multimedia, paharganj, party, photography, shadi, wedding, wildlife