Posted by Adam Jadhav | Filed under united states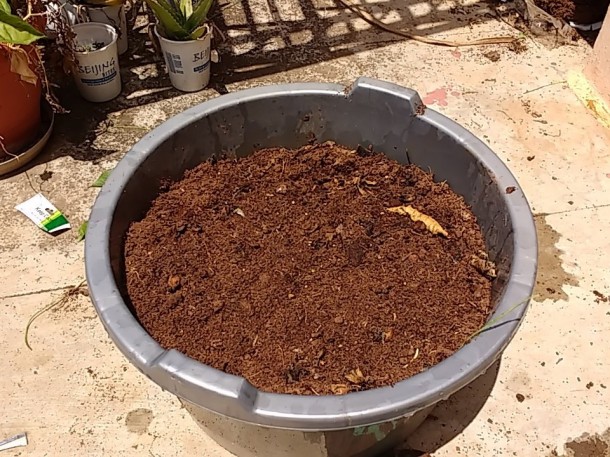 As per usual, Treehugger.com's too-frequent love affair with technology has me annoyed. So rather than work on the fisheries governance paper that is my primary looming task, I'm sounding off here.
Dear would-be urban composters and other people who wish to adopt more sustainable lifestyles by composting:
Please try to not get sucked into the Zeitgeist of techno-eco-consumerism. I support most anything that moves individuals, communities and societies toward more sustainable lifestyles, but Treehugger.com's periodic zeal for the shiny-package, the new-fangled gizmo or the uber-high-tech is unlikely to be sustainable in the long-run (or even the short).
(E.g. I think Lloyd Alter is a smart dude, but his drooling over a "phase change" shirt from a few years ago still sticks in my craw.)
The primary fly-in-my-soup today is this "attractive" but suspect Bono countertop composting system. Essentially it's a prettily crafted system that aims to be a fill-it-and-forget composter that magically pumps out fine humus (mixed with a bit of soil).
After swooning for a while about materials and design with very little critical review of feasibility and likelihood of success, TreeHugger's Kimberley Mok ends with this:
While one can also use any old container to start composting, even as a prototype Bono is admittedly quite an attractive alternative to a regular plastic bin. The extra clever features, such as the liquid collection dish, are a useful bonus. No word on whether it'll be commercially available soon, but easy-to-use, compact composters like this one may win reluctant composting converts over much sooner.
That is TreeHugger's defense of these kind of short pieces highlighting a new product — that attractive and convenient will win the "aspirational" eco-citizen and convert them to a more sustainable path. I'm not sure that holds up in general and in this case particularly.
I'll start with an acknowledgment: Composting is not the absolute easiest practice and requires accepting a few basic precepts: You will get a bit dirty. You might touch a maggot. Rotting food smells sometimes. I'm also admit I am lucky to have even a modest bit of outdoor space at my apartment in Bangalore. That said, it's also not rocket science or even adapting to a new pointless iTunes update.
Another sort of disclaimer: I disagree with those cost-benefit sustainable-ists who remarks, "Why should I compost? I don't have a car and that makes me more green than you'll ever be."
I, too, don't have a car but I still compost. This sustainability tradeoff game is a childish debate. It too often compares apples to kumquats or makes a reductionist policy argument that everything sustainable can and should be counted in carbon footprint decreased.
Simply put, I agree composting has benefits for individuals, households, neighbors, communities and the earth. Full stop.
So of course I support efforts to bring more people into the let-it-rot fold. In that, TreeHugger.com and I are on the same team.
But, but, but… I pray that would-be urban composters don't fall so easily for the another-thing-to-buy-that-will-make-it-all-easier logic. Especially when that additional thing you hope to buy is a prototype that is unlikely to satisfy.
First, let's be honest with ourselves. It's simply not sustainable to believe we can adopt sustainable lifestyles by buying new-fangled crap in the hope that we don't actually need substantive lifestyle changes (and, in this case, accepting reality that our garbage smells foul). Maybe this counter-top composter is attractive, maybe it wins hearts and minds, but we should at least stop and question: Is it actually a good thing to try to invent the microwave popcorn or K-cup version of composting? Short-term, seems elegant/convenient, long-term, a sustainability fail.
Another analogy: Is this something like a Diaper Genie for compost? The diaper genie alleviates the odor problem of piling up disposable diapers and hides them from sight, eliminating one practical disincentive to using ever-more disposable diapers. I imagine that more honestly confronting the baby-poo-dilemma might encourage realistic problem solving (including regular washing to reusable cloth diapers). I submit that a counter-top composting model aims to alleviate the discomfort of odor or devoting space to a rotting tub of garbage, which allows us to avoid the reality of our waste. Worse, if it fails to work even moderately well (as I suggest below), then it may not even encourage composting in the short-term.
So let's consider the attractive "tech" critically.
I'm estimating here, as this fawning is all over a prototype (i.e. no long-term demonstration or specs I can see). That jar looks approximately like the depth and diameter of my terracotta pillar system in India. Based on experience with two people consuming a moderate amount of vegetables, a jar this size will fill up in two weeks, long before even the bottom layers have matured. In a healthy US diet, which probably includes more fresh vegetable consumption, that will load up even quicker. If it truly is no-turn composting (just layering), the top, most recently added layers will of course take longer even as the bottom finishes. If you're aiming to avoid messy compost, that means the "couple months" minimum is from the point at which the bin fills.
So far, this doesn't make a lot of sense (or a lot of compost). But I admit the demo video is more promotional than explanatory and it is subtitled in a language I don't speak. I could have misunderstood.
This turn around of well-formed compost assumes ideal conditions re: moisture, air circulation to the core, small grain of organic matter (i.e. chop those rinds, peels and waste bits) and a well-tuned carbon/nitrogen ratio (~25 C to 1 N). Which you won't get if you're only adding kitchen scraps and maybe a bit of newspaper. Critiquing the "compost" that the hand model in our demo video appears to take out of the bucket, I think that's not actually finished compost. And for the record, good soil for growing actually requires more than just compost.
To get more rapid and better-finished compost, you'd need to add even more carbon-heavy materials on a regular basis (to get to that sweet spot of ~25 C to 1 N). Which would of course fill the shiny bucket faster. Which would mean opening the contraption more, which would again release smells, a legitimate composting deterrent for the aspirational. Plus, from a fair bit of experience, to get really broken down humus you'll need maturation, which means a second vessel to "let it rot" some more. So much for self-contained.
Also, perhaps you could periodically mix the compost in situ (maybe you're supposed to?); that still seems to defeat the purpose of this shiny, self-contained contraption. That in turn leaves me asking if there's not a better active solution.
A low-priority nit would be that the hideway juice tray is likely to tip when you first lift it out, spilling compost tea all over the places you don't want it. It might look "clever" but a spigot (which already exist in other bucket systems) would do you better.
By the way, those smells of rotting vegetables are going to be more pungent and last longer in a no-turn system. Well-turned and managed compost quickly smells like the forest floor. Breath deep. Meanwhile, soaking wet compost with too much nitrogen (what a mix of mostly unturned kitchen scraps will get you) will turn to an anaerobic digestion process that could eventually smell like rotten eggs.
If this is aimed at the tyro composter who is less committed to the cause or someone who has more constraining conditions (e.g. renting a room in a compost unfriendly household or a Japanese pod apartment), then I don't see it fulfilling its supposed evangelizing mission. The cracks in the powdered spun aluminum veneer —  it fills up too quick, takes too much time, still smells bad, doesn't produce fully formed compost — become gaping.
I'm envisioning a lot of partially finished compost getting dumped back down the sink disposal or into the trash bin. After that, look for used-but-still-shiny bins on Craiglist.
This adds up to a big function fail that is just overlooked in the name of fashion. It's too small. It'll take too long. It's not a reasonable composting system to generate a yield.
High probability of the opposite of success doesn't bode well for winning "people who think about going green, stuck thinking that they will have to give up their style and design philosophy," as a TreeHugger.com moderator responded to my (I admit) unnecessarily snarky original comment on the above article.
That suggests a counter-top composter (as opposed to a temporary storage jar, collector or "keeper" with say a charcoal filter) is trying to force a function where it doesn't belong. Toilets go in bathrooms for a reason; I don't have one next to my bed no matter how superficially convenient that might be.
In the same line of reasoning, the counter just might not be feasible for your actual composter.
Look, I think green-trends blogs like TreeHugger are indeed important. I'm on the daily e-mail list. But I also believe appropriateness of tech/design should be prioritized over aesthetics.
Note: I am certain the writer of the TreeHugger post is smart. And yes, this is probably appealing to a certain set of consumers. I'm even willing to concede that there is probably a narrow margin of users who could make this Bono system work OK (though these same users are probably quite expert and would opt for a more practical, useful and productive system).
But there must a middle ground between catering to aspirations and espousing reality. Aspiring to change our lifestyles as little as possible isn't aspiring to much at all (and actually may be part of the problem).
Bonus material:
Even as a nascent urban permaculturist, I can brainstorm many other suggestions to address problems of the aspirational composter (and maybe bring about a little system change while we're at it). In that, I'm certainly not the first or the smartest. I'm not claiming to be an expert or industrial-strength composter (though I grow things on my terrace with homemade compost). Even TreeHugger has various posts relating to the range of DIY composting methods that exists; many of those solutions can be adapted.
If you're really committed to the urban waste reuse project — or aspire to be — here are some suggestions (I'm not the only one saying this) that could actually make composting (or composting-like activities) work for you:
Don't care what the composting-takes-too-much-space-crowd-says: A small rotary drum composter won't take up much space on any balcony, terrace, etc. Certainly no more than your bicycle, patio chair, grill, etc. Well maintained, it also will hardly smell. Check Craigslist for a used one. Or adapt a DIY design if you have even a modicum of initiative.
Not everyone has even that outdoor space. OK. Let me rephrase: A small rotary drum composter won't take up much space in that unused corner of your apartment. Certainly no more than your bicycle, arm chair, DVD stand, etc. Well maintained, it also will hardly smell. Put a plastic mat underneath and sweep now and then. Check Craigslist for a used one. Or adapt a DIY design if you have even a modicum of initiative.
See points 1 and 2 about terracotta (or DIY) towers with collection, maturation and storage tubs — another way to go.
All of the above essentially require some amount of active compost management — aerating, turning, getting appropriate proportions of ingredients. But even moderate management will deal with most of the smell and unsightliness, if that's the real problem.
On a more philosophical note, active compost management recognizes that waste is a problem to be actively confronted (as opposed to repacked in a shiny jar).
Getting the right ratio of ingredients could also help cut down your other household waste, as you'll start adding more cardboard packaging, shredded paper, etc.
I mentioned this already: Well-maintained maturing compost smells like the forest floor. So wonderful!
Also, I bet some used books will teach you plenty more and make you a better, happier composter / urban gardener than a powder-coated aluminum jug. This for composting, and this for the world of soil health beyond composting.
You can DIY additional amendment (say, growing a bit of lemongrass if you have the right light and temp) as a pest prevention additive layer after compost turns. Google "DIY compost amendment." Voila!
You could make DIY pseudo-EM by fermenting some cooking water (I do it with water left over from soaking chickpeas; water drained from rice or even cooked pasta should also work).
If you do have skeptical/annoyed neighbors, housemates or family members, have you honestly tried discussing it with them upfront. I think I won a neighbor over re: our messy terrace garden by offering him a tomato plant. Agree to pool resources (kitchen scraps and/or "browns") and share rewards (humus or grown produce)? Now we're aiming at system change.
Does your residential building have outdoor space? I know enough people who say their landlords/managers/association would never agree to composting in a common space but how many have actually tried it? Can you (and maybe your neighbors) petition for permission?  Parking garages, alleys, garbage rooms, etc. already smell of one fume or another and rooftops have this thing called wind. Also, more system change.
Of course, you need not be limited specifically to composting. A popular tested intermediate tech option for the urban, space-conscious, aspirational, would-be organic waste-repurposer would be the bokashi bucket fermenter (or the DIY version). I don't actually like it that much, but I get its usefulness. Extract the ferment tea all you want. Then when the bucket fills (since we're assuming you don't have land in which to bury semi-finished product), find people at a community garden who would almost certainly be happy to bury your fermented waste to help their garden grow.
The earlier point about community gardens really applies to most organic waste. Buy a cheap air-tight bucket or a filtered compost keeper. Periodically drop off waste for someone else who will put it to good use. I bet you could even trade uncomposted waste for healthy soil.
While you're at it, try for a community garden plot.
This has turned into a long missive about combining appropriate tech philosophy with a love for green, urban thumbs and living. Skeptics (or perhaps the folks at TreeHugger who are poked a bit) could call it a tirade. Fair enough. Excessive techno-eco-consumerism really gets my goat.
To be clear, I do want to be on the same team as others who encourage the aspirational green people to become formerly aspirational green people. But I also think that a heavy dose of critical evaluation has to be applied; lifestyle change does actually require lifestyle change.
In other words, dealing with excessive waste may actually require smelling the rotten vegetables.
Composting experts out there can surely advise me on where I have gone astray. TreeHugger can feel free to respond as well.
Tags: appropriate technology, bokashi, composting, consumerism, critical evaluation, em, environmentalism, fantasy, gardening, india, permaculture, sustainability, techno-enthusiasm, technology, treehugger, united states, urban living
Posted by Adam Jadhav | Filed under united states

Spotted this evening on Treehugger.
Take the time to watch the above. Aside from just being wonderfully nerdy about bicycles and weird science, this video also seems like a really, really, really instructive lesson about how brains (ours, others, etc.) might approach a dynamic social, ecological or political problem.
I'm betting most of us see this and think, at least at first, "I could figure it out." Then, after watching a lot of people fail, some of us still probably think, "OK, difficult, but I could still do it."
Maybe we invent tricks we think will help — closing our eyes to tamp down the visual miscues, crossing our arms to maintain the "push with the right, turn to the left" muscle memory, etc.
And most of us would still probably faceplant if forced to do it at any speed.
I'm left wondering, then, how much this ingrained processing of bicycle riding also applies to how we process OTHER information, ideas, biases, etc. Do beliefs/constructs/paradigms/language really get as hard-wired as bicycle riding?
If so, I suppose I probably would continue to believe the government is good/evil, climate change is real/fake, gay people are people/sinners, guns are safe/dangerous, ice cream is tasty/the scourge of thighs, the earth is round/flat, dogs can/can't look up, and other binaries entirely because of my neuro-wiring and irrespective of compelling "reason," "logic," "science," "information," "knowledge," "humanity," etc. with which I am presented.
In the backwards bicycle case, I very clearly can see that I need to push with my left to veer/counterbalance left. Yet my brain still won't do it, at least not without eight months of reorientation (that apparently can also be overcome in several minutes re-reorientation). In other words, I'm sitting there on the pedals telling myself that reality has changed, with everyone else also explaining how the world is now different, and I need to adapt and push with the left to go left, and yet my brain tells me and everyone else, politely, to eff off.
Similarly, if my brain also says X is a hoax, how difficult is actually convincing myself that X is true?
And of course, with most thorny issues, we know that most ideas are not simply the product of knowing the A, B and C of X. Enter the halo effect, social capital, limited but repeated experiences, memory loss, ego, fear, group-think, shifting baselines and all other common obstructions to changing our made-up minds.
In real-world conditions, then, my brain tells me to X is wrong because I should distrust person E who believes X because Y is my routine experience and person B also supports me as a member of clan R which adheres to community norm set M; in addition, I've actually forgotten the A, B, and C of X, which I encountered Z months ago surrounded by people L while I was in mood T; and, in any case, I imagine myself to be person type Q and to even consider believing X would actually make me person type J."
Makes me really take a step back on the strategies we use to win hearts and minds. Say, for instance, in favor of climate reality or sustainable living or equality under law.
So what if believing Y (and not X) really is like riding a bike? What would it actually take to help/encourage people forget Y and choose X? Some pretty difficult truths for all who are interested in making social change a reality.
Tags: bicycles, environmentalism, ethics, neuroplasticity, psychology, social change, weird science
Posted by Adam Jadhav | Filed under united states
Conservation International has released a new series of HD videos personifying portions of the earth-system with messages delivered by celebrity voice-acting. An unhappy Han Solo Harrison Ford plays the ocean. Nature, soil, the rain forest, water and water also deliver messages in this "Nature is Speaking" series. More perspectives are coming.
The message: From the point of view of nature, humans with their hubris and ignorance seem destined to destroy the natural resources they depend on with hubris. Ecosystems have survived for millennia upon millennia and yet humans, in a relatively short time span, are breaking everything in sight.
(I was in the audience a few years ago in a Washington, DC theater when Bill McKibben sadly joked, "This is why we can't have nice things.")
These messages have antagonistic overtone, some more than others. An almost spiteful Ocean warns, "I'm only gonna say this once. If nature isn't kept healthy, humans won't survive, simple as that. Me? I could give a damn with or without humans. I'm the Ocean. I covered this entire planet once and I can always cover it again. That's all I have to say."
I expect the message+tone will rile some people. And I do wonder if the "nature will survive us all" trope doesn't do a bit of harm when we're also arguing that humans are responsible for massive environmental change.
Still, the argument is certainly true; we are destroying the ocean — through overfishing, trash, chemicals, fertilizer runoff, mining and acidification via CO2 emissions. The video poignantly offers no small amount of stunning video to remind us of the ecosystems we're threatening.
The tag line: "Nature doesn't need people. People need nature."
Tags: advocacy, conservation international, consumption, degradation, environment, environmentalism, harrison ford, oceans, policy
Posted by Adam Jadhav | Filed under united states
I'll be brief. Maybe.
Dear President Obama: I sorely missed being in Washington, DC, this week. The Reject and Protect protests by the Cowboy Indian Alliance (and thousands of other supporters) against the Keystone XL pipeline wraps up today. The big show was yesterday and the pictures are fantastic, symbolic and powerful. Check the video above of the opening ceremony earlier in the week. I hope you heard them. They mean business and you should listen.
My views on this are hardly a secret. #NOKXL. But I'm still a little in awe of how many people have come together, from very different subject positions, despite what I consider to be an adverse environment for environmental politics.
Consider the context: U.S. politics are poisoned/paralyzed by a hypocritical, psuedo-"freedom from government" movement; the Democratic leadership is focused on public relations damage control over its greatest achievement (which I still support); the Republican-controlled House hates nature; the uber-rich Koch brothers live and breathe climate change denial* and bankroll idiocy* on the matter; some scholars say as national governments are unable/unwilling/less necessary to lead in global environmental governance, cities may/can step up in their place.
Such gridlock, political distractions, misinformation (lies, you giant Kochs*) and city-scale momentum might suggest that a national environmental movement would have trouble gathering steam.
Yet somehow, Mr. President, you have managed to repeatedly draw large crowds of protest very near to your doorstep. More than 1,200 got themselves arrested in 2011 in a massive display of civil disobedience, and tens of thousands have again and again crowded downtown DC to tell you to take a moral stand and reject this pipeline.
In the latest action, Obama-sir, you've managed to convince historical foes — ranchers and indigenous tribes — that they have something important in common that would trump even the grave injustices and conflict of the past. In case you haven't figured it out, that common interest is telling you where you ought to shove the pipeline.
As you well know, Mr. President, climate change is real and scary. We're on a runaway train of oil addiction; stopping said train will be painful, to be sure. But the whole planet is headed for an even worse fate if tar sands crude goes up in so much smoke. If Keystone XL is approved, the United States will be aiding and abetting the consumption of immoral, uber-dirty (like, Koch Bros.-dirty*) tar sands crude.
Perhaps I should be thankful that your indecision on the looming threat of this pipeline has galvanized a new environmental movement that bridges some serious political gulfs. Perhaps I could be thankful, Mr. Obama, if I wasn't still so damn flustered that you and your administration are politically punting (again) on environmental protection.
* For you prickly Koch Bros. fanboys, my angst about your money-grubbing heroes is of course my opinion, no matter how many other people (or facts) share said opinion. No need to line up the libel suits.
Tags: #nokxl, 350.org, barack obama, cowboys and indians, democracy, environment, environmentalism, ethics, keystone xl, morality, protest, social movement, washington d.c.
Posted by Adam Jadhav | Filed under united states
The President is now apparently waffling on the latest attempts to lay a new pipeline from Canada to the Gulf of Mexico. The administration last month announced it would review the pipeline again for additional social and environmental concerns. Those of us opposed were thrilled; the delay of more than a year would likely kill the pipe. If approved, the pipeline very well could be game over for the battle to stem climate change.
Then the John Boehner-led U.S. House decided to tack a pipeline rider to a tax cut extension. This has become a political wedge and word has it that Obama may now try to use pipeline approval to win other short-term economic aid.
Cough*bullshit*cought
I recognize that while writing a letter feels incredibly empowering it's still almost entirely symbolic. But I write to the president nonetheless. I'd encourage anyone else who cares about this to do the same.
Mr. President:

I was the 1,253rd person arrested protesting outside your house late this summer. That made me the final person to be cited for civil disobedience — officially failure to obey a lawful order — as we called on you to stem our planet's addiction to dangerous oil and, in particular, dirty crude from the Athabasca tar sands. Our nation's foremost climatologist James Hansen has called the Keystone XL pipeline "game over" for the battle to slow the tide of climate change.

Note: I'm not just a fringe tree-hugging hippy. I was a legal and political reporter at the St. Louis Post-Dispatch, raised in small-town middle America (central Illinois). I covered your campaign in 2008 as well as your efforts on behalf of others in 2006. I voted for you in your presidential run and your senate bid. I've followed you since Springfield and the state senate. I pay my taxes.

And I ride just left of center, politically.

Or at least I did. But the condition of our planet has convinced me to shed my neutral observer hat and don the fighting gloves an activist. That's why I'm in grad school at American University, researching global environmental policy and issues. That's why I was happily arrested in September for this cause. That's why I was shouting "Show me what democracy looks like!" outside your house again in November. And that's why I expect you to keep the promises you made when you were elected.

Sir, we need a fighter today; yes, the country is in dire straits economically, but you know as well as I do that short, myopic time horizons — the ones that set up the false environment-jobs dichotomy — only cause more problems in the future. Compromise is laudable to be sure, but how far will you bend?

You are a man of faith and morals; you and I pray our creator for the safety of those we love. Well, I believe that if we're truly made in God's image then we have a duty to look after our brothers and sisters and the lilies of the field as well. I heard you tell the world that we are our brothers' keepers. Well, sir, addressing the environmental destruction of our planet is part of fulfilling that responsibility. By helping to look after the planet, you help to look after all its inhabitants.

Please, stop thinking about what Boehner or Fox News pundits will say about you tomorrow or next month. Please, stop worrying about a future date with Mitt or Newt or Rick. Please, instead start thinking about what kind of a world Malia and Sasha and (some day) my children will need.

Respectfully but urgently,

Adam Jadhav
Tags: barack obama, climate change, conservation, environmentalism, keystone xl, pipeline, politics, president, tar sands, washington d.c.
Posted by Adam Jadhav | Filed under united states
I'm a sucker for well-produced, moving video.
Tags: china, climate change, conservation, environmentalism, india, overconsumption, pollution, washington d.c.
Posted by Adam Jadhav | Filed under united states
Actually, this is somewhat serious. I'm an overconsumer; if everyone on the planet were to live my lifestyle, we'd need several more earths. And yet I don't own a car, I don't eat meat, I eat primarily organic and my landlords purchase 100 percent wind electricity. I do fly considerably more than the average person, but even subtracting that carbon output, my lifestyle is still well above the planet's per capita biocapacity.
While all eco-footprint calculators have serious deficiencies — a finding from my semester science brief (click here for a boring PDF) — the reality is that in America, we use more than our fair share; beyond our personal consumption, our lives are supported by carbon/resource intense infrastructure and government spending, as well as social, medical and commercial services.
Interested in finding out your footprint? Click here for a simplified version from the Global Footprint Network.
I can't be all doom and gloom — certainly we've made some relative strides in recent years, in environmental governance, recycling, personal habits, "green" consumption, reforestation (in parts of the globe). But such incremental eco modernization (Arthur Mol, say what?) does little to offset rising global consumption as more and more countries attempt to mimic a U.S. standard of living (Peter Dauvergne and Gus Speth know what's up). We see real global warming and resource depletion around the world; denying that is just not an option anymore.
I believe the social scientists who say we face serious limits to growth. We need to make changes, individually yes, but more importantly as a society.
Tags: biking, carbon, conservation, eco footprint, environmentalism, natural resources, policy, united states, washington d.c.
Posted by Adam Jadhav | Filed under united states
Activists and ordinary people across the country claimed a victory yesterday as the Obama administration has postponed a decision on the Keystone XL pipeline, pending further reassessment of the economic benefits and untold environmental consequences.
In case, you're wondering, this is kind of a big deal.
I'll try to keep it short: Oil industry folks — and some construction companies looking for temporary jobs — were very excited about laying a long pipeline from Canada to the Gulf of Mexico, to make extraction of crude oil found in Alberta tar sands easier. Their argument: This brings more oil from a friendly source to the U.S. and would create jobs in the United States.
Those claims are at best specious and they ignore the serious harm the world would get in the bargain.
Let's start with the "friendly energy" concept. Oil is a global commodity; prices are determined largely by world demand. Lower prices in the U.S. are not due to some charity or good will from our suppliers.
And this wouldn't somehow supply the U.S. better. Some have actually argued the opposite, that the pipeline would make the export of the oil to the world market even easier. Plus, independent resource economists who have looked seriously at the "dependence on foreign oil" argument generally agree that price shocks from unfriendly sources are almost always smoothed by increased supply from other sources. If a country that doesn't like us withholds, the price might rise briefly and another country will invariably give in and fill supply.
(In case you're wondering, Cananda at present is the biggest supplier of the U.S., but that doesn't mean we get drastically lower prices because Canucks like us so. Our discounts at the pump are largely thanks to the awesome [sarcasm] subsidies our government offers oil companies.)
Then there's the jobs question. The U.S. economy is hurting, certainly, and proponents say the pipeline would create somewhere around 20,000 jobs. Not 20,000 permanent jobs, mind you. About 13,000 of those are job-years in construction. So maybe 6,500 one year, 6,500 another. The remainder of 7,000 is an equally dubious proposition, as it refers to secondary supply chain effects, some of which are unlikely as materials are already purchased or sourced.
So, in reality, we get just a temporary bump and then it's back to unemployment. I'm oversimplifying, but that's not structural economic change that leads to lasting work or better standards of living. We need a true green employment revolution, in public transport, eco-friendly energy, clean (slow) food, retooling our infrastructure across the country.
And we need an ethical change that decouples happiness and standards of living from over-consumptive growth dependent on materials (in this case, carbon).
In short, more love and bikes.
Meanwhile, the tar sands crude extraction process rips holes in the earth that are visible from space. This is the less-than-easily accessible oil; extraction is itself more energy and input intense, creating vast lakes of toxic water and vast swaths of razed forest. Due to the nature of this oil, using tar sands crude releases drastically more carbon dioxide, our not-so-friendly climate change gas. This quote has been over used, but it is worth repeating: NASA's top climatologist, a guy who isn't exactly political while he studies the atmosphere and space and the like, called the pipeline and full exploitation of these tar sands "game over."
Speaking of climate change, this pipeline would have the added benefit of committing the U.S. and the world that much more to a carbon economy. It would only strengthen our "path dependency," making structural change more difficult. Make no mistake, climate change is real and we will have to adapt to it. Despite the tirades of deniers in the U.S., we will be weaned of carbon one day; the question is whether that transition is orderly and comfortable sooner or chaotic and painful later.
That's why 1,253 people were arrested, myself included, outside the White House gates this summer in protest. That's why thousands of people across the country raised a ruckus. That's why Obama was birddogged by reporters protesters on various circuits this autumn. That's why Canadian embassies across the world were the targets of demonstrations. That's why 10,000 or so folks literally joined arms last weekend in a human chain around the White House (I lost my voice shouting).
And let's be clear, this was not a coalition of fringe hippies. I met students, retirees, labor, hunters, farmers, preachers, professors, lawyers, truckers and everyone in between. I was arrested with people from Vermont, Nebraska, Illinois, Puerto Rico and Canada.
To reiterate, this decision to reevaluate the pipeline is certainly a big win. Cynics will say it only punts the question until after the 2012 election, but it also likely dooms the project.
And, more importantly, it doesn't send us careening us down the path to ever more environmental harm.
Tags: climate change, environment, environmentalism, for the win, photography, protest, social movements, tar sands, transcend, washington d.c.
Posted by Adam Jadhav | Filed under united states
Another shot of me being lead away this weekend in a civil disobedience action against the Keystone XL pipeline that would carry tar sands crude from Alberta to the Gulf of Mexico. If completed, this would be, according to one of the nation's leading climate scientists, game over for mitigating climate change.
Because I cared and was able, I was arrested Saturday in protest like others who joined the sit-ins in front of the White House for the last two weeks. Billed as the largest civil disobedience movement in a decade, the daily protests/arrests offered a unique chance to focus on a single issue — the decision on the pipeline requires only Obama's signature — that has such international import.
I went to bear witness and be counted. I went because I could afford to. I went to observe a social movement from the inside. I went because MLK's voice moved me to not be silent.
On the final day, I was the final person arrested. No. 244. And, as is obvious, I wore a suit, tie and hat, because when the matter is serious, perhaps it's best not to dress like a hippie.
Tags: arrest, barack obama, climate change, environmentalism, global warming, keystone xl, protest, tar sands, united states, washington d.c., white house
Posted by Adam Jadhav | Filed under united states
Photo by Josh Lopez
See anyone familiar? (Look just above the second eight).
I now have an arrest record. And after two weeks, more than 1,250 people built (or added to) one, too.
There's more to the tale coming in subsequent posts. But in the meantime, you should read in to find out the serious trouble literally coming down the pipeline.
By the ways, "Show me what Democracy looks like! / This is what Democracy looks like!" is the best call-and-response protest chant out there.
Tags: action, arrest, environmentalism, keystone xl, oil, politics, pollution, protest, tar sands, united states, washington d.c., white house