Posted by Adam Jadhav | Filed under united states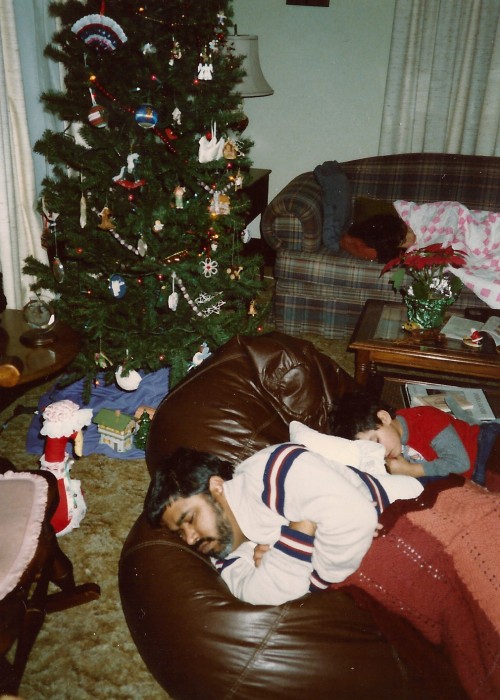 After eating biscuits and gravy and unwrapping presents, I promptly took a two-hour nap with my head on Ishani's lap, continuing the time-honored tradition of sleeping through much of Christmas day.
(See above, circa 1988.)
Season's greetings to all!
Tags: christmas, family, history, us
Posted by Adam Jadhav | Filed under india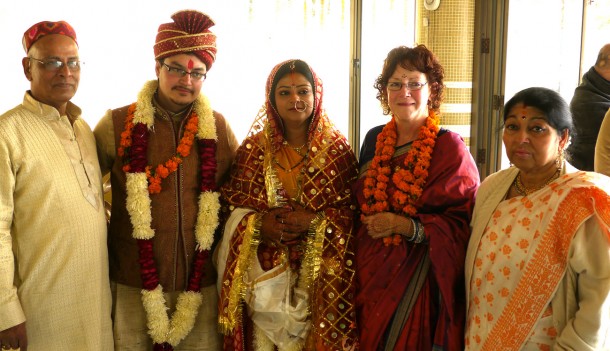 To the day. Or maybe it was a few days earlier. Too many celebrations to remember.
Tags: anniversary, family, india, shaadi, wedding
Posted by Adam Jadhav | Filed under united states
It's been 15 years to the day since my father died. His father (far left above) outlived him by a few years; Dadiji, his mother (second from the left), by nearly a decade.
Mom (holding me), Anna (held by Dad) and I continue our lives, but everything changed. His death was a timeline break for us all.
Miss you, Dad. And your dapper suits.
Tags: anniversary, dad, family, jadhav, memory, solomon jadhav
Posted by Adam Jadhav | Filed under united states
Today, fourteen years ago, Dad died. I've been thinking about him of late, though to be honest, the anniversary completely snuck up on me.
Rather, I've been considering my Indian immigrant father — and my lineage and family in general — because I mostly grew up in small towns in Central Illinois. These are places that voted earlier this month for Donald Trump to be president.
Though I was born in Decatur, a city of 74,000 people today give or take, we shifted before I have memories to Avon, population: less than 800. When I was 5, we spent a year in Quincy (41,000 people) but moved again to the country. Those earliest years are indistinct in my brain.
Beason, Illinois, in 1988, represents the real start of my remembered childhood. That's where the above photo was taken. Beason is barely even a village, an unincorporated census place. Which is to say it had a Post Office and a single soda vending machine. As of the 2010 Census, 189 people lived there. Beason's primary reason for existing was a grain elevator and a grade school. The latter has since been razed.
I spent ages 6 through 9 in Beason. My family wasn't a farm family, but I certainly grew up in that circuit. Dad was the town preacher. So many friends and neighbors also attended our church. In the school, there were about 80 kids in grades K through 8. I was often babysat by one or more church families, often on their farms. I taught myself to ride a bike in a country gravel driveway. I played with my babysitter's children (my friends and school mates) in hay lofts. I developed my still-existing fear of cows in barns and pastures, where I also learned to ride a horse.
In the Methodist tradition, preachers are itinerant. They typically relocate every several years. So after four years, we shifted to Henry, Illinois. Population: 2,600. This felt like a big city, compared to Beason. The town had industry (a fertilizer plant and a tire factory). There was a community swimming pool. A grade school AND a high school. Grocery stores (two, as I recall) and a Dollar General. County fairgrounds. Gas stations. The Internet showed up when I was 12.
But there were still farm (or country) families, whose kids were my friends. I learned to drive on country roads. My neighbor's dad took me mushroom hunting. My first W2′d job involved detassling corn during a summer. My second legal employment: Stocking shelves for one of those grocers. We lived there six years, before shifting back to Decatur when Dad got transferred again.
These memories of childhood in conservative rural America — with my immigrant father as a figure in those communities — have been in my head for a week and a half, since it became clear that indeed Trump would be the next president of the United States.
Today, I sit in a beating heart of so-called liberal America, a PhD student at the University of California at Berkeley. My primary research focuses on capitalism, India, fishers and the oceans. In the last decade, I've spent as much time out of the country as in it. I read and generally agree with a fair bit of Marx. I embrace the majority of left, liberal, progressive causes. The Democratic Party is usually to my political right.
From the perspective of many places where I grew up, I'm a neo-hippie. Or a communist. Or out-of-touch coastal elite.
In my current circles, there's a lot of head scratching at how an openly misogynist, racist, elitist, egotist, fascist like Trump could get himself elected. Why did so many of those folks in the "red" counties — places like where I grew up in — vote for Trump? Is that really the political fabric of a not-quite-majority of our nation? This concern among progressives is echoed hyperbolically in media and many late-night TV shows.
There are lots of assumptions embedded in things "liberals" say about conservatives, but many are grounded in real fear, justified by some of Trump's outspoken and openly misogynist, racist, elitist, egotist, fascist voters. But this rendering of conservatives doesn't fit neatly with my own upbringing.
To understand, look again at the family photo above. Dad was brown. My sister and I are mixed race. To be clear, we certainly met racism. My father especially. Family lore says he received death threats at different moments (though in Decatur, which is not actually the most rural of places). In Henry, I didn't understand the term "sand nigger" the first time it was directed at me. I'm not denying that rural conservative America is not always welcoming of diversity.
But race hardly framed my upbringing in these communities. I'm sure my parents sheltered me somewhat (and my sister probably had a different experience), but discrimination wasn't the overriding theme of my childhood. My family also knew kindness from at least some of the same people who probably also voted for Trump. In Henry, after the parish fundraised a few thousand dollars with a community shrimp boil, the church turned around and surprised our family by paying for a trip for Mom and Dad to go back to India so they could visit his parents. Dad performed baptisms and marriages and funerals for many people in these places. He counseled and prayed with and ministered to many people, some of whom today might be labeled as racist.
(There are also "blue" voters in majority "red" places. Thirty percent of Marshall County, where Henry sits, voted for Hillary Clinton.)
And in every church my father pastored, I had umpteen adoptive grandparents, who might have feared a person of color but nonetheless treated the preacher and his children like their own. I was given advantages in school — bumped up in math class, taken to state journalism conferences, pushed to be a good student. The local grocery store hired me before I was 16 (and did adhere to child labor laws); the owner hired my sister, too. Even an old man in the community, who I believe was probably a bigot, once paid me to teach him to use his computer.
The point of these anecdotes: The political, social, economic (and even ecological) reality in the rural America I knew was complex. I do not give racism, xenophobia and other bigotries a pass. But I also have sympathy for conservatives that is rooted in my own upbringing. I honestly do believe that progressives today engage in Othering conservative America as a place that is mysterious, irrational and sometimes — in a rather colonial logic — inferior.
I'm following political geographers here, who describe Othering as a process of distinguishing people and places hierarchically, of drawing boundaries between who/where/what is included in a collective identity and those people, places and things that are excluded as the Other. Think Edward Said's history of denigration of Asia by European colonizers. More recent application of the process of Othering can be found in Derek Gregory's analysis of the way Islamic people have been Othered as barbarians, particularly since the Bush years.
As a youngish geography scholar, I want to explore a deeper why behind the conservative vote, to overcome this process of Othering of conservatives by liberals. I'm now looking at voting patterns and economic data, for example, for Henry. The county last voted Democrat for president in 1992 and 1996. Before that? Johnson. Meanwhile, the county has also watched inflation-adjusted median income fall from 1990 to 2010 by 20 percent or so. Farm jobs are down. Population is flat. The tire factory? Carved up into units, one of which is owned by a global equity firm. The fertilizer plant? Now under control of the Koch bros.
These are material happenings that deserve consideration alongside socialpolitical reality. I suggest they need to be approached, perhaps by scholars with sympathy and method rooted in autobiography (even autoethnography), or at the very least transparent consideration of subject position. In this regard, I'm thinking of Thomas Frank's What's the Matter with Kansas as well as Arlie Russell Hochschild's Strangers in Their Own Land.
And today I'm remembering my father mostly because he lived as a brown man, raising family amid these places, and actively ministering to the emotional and spiritual needs of this Other. And I'd desperately like to talk to him about that.
Tags: american, biography, conservative, family, farming, geography, history, illinois, lineage, politics, rural, The other, trump
Posted by Adam Jadhav | Filed under united states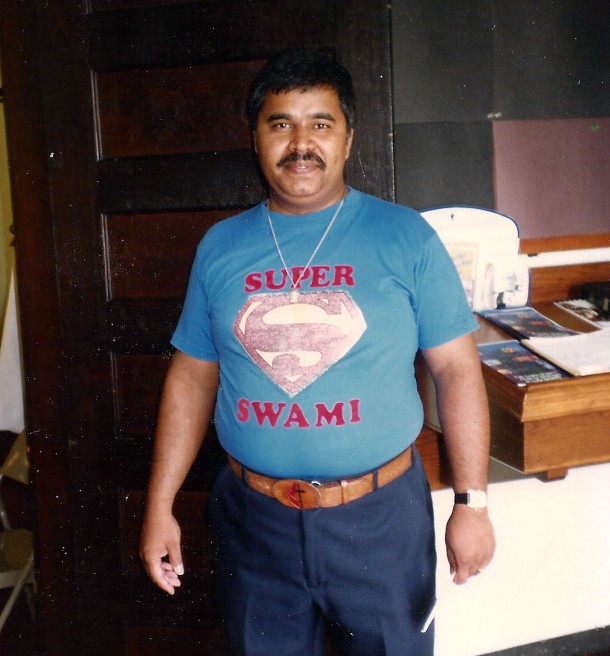 Father's day and all. Miss you so much, dad.
Tags: chestnut, family, father's day, illinois, immigration, india, solomon jadhav, united states
Posted by Adam Jadhav | Filed under india
Nine years ago today, Dad died in a car accident. I've obviously had a long time to grapple with that; life continues, some memories don't fade, teachings and spirit live on, legacies remain.
But so does a bit of sadness. For catharsis, I turn to this photo of photos that tracks so much of the Indian side of my family. The collage was created for my grandparents in India; I digitized it when I stayed with them during my semester of backpacking around India in 2004.
Dadaji passed away in 2005; dadiji died in August. Since the photo was made an uncle also died (another passed away more than two decades ago).
The large-file, high-res version is linked above. Both grandparents, uncles, aunties, cousins, Dad, Mom, Anna and I all feature in different snaps and clicks, to use the Indian parlance.
This indeed is where one half of me originated.
Tags: death, family, india, jadhav, memory, nostalgia, photography, pune, solomon jadhav
Posted by Adam Jadhav | Filed under india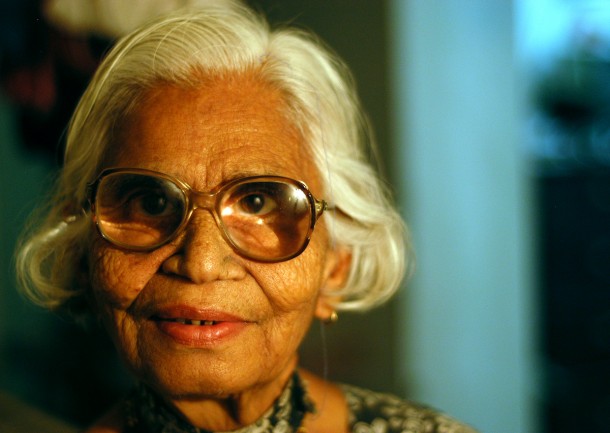 I will never forget the words of dadiji, in a moment of utmost tragedy, when my father, her son, had died suddenly several years ago. She implored, over a scratchy phone connection: "Be strong. Have strong faith."
God will provide and care for us, she said.
Raised an orphan, married in the Indian fashion to a man she didn't know, weighted with the load of four step-children and four more of her own, hardly blessed with substantial resources, Mohini Jadhav's life was a marathon, an endurance trial. For more than nine decades, she faced her struggles — including attacks on her family over religion, a husband who ruled at times with an iron fist and various bouts of domestic strife — with an unwavering faith and delight in God's grace.
It was that faith that reached out to me from thousands of miles in the darkest of moments. Over many years, she stressed that we can only feel happiness at the life God (he/she/it/they) gives, even as we stumble over hardship.
She died yesterday, succumbing, finally, to old age. I will miss her faith and joy.


Continue reading this entry » » »
Tags: dadiji, family, india, pune
Posted by Adam Jadhav | Filed under india
I went to visit my dadiji in Pune earlier this month, perhaps for the last time. She has become successively weaker in recent months after a fall in January confined her to bed.
But she was mostly in good spirits while I was there. She told me that I should get married to an Indian girl, offered to make me biriyani and pickle, quizzed me on my Hindi and again told me to marry an Indian girl.
Her memory fades in an out, but she told some stories from her past. And I showed her some pictures and sat with her holding her hand as much as I could. The photo comes from the morning I left.
And, yes, I promised I'd marry an Indian girl.
Tags: dadiji, family, india, pune
Posted by Adam Jadhav | Filed under india
Mom on a boat. Love you, Mom.
Tags: boat, family, india, mom, photography, pondicherry
Posted by Adam Jadhav | Filed under india
Our tour of Darjeeling was snared by a regular road closure that trapped us in a mountain traffic jam. Perfect Indian excuse for a lunch break.
We ventured to a small Tibetan restaurant where we proceeded to devour steamed vegetable momos and aloo parathas and sweet lemon tea. The whole operation was run out of a cramped kitchen (above) where mom and daughters molded momos (also below) and rolled bread.
Outside, the charismatic papa heckled customers (all of us), refused to serve them tea before lunch (me) and hollered ever-growing food orders (ours) through the door. Pops was absolutely delightful, laughed at my Hindi, and enthusiastically explained (still in Hindi) how to make his lemon tea.

Continue reading this entry » » »
Tags: darjeeling, family, food, india, momo, nostalgia, photography, shenanigans, tibet