Posted by Adam Jadhav | Filed under united states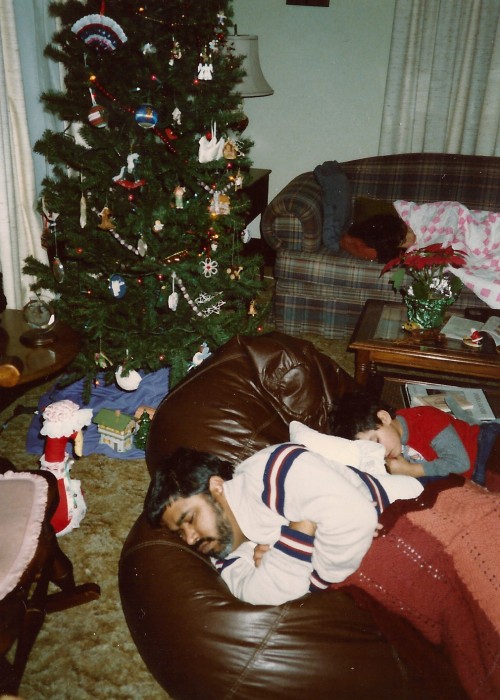 After eating biscuits and gravy and unwrapping presents, I promptly took a two-hour nap with my head on Ishani's lap, continuing the time-honored tradition of sleeping through much of Christmas day.
(See above, circa 1988.)
Season's greetings to all!
Tags: christmas, family, history, us
Posted by Adam Jadhav | Filed under united states
Today, fourteen years ago, Dad died. I've been thinking about him of late, though to be honest, the anniversary completely snuck up on me.
Rather, I've been considering my Indian immigrant father — and my lineage and family in general — because I mostly grew up in small towns in Central Illinois. These are places that voted earlier this month for Donald Trump to be president.
Though I was born in Decatur, a city of 74,000 people today give or take, we shifted before I have memories to Avon, population: less than 800. When I was 5, we spent a year in Quincy (41,000 people) but moved again to the country. Those earliest years are indistinct in my brain.
Beason, Illinois, in 1988, represents the real start of my remembered childhood. That's where the above photo was taken. Beason is barely even a village, an unincorporated census place. Which is to say it had a Post Office and a single soda vending machine. As of the 2010 Census, 189 people lived there. Beason's primary reason for existing was a grain elevator and a grade school. The latter has since been razed.
I spent ages 6 through 9 in Beason. My family wasn't a farm family, but I certainly grew up in that circuit. Dad was the town preacher. So many friends and neighbors also attended our church. In the school, there were about 80 kids in grades K through 8. I was often babysat by one or more church families, often on their farms. I taught myself to ride a bike in a country gravel driveway. I played with my babysitter's children (my friends and school mates) in hay lofts. I developed my still-existing fear of cows in barns and pastures, where I also learned to ride a horse.
In the Methodist tradition, preachers are itinerant. They typically relocate every several years. So after four years, we shifted to Henry, Illinois. Population: 2,600. This felt like a big city, compared to Beason. The town had industry (a fertilizer plant and a tire factory). There was a community swimming pool. A grade school AND a high school. Grocery stores (two, as I recall) and a Dollar General. County fairgrounds. Gas stations. The Internet showed up when I was 12.
But there were still farm (or country) families, whose kids were my friends. I learned to drive on country roads. My neighbor's dad took me mushroom hunting. My first W2′d job involved detassling corn during a summer. My second legal employment: Stocking shelves for one of those grocers. We lived there six years, before shifting back to Decatur when Dad got transferred again.
These memories of childhood in conservative rural America — with my immigrant father as a figure in those communities — have been in my head for a week and a half, since it became clear that indeed Trump would be the next president of the United States.
Today, I sit in a beating heart of so-called liberal America, a PhD student at the University of California at Berkeley. My primary research focuses on capitalism, India, fishers and the oceans. In the last decade, I've spent as much time out of the country as in it. I read and generally agree with a fair bit of Marx. I embrace the majority of left, liberal, progressive causes. The Democratic Party is usually to my political right.
From the perspective of many places where I grew up, I'm a neo-hippie. Or a communist. Or out-of-touch coastal elite.
In my current circles, there's a lot of head scratching at how an openly misogynist, racist, elitist, egotist, fascist like Trump could get himself elected. Why did so many of those folks in the "red" counties — places like where I grew up in — vote for Trump? Is that really the political fabric of a not-quite-majority of our nation? This concern among progressives is echoed hyperbolically in media and many late-night TV shows.
There are lots of assumptions embedded in things "liberals" say about conservatives, but many are grounded in real fear, justified by some of Trump's outspoken and openly misogynist, racist, elitist, egotist, fascist voters. But this rendering of conservatives doesn't fit neatly with my own upbringing.
To understand, look again at the family photo above. Dad was brown. My sister and I are mixed race. To be clear, we certainly met racism. My father especially. Family lore says he received death threats at different moments (though in Decatur, which is not actually the most rural of places). In Henry, I didn't understand the term "sand nigger" the first time it was directed at me. I'm not denying that rural conservative America is not always welcoming of diversity.
But race hardly framed my upbringing in these communities. I'm sure my parents sheltered me somewhat (and my sister probably had a different experience), but discrimination wasn't the overriding theme of my childhood. My family also knew kindness from at least some of the same people who probably also voted for Trump. In Henry, after the parish fundraised a few thousand dollars with a community shrimp boil, the church turned around and surprised our family by paying for a trip for Mom and Dad to go back to India so they could visit his parents. Dad performed baptisms and marriages and funerals for many people in these places. He counseled and prayed with and ministered to many people, some of whom today might be labeled as racist.
(There are also "blue" voters in majority "red" places. Thirty percent of Marshall County, where Henry sits, voted for Hillary Clinton.)
And in every church my father pastored, I had umpteen adoptive grandparents, who might have feared a person of color but nonetheless treated the preacher and his children like their own. I was given advantages in school — bumped up in math class, taken to state journalism conferences, pushed to be a good student. The local grocery store hired me before I was 16 (and did adhere to child labor laws); the owner hired my sister, too. Even an old man in the community, who I believe was probably a bigot, once paid me to teach him to use his computer.
The point of these anecdotes: The political, social, economic (and even ecological) reality in the rural America I knew was complex. I do not give racism, xenophobia and other bigotries a pass. But I also have sympathy for conservatives that is rooted in my own upbringing. I honestly do believe that progressives today engage in Othering conservative America as a place that is mysterious, irrational and sometimes — in a rather colonial logic — inferior.
I'm following political geographers here, who describe Othering as a process of distinguishing people and places hierarchically, of drawing boundaries between who/where/what is included in a collective identity and those people, places and things that are excluded as the Other. Think Edward Said's history of denigration of Asia by European colonizers. More recent application of the process of Othering can be found in Derek Gregory's analysis of the way Islamic people have been Othered as barbarians, particularly since the Bush years.
As a youngish geography scholar, I want to explore a deeper why behind the conservative vote, to overcome this process of Othering of conservatives by liberals. I'm now looking at voting patterns and economic data, for example, for Henry. The county last voted Democrat for president in 1992 and 1996. Before that? Johnson. Meanwhile, the county has also watched inflation-adjusted median income fall from 1990 to 2010 by 20 percent or so. Farm jobs are down. Population is flat. The tire factory? Carved up into units, one of which is owned by a global equity firm. The fertilizer plant? Now under control of the Koch bros.
These are material happenings that deserve consideration alongside socialpolitical reality. I suggest they need to be approached, perhaps by scholars with sympathy and method rooted in autobiography (even autoethnography), or at the very least transparent consideration of subject position. In this regard, I'm thinking of Thomas Frank's What's the Matter with Kansas as well as Arlie Russell Hochschild's Strangers in Their Own Land.
And today I'm remembering my father mostly because he lived as a brown man, raising family amid these places, and actively ministering to the emotional and spiritual needs of this Other. And I'd desperately like to talk to him about that.
Tags: american, biography, conservative, family, farming, geography, history, illinois, lineage, politics, rural, The other, trump
Posted by Adam Jadhav | Filed under india
Word is circulating that 516 of the colonial-era bungalows (read: small palaces) in the planned center of New Delhi (Lutyen's Delhi) may be renovated/rebuilt over a period of 20 years. The state-owned bungalows house India's political elite — ministers, judges and other top officials — and are largely a perk of official power.
The price tag for updating the bungalows with so-called modern conveniences? Three thousand crore rupees, or about $482 million by today's exchange rate.
Think on that. That's not nearly half a billion dollars for public infrastructure (which is sorely needed around India). That's not even half a billion dollars for an illogical mega dam, which Indian officials have also been fond of building.
No, that's almost half a billion dollars to essentially redecorate the halls (bedrooms?) of power.
The bungalows essentially represent a faux suburban space — broad roads, leafy overhangs, large plots, individual manses — built in the middle of one of India's densest cities. The Business-Standard has a fine editorial calling out this ridiculous plan.
But more than illogical urban development, the bungalow zone represents a classist geography that replicates and reinforces both social stratification and power, reserved as they are for officials and regulated by state rules. To live in Lutyen's zone is a pipe dream for many; claiming an address there requires access and influence. Such is the attraction of this "neighborhood" that in 2012, when a private bungalow (there are a few) was for sale, it was priced at 600 crore rupees — about $96 million.
Meanwhile, most of rest of the city lives in ever densifying and increasingly over-crowded warrens. For a stark comparison, check the satellite imagery, courtesy of Google.
Certainly, all cities contain prestigious addresses. But few are so overtly the result of statist development and control. Yes, Chicago's Michigan Avenue or Gold Coast might indeed be the result of capitalist development (encouraged and aided by government) that benefits the already rich and richer. And, yes, such posh strips certainly represent stratification and gentrification.
Yet they do not approach the neo-colonial classism of Lutyen's Delhi, which is explicitly intended to benefit a ruling political elite. It's notable that such absurdity is a holdover from the British that independent India's rulers have not so subtly clung to.
I quote at length from celebrated scholar James C. Scott's wonderful treatise on state planning in development.
"Capital cities, as the seat of the state and of its rulers, as the symbolic center of (new) nations, and as the places where often powerful foreigners come, are most likely to receive close attention as veritable theme parks of high modernist development. Even in their contemporary secular guises, national capitals retain something of an older tradition of being sacred centers for a national cult. The symbolic power of high-modernist capitals depends not, as it once did, one how well they represent a sacred past but rather on how fully they symbolize the utopian aspirations that rulers hold for their nations. As ever, to be sure, the display is meant to exude power as well as the authority of the past or of the future."
Scott is writing about the state development project and its faith in legiblility, clean lines, rigid planning, bureaucracy, rules, universalism and top-down design. The state, as often as not, has seen itself as the propagator and guarantor of such a high modern order.
And to be clear, Scott had New Delhi in mind when writing.
Colonial capitals were fashioned with these functions in mind. The imperial capital of New Delhi, designed by Edwin Lutyens, was a stunning example of a capital intended to overawe its subjects (and perhaps its own officials) with its scale and its grandeur, with its processional axes for parades demonstrating military power and its triumphal arches. New Delhi was natural intended as a negation of what then became Old Delh. One central purpose of the new capital was captured nicely by the private secretary to George V in a note about the future residence of the British viceroy. It must, he wrote, be "conspicuous and commanding," not dominated by the structures of past empires or by the features of the natural landscape. "We must now let [the Indian] see for the first time the power of Western science, art, and civilization."

Standing at its center for a ceremonial occasion, one might forget for a moment that this tiny gem of imperial architecture was all but lost in a vast sea of Indian realities which either contradicted it or paid it no heed.
The organization and development — and continued maintenance — of the Lutyen's area represents a lingering official faith in high modernism in urban planning. The "neighborhood" is guarded by police and development is highly restricted; order is, under Delhi development policy, practically required and enforced.
Aesthetically the bungalow zone certainly seems more organized and tidy that most of the rest of Delhi. This is in stark contrast to the more organic/functional if seemingly chaotic development elsewhere across the city. I'm not arguing that the riot of construction that is Delhi doesn't have its own problems, nor am I arguing against urban planning in theory. Plans are needed to address Delhi's mounting challenges with illegal land grabs, environmental cataclysm, corruption at all levels of development, the list goes ever on. But I am arguing — as Scott did — that Lutyen's plan had little relevance to local conditions, needs, utility or desires.
What's more, the mandated order and seemingly elegant functioning also remain ironically dependent on the very chaotic geography Lutyen's Delhi rejected. Though haphazard to the planner's eye, the slums and ramshackle development of other neighborhoods provide the service labor to the elite. (This is generally the case in India where elite neighborhoods are served and serviced by a servant class that lives in slum or almost-slum conditions.)
Of course, it would be nice to dismiss the bungalow zone and Lutyen's Delhi as simple anachronism or architectural heritage. But they're not just history (or even a nice perk for underpaid public servants). The bungalows by their existence are an example of the state replicating class division and reinforcing geographies of inequality.
As such, the Business-Standard rightly argues that the bungalows don't need renovating/rebuilding.
They need razing.
Tags: architecture, british, business standard, class, colonialism, delhi, development, high modernism, history, imperialism, india, james c scott, lutyen's delhi, new delhi, politics, poverty, power, society, stratification, urban planning
Posted by Adam Jadhav | Filed under india
Apologies. I don't have time these days to blog. Research is good, but vork, vork, vork.
But every now and then I think back to my folders of unpublished photos. Here's one to dwell on, whatever your interpretation. A favorite aphorism-turned-statuette for Gandhiji.
Tags: art, delhi, gandhi, history, india, photography, three wise monkeys, wisdom
Posted by Adam Jadhav | Filed under india
The blog has been on a month-long hiatus, the result of my end-of-semester workload and then a rapid departure from D.C. We're back in action, though probably less frequently, as I'm on the move for the summer, working and researching overseas.
The above picture dates to my trip to India in December-January. My favorite Delhi flocks over my favorite Delhi landmark.
Tags: delhi, history, india, kabutar, monument, photography, qutub minar
Posted by Adam Jadhav | Filed under india
You have to look pretty high in Delhi to find a view that showcases India's illustrious past while also obscuring her modern rise.
But Qutub Minar is tall enough. When jumbo jets aren't cruising in and out of the nearby international airport.
Not that I'm a primitivist or a return-to-times-gone-by wallah, but it certainly is pleasant to see visions of history: an ancient tower and a blue summer sky.
Tags: architecture, blue sky, delhi, history, india, photography, qutub minar
Posted by Adam Jadhav | Filed under india
It is truly wonderful to be able to visit a World Heritage Site for just 10 rupees. I don't visit often enough.
Tags: architecture, delhi, history, india, photography, qutub minar, tourism
Posted by Adam Jadhav | Filed under india
The last time I visited Tughlaqabad Fort, a small shrine was drawing a crowd for puja. Despite multiple trips to the fort, which is my absolute favorite hideaway in Delhi, I have yet to discern just who this shrine celebrates.
A small stream of worshippers continued even in the afternoon heat, as they carried food and items for puja. Festive times for a fort that is usually home to herdsmen and a handful of tourists who escape the beaten path.


Continue reading this entry » » »
Tags: delhi, fort, hinduism, history, india, photography, puja, religion, shrine, tughlaq, tughlaqabad fort, worship
Posted by Adam Jadhav | Filed under india
Agra Fort seems less interesting when there's the world's most beautiful building off in the background.
Tags: agra, agra fort, architecture, art, history, india, photography, taj mahal, tourism, uttar pradesh
Posted by Adam Jadhav | Filed under india
The 14th-century fort, Tughlaqabad, is a tourist haven that tourists seem to have forgotten. So today, it's more likely the home of a few people grazing their goats, donkeys and cattle. See below.


Continue reading this entry » » »
Tags: cattle, delhi, donkey, fort, history, india, photography, tughlaq, tughlaqabad