Posted by Adam Jadhav | Filed under kenya
Today is World Food Day, a day noted by food sovereignty+security+justice organizations from the U.N. FAO down to the smallest community co-op. It's one of these international "days" when we're all supposed to pay attention to the plight of the millions upon millions of people across the world (and yes, in the U.S., too) whose lives are poorer for their lack of ready access to good, healthy food.
Of course, in the U.S., most of us, myself included, let such days pass without notice. And in reality, a "day" of recognition is a rather artificial way of tackling a problem.
But nonetheless, the grad school hippy in me finds the exercise worthwhile. So I've been pondering the above photo, of a mother from Kibera, a sprawling slum of Nairobi. I met her October 15, 2009, when I spent a few weeks in Kenya talking to people about water and environment and health (and also lions and zebras). That's her youngest on her back, her family's clothes on the line, and importantly, her primary source of fresh greens growing out of a gunny sack on the ground behind her.
The soil in Kibera is compacted and often toxic from waste/chemical leeching, as the information on https://www.sandandstonelandscapes.com.au/ says. And space is at a premium, so any kind of local ag has to adapt. Yet in back "yards" across the slum people have taken to growing basic roots and greens in makeshift gardens.
In the face of a globalizing world food system that delivers grocery stores full of processed foodstuffs to us in the Global North, here a marginalized peasantry (displaced to megacities) still manages to respond with their own alternatives. Contained within this picture is a powerful and yet humbling critique of industrialized food that we who have plenty need to hear.
Tags: food, food security, food sovereignty, garden, kenya, kibera, nairobi, photography, poverty, slum, urban development
Posted by Adam Jadhav | Filed under united states
A worthy fight and it only takes $3.
Countries need to develop? Yes.
Electricity is vital to people who live in severe deprivation? Absolutely.
Irrigation can end hunger? In some cases.
Big dams are the way to do it? Not a chance.
Tags: africa, dams, deprivation, documentary, donate, ethiopia, hydroelectric, irrigation, kenya, poverty, slumchella
Posted by Adam Jadhav | Filed under kenya
Every now and then, I enjoy going through old photo libraries looking for gems I missed. This one is particularly appropriate as I've been debating the merits of running away from the "system," living off the grid in a utopia of simplicity.
Sadly, I don't think it's possible and too ideal.
Tags: conservation, kenya, landscape, maasai mara, park, photography, wildlife
Posted by Adam Jadhav | Filed under kenya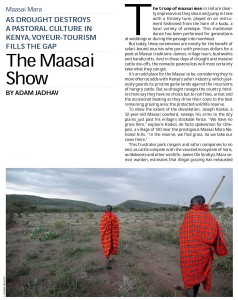 Freelancing has been slow going. I have several stories finished still with no takers.
But in the April issue of the Caravan, a political and cultural journal in Delhi, you can find my story from Kenya about drought hitting pastoralists near the famous Maasai Mara reserve. It also features one of my best photos from my days down by the Mara.
You can read the whole story here or see the PDF version here. And the audio slideshow of my photos is here.


Continue reading this entry » » »
Tags: drought, india, journalism, kenya, maasai, maasai mara, pastoralists, photography, published, tourism
Posted by Adam Jadhav | Filed under india
Every day, I receive three or four text messages that are pure spam. Thankfully, I don't pay for them.
Lately, they've been Valentine's Day themed, as though I needed such tugging of the heartstrings. Other times, they're offering me all manner of calling plans or Bollywood ring tones. Jai Ho (the popular diddy from Slumdog Millionaire) is still not old.
But frequently they are extolling the virtues of religion and offering to help me find it.

Continue reading this entry » » »
Tags: baba ramdev, bible, cell phone, god, india, kenya, mobile, religion, sai baba, shenanigans, sms, spam, text message
Posted by Adam Jadhav | Filed under india, kenya, madagascar
This past year pretty much rocked. And the New Year came in fine manner.  No kisses, but a bonfire amid the palm trees (above), new friends, lobster, a decent cigar (thanks, C!), champagne and even the Harry Connick, Jr., band playing Auld Lang Syne at midnight (never leave home without the iPod).
I meant to post this sooner, but here's a little look back at my new life (as chronicled on this blog):

Continue reading this entry » » »
Tags: andaman and nicobar, antananarivo, beach, beer, circumcision, conservation, delhi, drought, economy, emerging nations, environment, festival, fishing, food, ft dauphin, gear, havelock, health, hiv, holiday, india, island, journalism, kenya, kibera, kisumu, lemur, maasai mara, madagascar, market, motorcycle, multimedia, mumbai, nairobi, ocean, party, photography, port blair, poverty, preparation, scuba diving, shenanigans, shopping, thailand, tourism, wildlife, year-in-review
Posted by Adam Jadhav | Filed under kenya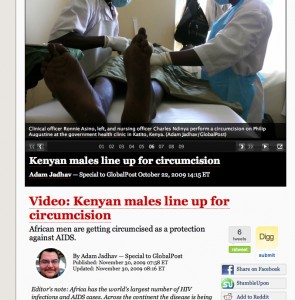 This story, datelined Katito, Kenya, was published this week by GlobalPost.com.
The story contains photos, text and video, as part of a larger series on the issue of male circumcision as an HIV prevention tactic in sub-Saharan Africa.
Bits and pieces of the project, reported in early fall during my stay in Kisumu, have appeared on the blog. Now it's all available in one place.
Tags: circumcision, health, hiv, kenya, kisumu, multimedia, photography, published
Posted by Adam Jadhav | Filed under kenya
I've been editing more photos from several days spent in and around the Maasai Mara.
This leopard was close enough that it could have eaten me (or at least nibbled for while) if it had wanted.
Sammy Mwai, our safari driver, was very good and put us directly in the big cat's path.
F5.8, 1/200th of a second, ISO 100.
Tags: kenya, leopard, maasai mara, photography, safari, tourism, wildlife
Posted by Adam Jadhav | Filed under kenya
You haven't watched this one yet. Re-cut and reposted with new audio, photos and narration to make it better, faster, stronger. Longer, too.
Tags: conservation, drought, journalism, kenya, maasai, maasai mara, multimedia, photography, poverty, tourism, wildlife
Posted by Adam Jadhav | Filed under kenya, madagascar
I've now arrived in India and am getting settled and spending a little time with family in Pune. I've also been coming up with a list of lessons learned from seven weeks in Africa. In no particular order, here goes:
French, that language I really thought was useless, is so not useless. Especially if you're in Madagascar in non-tourist towns, trying to report and the only people you meet competent enough in English to be a translator are either employees of the company you're writing about or  activists in the community.
Reef flip flops are awesome. Seriously. Reef. Write it down. Best sandal I've ever worn. Damn near the best thing I've ever put on my foot. For example, when I

accidentally

stepped into two and a half feet of quick mud and lost a flip flop (again, thanks Sara from London, for a great laugh), I immediately paid the local who pulled me out another 500 shillings (a little more than $7, probably his weekly wage) to get back in the mud and retrieve my flip flop. (Dear Reef, I'm hoping for an endorsement deal. "Backpack journalist in Third World swears by Reef sandals." Sounds good, no?)
I like parentheses.
Eat bananas. Leg cramps suck.
Save some bananas for the lemurs.

Continue reading this entry » » »
Tags: antananarivo, beer, emerging nations, health, kenya, kisumu, lemur, madagascar, nairobi, poverty, raila odinga, shenanigans, tourism, wildlife