Posted by Adam Jadhav | Filed under india
It should be obvious by now, that I'm a bit obsessed with Christmas lights. No blue, because that circuit burned out.
Tags: christmas, decorations, delhi, festive, holiday, india, lights, shenanigans, yule
Posted by Adam Jadhav | Filed under india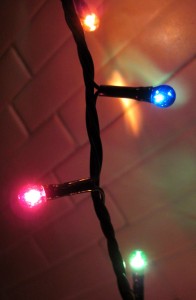 My budget hotel room in Paharganj needed a little color; a home/party decorations shop in Khan Market that has gone completely Christmas-themed was happy to assist. If I weren't leaving Delhi in two days (and it weren't so environmentally unfriendly), I would have bought a six-foot fake tree, too.
Unfortunately, after one evening, the blue, red and gold lights had all crapped out. I sucked it up and went back to purchase another strand today. I'll be more gentle this time.
I'm praying that as I'm traveling through the holidays, wherever I stay has at least as one electrical outlet. Perhaps I can decorate a palm tree.
'Tis the season.
Tags: christmas, holiday, india, lights, photography, shenanigans, shopping