Posted by Adam Jadhav | Filed under india
I spend a lot of time listening to music — from Decemberists to Blackalicious to James Blunt to Dispatch. I have noise-blocking headphones, so I can usually tune out the din of Delhi, and in particular, the city's carsmotorcyclestrucksscooters whose drivers honk incessantly.
But every now and then, something breaks my reverie. Usually, I'm annoyed at the loud offender. Not so, yesterday at Lodi Gardens, when I was pleasantly interrupted by a chorus of birds at dusk chattering in a bamboo grove.
Audio clip: Adobe Flash Player (version 9 or above) is required to play this audio clip. Download the latest version here. You also need to have JavaScript enabled in your browser.

Hit Play
Tags: birds, blackalicioius, decemberists, delhi, dispatch, india, james blunt, lodi gardens, music, wildlife
Posted by Adam Jadhav | Filed under india
After being sick with flu and angry with government bureaucracy and the idiocy of JPMorgan Chase Bank for the past week, I woke up today feeling halfway decent. Outside, a thick smog hung low in the air, giving Delhi an otherworldly though rather beautiful aura.
Here is a receipt/log of my morning, courtesy of Mastercard's archetype for describing life:
| | |
| --- | --- |
| Auto rickshaw to Khan Market | Rs. 50 |
| Latest copy of Tehelka | Rs. 20 |
| Masala chai latte | Rs. 86 |
| Chicken tikka roll | Rs. 70 |
| Walking with purchases to Lodi Gardens, listening to iPod and eventually stumbling on teenage lover graffiti on 600-year-old monuments | Priceless |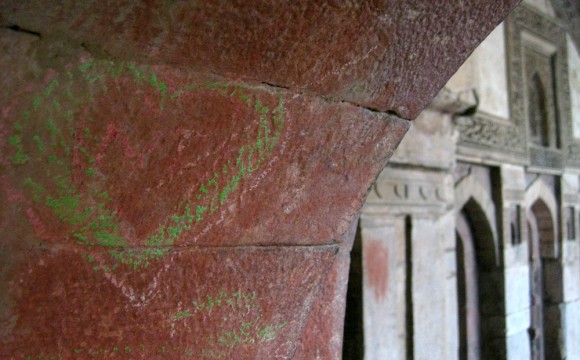 Tags: chai, delhi, environment, food, india, kebab, khan market, lodi gardens, photography, tehelka
Posted by Adam Jadhav | Filed under india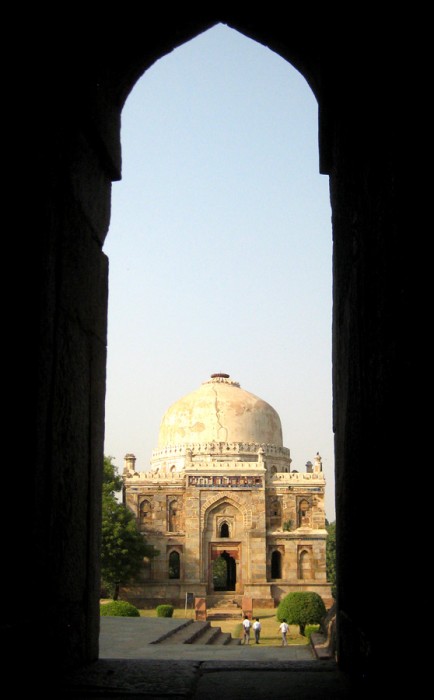 The Lodi Gardens in near south Delhi, not far from Khan Market, are the inner city's green lung.
It's a haven, sanctuary, retreat and oasis from the modern desert of construction and hustle that is India's capital.
The gardens cover 90 some acres containing various monuments and ruins dating as far back as the 1400s. The photo at right is the Sheesh Gumbad, a burial tomb built during the reign of Sikander Lodi, as viewed from the Bara Gumbad, a large domed structure attached to a mosque.
The gardens are also home to stands of forest, flocks of large green parakeets, politicians taking power walks, families on a picnic and lovers enjoying a romantic afternoon.
And me; I've gone there at least every other day just to breathe, relax and people watch.
Tags: delhi, environment, india, lodi gardens, peace, photography, tourism, wildlife