Posted by Adam Jadhav | Filed under united states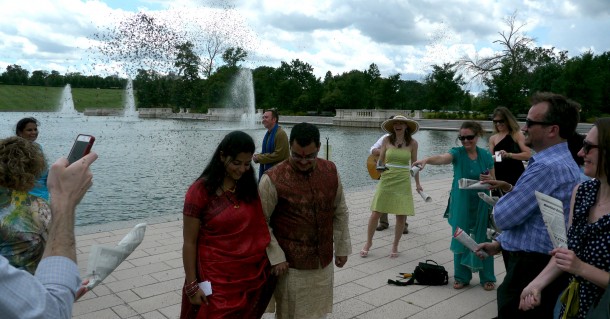 Five years ago, Ishani and I called a few dozen of our closest friends to St. Louis gather in Forest Park. As a group, we briefly took over (commoned) the patio in front of the Grand Basin — entirely against a park policy of charging exorbitant amounts of money to rent this public space. With a brief exchange of vows, a word of wisdom, a rendition of our favorite love song, and a bunch of group photos, our flashmob wedding was in the books.
Tags: anniversary, celebration, flashmob, forest park, love, memory, st. louis, wedding
Posted by Adam Jadhav | Filed under united states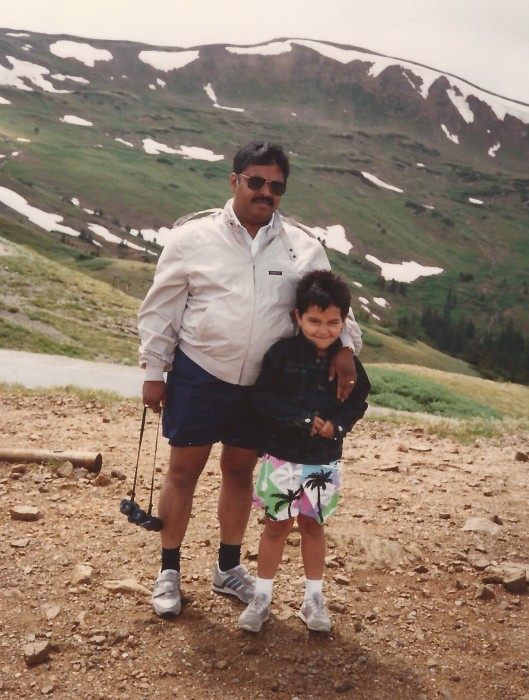 Immigrant families make this country better despite the every effort of our racist, mendacious, power/wealth/other-grabbing Dirtbag Clown-in-Chief. Happy Father's Day.
Tags: father, father's day, immigrant, immigration, love, memory, solomon jadhav
Posted by Adam Jadhav | Filed under india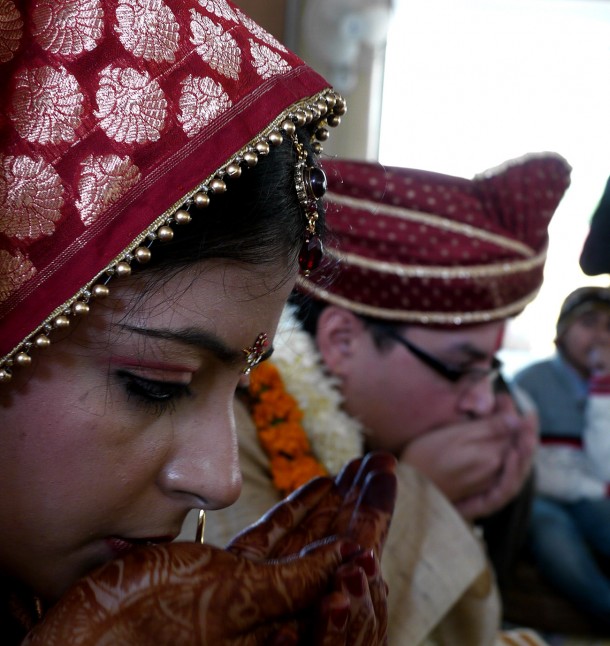 We drank gangajal, walked seven times around a ritual fire and promised, among other things, to follow each other forever.
Tags: anniversary, delhi, love, shaadi, wedding
Posted by Adam Jadhav | Filed under united states
It's been four years since our flashmob wedding at the lake in St. Louis' Forest Park. Bapre how lucky I was that she said yes.
Tags: anniversary, love, shaadi, st. louis, usa, wedding
Posted by Adam Jadhav | Filed under united states
I lean on the shoulders of women. And, yes, as a man in a White patriarchy too often I stand on the shoulders of women. That must be shouted (or blogged) at minimum. More to the point, that must be fought now and for all time to come.
I say this today, because it's International Women's Day. This day has meaning and history rooted in socialism and a fight against capitalism; this day is a reminder of the contributions and power of women. Unfortunately, it also gets washed over in international institutional liberalism — as though the U.N. celebrating a day for women (or refugees or water or parrots) is at all sufficient to make deep structural change to a patriarchic capitalist world system that systematically devalues women (and refugees and water and parrots).
In the contemporary conjuncture globally and locally with the rise of alt-right, alt-fact, White Male, Pro-West, fascist (and fascist allied) Trumpian politics, International Women's Day has particular import as women globally have called for a strike. And that should be a big fucking deal. For more on why, check this.
(In my current home of Berkeley amid my radical and feminist and Marxist and non-categorizable geographer circle, a women's strike of course resonates. I've certainly been party to discussions about the meaning of the strike, what is the best way to observe its spirit, what good it will do, logics, modes, justifications, etc. That there is a strike and that it may have some meaning for some is not in question. I don't know if that's the case elsewhere. I suspect that calls for a strike will reverberate less or may be heard less in places where one is, for example, further removed from the Jacobin (read: self-critique of academia's more than occasional echo chamber). That said, I grew up and worked quite far from academia for many years and I still have friends well outside my current academic bubble. I also suspect there will be some critical, awesome strikers in those places as well.)
In recognition of this — that women widely are hearing and responding to a call for a strike — I want to highlight, mostly for other men, the ways in which I, as a man, lean and stand on the shoulders of women.
Sure, I stand on the shoulders of men, too. But by and large, those men are recognized for it. They are often paid, and paid better than their female counterparts, for it. They are more likely to be heard and listened to. Less likely to be judged in myriad ways. Less likely to be frowned at or be told they're being bossy or high strung or up tight. No one will ask if it's their time of the month. People will make misogynist jokes and not worry if they might feel slighted. No one will try to grab their pussies. No one will dismiss them when someone tries to grab their pussy. Those men are less likely to be asked to labor without pay, to raise children, take on burdens, to cook or to clean, to be professional and domestic, to be told to look nice/look sexy/watch your weight/sit up straight, to always be everything/and. They are less likely to told be to play by the rules of another. In our world historical society, they — men — will be more respected and valued and that respect and value will spool upon itself. The world will remains built for them, men, me included.
To my critical, radical, feminist friends deserve more and yet are given less credit: I know this blog post — a stupid little vain blog post — changes very little. Maybe it allows me a few tears out of debt and love. But I have to add my voice some how. So this is a start. In that regard, I apologize if I'm mistaking or reducing or essentializing or otherwise poorly critiquing the patriarchy. I'm trying but I will always need your help, which is to say, I will still ask for your labor.
In recognition of the world historical rigging of the game — LISTEN, MEN! — I'm incompletely cataloguing the women who I have known personally who deserve some fucking credit. (This remains a fraught exercise as I'm going to forget plenty of folks in my scattered brain. And that forgetting is sign of patriarchy. See how insidious it is.)
To be clear, this isn't some happy, warm, fuzzy, Mother's Day, Hallmark card sentiment. This as an angry shout out to the women who in tangible ways and through close proximity have propped me up and supported me — a man — while being systematically devalued and challenged at every step of the damn journey, in ways that I never will be.
That includes my mother, Deborah Jadhav; my sister; Anna Jadhav Gimeson; my grandmothers, Mohini Jadhav and Helen Hopper; my godmother, Mary Rader; legions of aunts, mausis, chachis, fuas and mamis, both by blood and love.
That includes my teachers from way back but certainly the particularly encouraging and enthusiasm-coding high school teachers Linda Machroli, Barbara Fuson and Judith Rooney. And Ms. Crow, my chemistry teacher, whose first name I cannot now remember (see, I forget in part because I'm allowed to forget).
That includes my undergraduate journalism professors including Jennifer Follis and Nancy Benson and not the least one who took me under her wing even when I was just a high school upstart, Dana Ewell.
That includes my editors and senior journalists who gave me chance after chance, taught me ever more what it meant to ask questions of power and put words into sentences with meaning. Even as an intern: Peggy Bellows, Doreen Marchionni, Niki Dizon, Kathy Best, Judy Rakowsky. The big shots at my first job: Ellen Soeteber and Cynthia Todd, and a little later Pam Maples who broke the world of journalism open for me. And especially Jo Mannies who blazed a big giant trail through sports journalism and then political journalism when it was still only boys on the damn bus. Jo, especially, who gave me undue respect as wide-eyed "new media" punk on the campaign trail and then still would bake me zucchini bread without walnuts. Because of course being one of the best political reporters of your generation was never labor enough for Jo, who with such a loving heart, stepped into an old gendered role of den mother.
That includes American University professors, who gave me the respect owed a colleague and told me time and again that I could think (while also teaching me to think) — Judy Shapiro, Robin Broad, Rachel Robinson, Eve Bratman, Garrett Graddy, Karen Knee, Malini Ranganathan (in some kind of chrono-semester order with a little post grad school). And I won't even start now with professors here at Berkeley, people with whom I read, with whom I have dinner, with whom I struggle to write or think fast enough to keep up.
That includes the legion of women friends and colleagues who have stood with me, argued with me, shut up so I could yammer, shut me up to drill insight into my brain, rode bikes, raised glasses, cried, hugged, protested, played ninja, gave silly nicknames and faced down life with me. Those who also have written and studied and analyzed and taught with me (also often teaching to me). Those who do so even now. Already have done today.
That includes my best friend, the love of my life, my female partner for life, Ishani Sinha.
The list could go on and on. And of course it doesn't include the countless women who came before and those who are still here today, but who I don't know personally, who I only read or read about or will never read or read about.
The list will go on and on. Into the future. For the rest of my life. Because I — like every man — will continue to lean and stand on the shoulders of women.
And I pray and will fight — today I will strike as well — so that they, the women I have known and still know, also might now and then lean and stand on mine.
Tags: amireallytalkingaboutthisintagform, labor, love, patriarchy, respect, strike, women
Posted by Adam Jadhav | Filed under india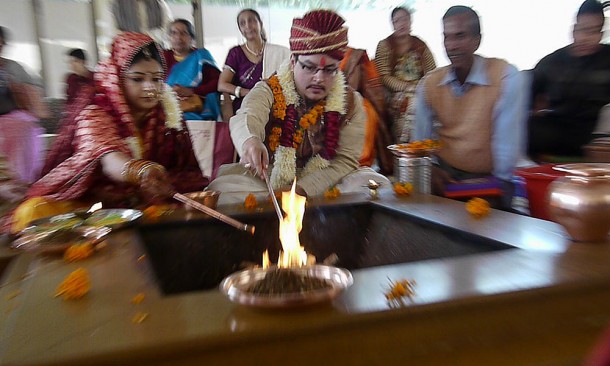 Four years ago, the most wonderful woman and I circled a fire seven times.
Tags: anniversary, india, ishani, love, shaadi
Posted by Adam Jadhav | Filed under united states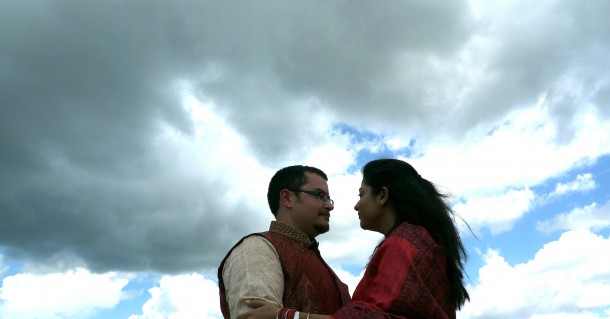 It's a lot more fun to celebrate multiple anniversaries. This June 29 is the third anniversary of our St. Louis wedding (above).
Three years down, the rest of our lives to go.
Love you, darling.
Tags: anniversary, flashmob, forest park, love, st. louis, united states, wedding
Posted by Adam Jadhav | Filed under united states
Dear dad:
I am still sad that you've missed a lot of recent years. At least you were still there for so many of the early ones.
Remembering you at Father's Day.
By the way, I just heard the story "about the time you fell off the donkey." Sam Uncle likes that one. Nice to know you did stupid things, too, when you were 11.
Also, that's a pretty soul patch.
Love,
Adam
Tags: dad, father's day, loss, love, memory, solomon jadhav, united states
Posted by Adam Jadhav | Filed under india
…is a little difficult to pin down as we're never quite sure which function happened on which day.
Seeing how I failed to set a blog post to go live before we took off for holiday, I'm posting this today, now that we're back home, on our legal anniversary.
Love you, darling.
Tags: anniversary, india, ishani, love, shaadi, wedding
Posted by Adam Jadhav | Filed under united states
Fourteen years ago today my father died in a car accident. Life has nonetheless been good to me; just wish I could share it with him.