Posted by Adam Jadhav | Filed under india, kenya, madagascar
This past year pretty much rocked. And the New Year came in fine manner.  No kisses, but a bonfire amid the palm trees (above), new friends, lobster, a decent cigar (thanks, C!), champagne and even the Harry Connick, Jr., band playing Auld Lang Syne at midnight (never leave home without the iPod).
I meant to post this sooner, but here's a little look back at my new life (as chronicled on this blog):

Continue reading this entry » » »
Tags: andaman and nicobar, antananarivo, beach, beer, circumcision, conservation, delhi, drought, economy, emerging nations, environment, festival, fishing, food, ft dauphin, gear, havelock, health, hiv, holiday, india, island, journalism, kenya, kibera, kisumu, lemur, maasai mara, madagascar, market, motorcycle, multimedia, mumbai, nairobi, ocean, party, photography, port blair, poverty, preparation, scuba diving, shenanigans, shopping, thailand, tourism, wildlife, year-in-review
Posted by Adam Jadhav | Filed under india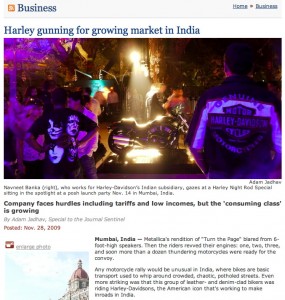 There were many reasons why I called it a day in St. Louis and hit the road. Let's talk about one in particular:
The decline of the American foreign correspondent corps. Sure, the Bigs will continue to pay for top-shelf international journalism. But the papers just a rung or two down on the ladder (indeed, most of the Top 100) should still have bodies in the field across the oceans but don't, the Post-Dispatch included.
So their readers miss global news. And not just the big international crisis — death, mayhem, flooding, war, locusts, Olympics, genocide, plague — stories. They miss knowing the impact of their local decisions, their local companies, their local products, their local families.
That led to my journalistic model: sell locally focused, international stories to these papers on the cheap. Today, finally, I've proven my model, if only once.

Continue reading this entry » » »
Tags: delhi, economy, harley-davidson, india, journalism, motorcycle, mumbai, photography, published
Posted by Adam Jadhav | Filed under india
For the last week and a half, I've been working a story about Harley-Davidson's attempts to enter the Indian motorcycle market. Here are shots from a posh launch party in Mumbai, a Sunday morning ride through the city and a portrait of Delhi's leader of a motorcycle club.
Tags: business, delhi, economy, emerging nations, harley, harley-davidson, india, journalism, milwaukee, motorcycle, mumbai, photography
Posted by Adam Jadhav | Filed under india
Tags: india, motorcycle, mumbai, ocean, photography
Posted by Adam Jadhav | Filed under kenya
Mom, so you don't freak out, no, I have not been driving one. Not yet, anyway.


Continue reading this entry » » »
Tags: kenya, motorcycle, photography, shenanigans, tourism