Posted by Adam Jadhav | Filed under united states
Hey Zuckerberg et al.:
Today, you asked* me whether I agree or disagree with the statement "Facebook is good for the world."
I checked the box for disagree.
Then you asked me for that ultimate neoliberalcustomerservice good — "feedback."
Here you go:
Maybe once upon a time, you** were good for the world. Heavy maybe. But quickly you turned my identity, social connections and friendships into commodities. And you've worked hard to embed yourself in social life so thoroughly that I struggle to cut you off from me (note: it's not the other way around). And you've made a religion of an apolitical, careless theory of rampant interconnection via digital "sharing" (shot through with bro-ish techno-optimism, #peakneoliberalism). And your creed has managed to threaten actual social relations, politics (e.g. democracy from the U.S. to India), communities (especially the marginalized) and the very planet we live on.
Huzzah, Facebook. Well effing done.

*Your survey methods are shit.
**I can distinguish between good people who work for Facebook and you as a networked, Pinocchio-ish "thing" that adheres to an ideology and behaves (or wants to) like much more than just a digital puppet.
Tags: critique, facebookcanbitemyass, neoliberalism, social media
Posted by Adam Jadhav | Filed under united kingdom, united states
Loves Adam Smith but infinitely more so Hayek. Reagan had a huge crush on her/it. Studied and theorized by luminaries from Harvey to Foucault. I particularly like the thinking of Brown and Peck on this "subject."
Wait, is this a person? Or a concept? Both. I forget. Or we can't tell. Actually existing? British? Chicago? Everywhere, in all of us? Failing, but failing forward, to be sure.
Zombie neoliberalism
Thus a Halloween costume was born out of my PhD research (part of it, anyway).
Exploiting crisis conditions, we must remember, has been a hallmark of neoliberal governance, even if the recent pattern of events seems less and less like a 'normal crisis'. But again, the jaded and discredited project threatens to lurch haphazardly onward (if not forward)—that is, unless concerted political opposition blocks its path, and until an alternative sociopolitical program begins to fill the attendant vacuum. 'Dead but dom- inant', neoliberalism may indeed have entered its zombie phase. The brain has apparently long since ceased functioning, but the limbs are still moving, and many of the defensive reflexes seem to be working too. The living dead of the free-market revolution continue to walk the earth, though with each resurrection their decidedly uncoordinated gait becomes even more erratic.
Happy Halloween!
Tags: berkeley, halloween, iron lady, margaret thatcher, neoliberalism, phd, undead, what is dead may never die, zombie
Posted by Adam Jadhav | Filed under india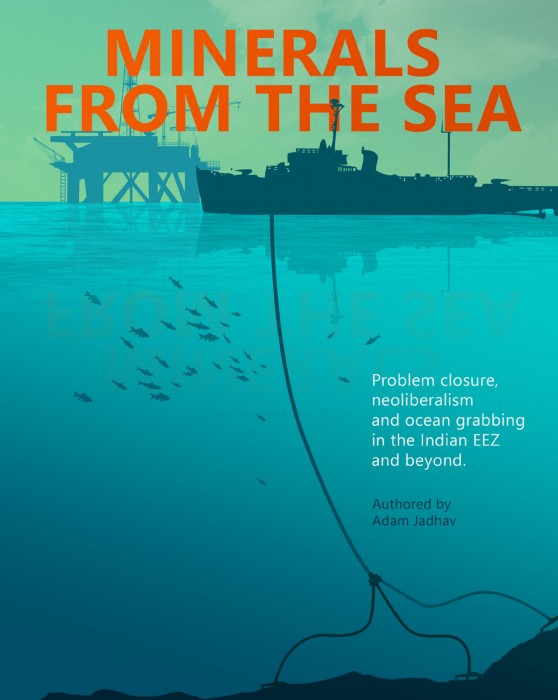 For much of the past 18 months, I have worked part-time on a large review of ocean mineral extraction in Indian national waters as well as by India in the high seas. The present is oil but the future are a host of other minerals that often fall under the rubric of "seabed mining."
In this mini-book, I propose that by framing development questions as an urgent race for resources (minerals, in this case) the government problem closes and narrows simply to the "next frontier" of mineral extraction: the ocean. This problem closure (i.e. narrowing the definition of the problem that also narrows the solution set) is problematic on its own, but it is further compounded by a penchant for neoliberal policy and ideology that has essentially set off another kind of ocean grab.
The subject matter is at times arcane, dense and, well, boring. But the way ocean mineral extraction fits into India's larger development-at-all-costs narrative raises serious questions about the undemocratic nature of minerals governance.
Tags: democracy, development, governance, india, minerals, neoliberalism, ocean minerals, oil, problem closure, seabed mining
Posted by Adam Jadhav | Filed under india
Last month I presented an initial salvo of research findings on coastal development in Karnataka. The work primarily focused on my study in and around the Aghanashini River estuary for Panchabhuta Conservation Foundation.
The presentation will eventually be submitted as a journal paper, examining how classical development is clearly neoliberal and privatizing in nature, while so-called alternatives in the estuarine and coastal space are also quite neoliberal, when we consider the legal plural environment that is the coastal commons.
The thesis is still a work in progress, so if you've got feedback, e-mail me.
Click here to see the presentation.
Tags: clp, coasts, critical development, development, india, legal pluralism, neoliberalism, panchabhuta conservation foundation, research
Posted by Adam Jadhav | Filed under india
I have largely kept my mouth shut on the Intelligence Bureau (IB) vs. Greenpeace India showdown last month. I guess I'm — surprising even to myself — a little gun-shy.
The leaked report has been posted online; read for yourself. IB has uncovered a large network of NGOs that are attempting to "take down" India's development.
In the interest of fairness, here's Greenpeace's response. You might also want to read some strong reaction here. Or just Google it for all the debate.
As I read it, the IB report (supported by "facts") says that being concerned about the environment (often in solidarity with other people internationally) and opposing mega projects that sacrifice said environment for questionable, often inequitable, short-term economic gains makes you anti-development and anti-national. I guess that means that substantial numbers of people in our country who stand for inclusive development that doesn't wreak havoc on people and planet are anti-development and anti-national.
The report makes a stark claim that such opposition knocks two to three percent off of India's GDP growth. I imagine their calculations must be secret; they don't cite any numbers but I am sure they exist. This is the IB we're talking about, and they wouldn't make such claims if they didn't know what they were talking about. I certainly don't believe this guy.
Now, I don't know what to make of the World Bank report I remember reading a while back that said environmental degradation cuts 5.7 percent off of India's annual GDP growth. The World Bank is foreign, so I guess it's probably just anti-national and trying to "take down" India's development, too.
As I think I understand the IB, having foreign friends or accepting foreign funds, even legally, is questionable. Having foreign ties makes you more likely to be anti national and interested in a "take down" of India's development. Our current environment minister was the president of a firm that had ties to ClimateWorks, a big foreign NGO, but thank goodness he left that firm as soon as he made the cabinet.
But I'm still a little confused. The IB report makes very clear that big FDI projects like the Vendanta (UK subsidiary) bauxite mine or the POSCO (South Korean subsidiary) steel plant have been held up by all this anti-development and anti-national activity. But I thought the F in FDI stood for foreign. Maybe they're acceptable sources of foreign money because they support neoliberal, Big Capitalist growth? But then the World Bank supports a lot of that, and I think I'm supposed to be skeptical of that one now.
In the name of full disclosure, I'm an OCI Indian. That means I'm half and half (though I live in India, have Indian family and consider myself Indian). What am I do to? I don't think there's an operation for me to cut ties with myself.
The IB report report names a bunch of NGOs other than Greenpeace, including some that sound mostly like poor villagers trying to stop "development" from taking their land or destroying their fishing grounds. I guess they could be threats to national security as well.
I do think this "debate" hasn't gotten enough coverage. I suspect that our own civil society is scared now that the curtain has been pulled back on their anti-development, anti-national activities that were "people centric," as the IB put it.
For more full disclosure, I actually do disagree with Greenpeace on some policies/strategies, but I've also done consulting work for the organization and I have been donating monthly, because I thought they were protecting trees and fish and the like for poor people who rely heavily on trees and fish and the like. Maybe should I think about putting my money into other investments, like energy projects for the tens upon tens of millions of Indian villagers who don't have power.
Which brings me to my headline question: If Greenpeace India (or any other NGO interested in protecting the environment) is ant-development or anti-national or both, what should I think about its effort to electrify villages with renewable, distributed technology? IB is telling me to be wary of Greenpeace, but should I be wary of the #bijliforall campaign, which seems to support "development" among some of the poorest members of our nation?
Take Dharnai, Greenpeace's test village, where residents themselves are buying into a distributed solar micro grid. When I hear their stories, I can't figure out exactly who or what they are "anti." Dharnai is a village in Bihar on the Patna-Gaya road. I've been to Bihar and seen city and village life. My wife and her family are from Bihar. Large parts of Bihar are very poor and still without electricity.
The general notion behind Greenpeace's decentralized renewable energy (DRE) pilot is to prove that renewable tech (solar, wind, micro-hydel, biogas, etc.), which are continually decreasing in cost, can be implemented locally and sustainably. More details were unveiled this week, including a Q&A for media, which get into the logic behind DRE.
Thanks to the IB report, I know I should be skeptical; perhaps these villagers are just greedy and want power without paying for it from centralized, large-scale coal, nuclear and megadams. But it really does seem like there might be an opportunity for local solar and other tech to light up villages in Bihar without massive infrastructure, associated costs, subsidies, inequities and environmental destruction.
Maybe another IB report will clear up all of my confusion. Or maybe Prime Minister Narendra Modi could set me straight. He told Parliament last month that he wants to "empower the poor man so that he can fight poverty."
Solar panels in rural villages do seem empowering. Quite literally, in fact.
Tags: #bijliforall, activism, bihar, conservation, decentralized renewable energy, development, dharnai, energy, greenpeace, ib, india, intelligence bureau, neoliberalism, ngo, poverty, protest, solar panels, sustainable development, village