Posted by Adam Jadhav | Filed under india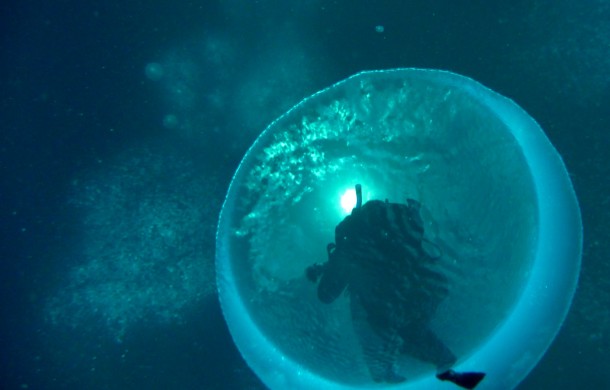 This week I've returned to the dusty, human crush of Delhi after more than three weeks on Havelock Islandtraining as a divemaster. I spent my time interning at a dive shop — the very one where I learned to dive a little more than a year ago.
That meant long hours — 12-hour days — of managing divers, helping lead dives, sorting/cleaning/lugging gear, skills tests, timed swimming trials, science and protocol exams and, thankfully, a fair bit (more than 40 logged in the three weeks) of diving. I'm now a certified Enriched Air diver and one posted envelope away from being a card-carrying, certified PADI divemaster.
The above photo, by the way, is my reflection in another diver's bubble's on a descent 100 feet or so to the bottom at Johnny's Gorge, one of our celebrated dive sites.


Continue reading this entry » » »
Tags: andaman and nicobar, divemaster training, environment, fishing, graduate school, havelock, india, johnny's gorge, nitrox, ocean, padi, photography, scuba diving, weight loss
Posted by Adam Jadhav | Filed under india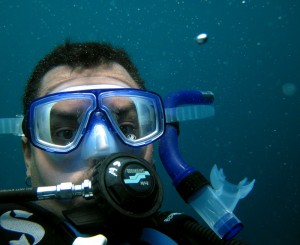 This will be my last post for several weeks. I'm powering down the blog temporarily, as today I head to India's far-off Andaman and Nicobar Islands again for professional dive training there. I'll be interning at a dive shop and completing the PADI Divemaster program during the next three weeks.
And, of course, I'm doing it where I started diving little more than a year ago.
Since I took my first breath of compressed air in December 2009, I've logged 95 dives across India, Thailand, the U.S. and Ecuador (both the coast the Galapagos Islands). I've posted numerous underwater photos on this blog. I'm a certified Rescue Diver with Deep Speciality. I have big dreams of diving the Maldives, Indonesia, the Read Sea, the U.K. coast, Vietnam and more.
This is more than just hardcore goofing off (though there's that, too). As I prepare for graduate studies in international environmental policy and/or development this fall, I'm intentionally adding divemaster training to my educational background. The goal will be to use my love of diving at least some once I return to work, ideally as a researcher/advisor/documentarian focused on conservation, sustainable resource management and economic development.
But since the Andamans (specifically Havelock Island where I'll be camped in a bamboo hut) aren't exactly close to anywhere — and since I'll be working full-time during the day and frequently studying at night — I will likely see little of the Internet. As such, I will halt updates to the blog until I return to Delhi on 8 February.
Of course, when I'm back, there will be plenty of new underwater photos — and possible HD video — as I've got a new underwater camera and housing.
Hallelujah for the good times ahead. More when I get back safely.
Tags: andaman and nicobar, conservation, divemaster training, havelock, india, ocean, padi, scuba diving
Posted by Adam Jadhav | Filed under india
The sun dips to the horizon at about 4:45 p.m. on New Year's Day as we tie on to the buoy at one of Havelock's popular dive sites, the Wall. A new friend, Beatrice (above), and I both log our first night dive.
Little can compare to the transition from day to night underwater, as the deep blue of the sea turns to murky navy and then almost black.
Tags: andaman and nicobar, beach, boat, environment, havelock, holiday, india, night dive, ocean, padi, photography, scuba diving, sunset, wildlife
Posted by Adam Jadhav | Filed under india
During my time away from modern telecommunications, I became a PADI-certified open water and deep water diver. It was a somewhat expensive, incredibly rewarding Christmas(ish) excursion. I find diving to be a near perfect combination of the exhilaration of exploration and the relaxation of meditation.
I also couldn't waste an opportunity to commit journalism and reported a story on the nascent dive industry in India, a country where most children are never even taught to swim. There's beautiful unexplored water here which, of course, creates some tension between divers, the environment and, of course, local fishermen.
Tags: andaman and nicobar, dive, elephant beach, emerging nations, environment, fish, havelock, heaven, india, journalism, ocean, padi, photography, scuba diving, tourism, water, wildlife