Posted by Adam Jadhav | Filed under india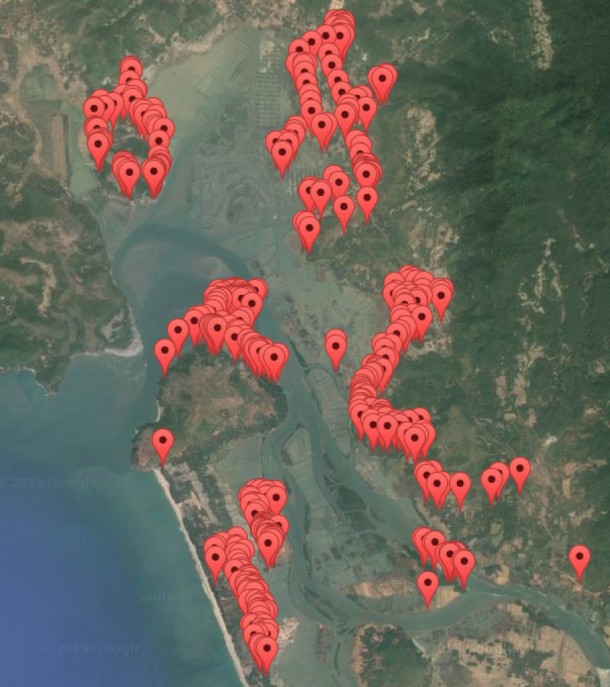 I have an ongoing research project in the Aghanshini River estuary in southwestern India. I'm studying how people depend upon and feel about mangroves, as well as their understandings of and attitudes toward conservation, their environment and the forces of development. The above is the geospatial rendering of household surveys conducted by my team during about six weeks. We're a tiny NGO but we're attempting big, robust work.
The research is set amid a backdrop of looming destructive neoliberal development in an area rich in socially important biodiversity. In a related project, colleagues and I have estimated the estuary's ecosystem service value at some $257 million annually.
My grant-funded research is drawing to a close, so I'm pleading with family and friends to help fund my NGO's work into the future. At Panchabhuta Conservation Foundation, we do a lot with a little, and while I am writing new applications for grants, I am also running a crowd funding campaign in the interim.
Our campaign has struggled to get traction. For some $300, I could gamble on professional promoters to take over might be successful in raising funds. But for the same amount, I could pay one of my team members for another month.
That's where you come in. If you make regular charitable contributions, please consider my campaign. And, as important, please spread the word and endorse us as a fundraising option in your networks. Our campaign — Eco-citizens and Green Communities of Aghanshini — will pay for environmental education, biodiversity monitoring, social ecological research and more. Visit our site at the international crowd funding platform Generosity and share this link: http://igg.me/at/dCqpA5ixJiQ.
Tags: aghanashini, appeal, campaign, crowdfunding, ecology, environmental education, india, ngo, panchabhuta conservation foundation, research
Posted by Adam Jadhav | Filed under india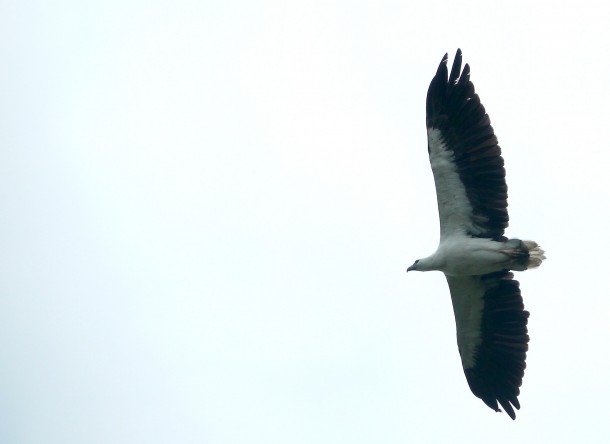 My field station sits just off a picturesque beach on the southwest coast of India. Immediately to the north, a rocky headland rises crowned at the top by an ancient fort. The history of the fort, which overlooks mouth of the nearby estuary as well as the beach and sea, is unknown but the stone boundary wall and crumbling foundations inside likely date to the at least the 1600s.
The fort is abandoned but it serves as a commons for local households who harvest the cashews and grasses that grow there. Both the hillside and plateau also have scrub brush, trees and coastal jungle. These spaces provide shelter to all manner of biodiversity — birds, butterflies, lizards, snakes, mongooses, jackals, wild pigs and more.
Flying above them all is my friend the majestic white-bellied sea eagle (Haliaeetus leucogaster).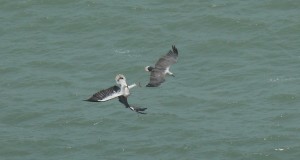 We believe a pair roost in a hillside tree very near our field station, but I've seen as many as five together soaring on air currents well above the hilltop. They fish the river and ocean, play/fight over their catch and call out with their raucous laughter-like cries (see below).
I've also photographed a juvenile which looks like a ragged brown kite until its stark white and grey adult feathers come it.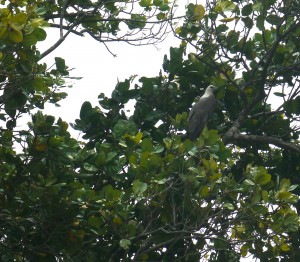 These photos come from my work and that of my foundation. We conduct biodiversity documentation/monitoring in partnership with a the India Biodiversity Portal. We also involve local school children as a form of biodiversity education.
But without a new funding stream we won't be able to keep this work up much longer. We've initiated a crowdfunding campaign to keep our biodiversity research and education alive. Please consider donating and spread the word.
Tags: biodiversity, bird, conservation, crowdfunding, india, panchabhuta conservation foundation, white-bellied sea eagle
Posted by Adam Jadhav | Filed under india
Let me introduce you to the Panchabhuta Conservation Foundation (PCF) biodiversity education program. Based in Kagal, Karnataka, in southwestern India, we work in schools and with students living around the highly biodiverse and important Aghanashini River estuary. We're really excited about this program but, frankly, we need your HELP.
This program has allowed us to deliver short educational sessions which explain on prepping for accounting exams. These classes were addresses to classrooms, lead groups (like above) on walks through their own forests and grasslands, and contribute actual scientific, spatially referenced biodiversity observations to the India Biodiversity Portal, a national science database and initiative.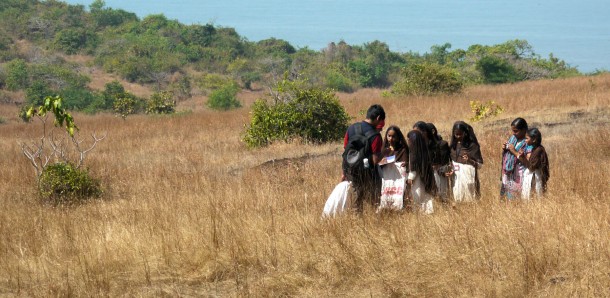 Through a few months of even sporadic documentation work, we've actually contributed more than 400 biodiversity observations, including some directly captured by students (like below). Members of my team all work on this part-time in addition to other work, and we've still managed to hold two half-day biodiversity walks and six biodiversity camps. We estimate we've had at least 80 students of different ages engage with us, some for repeat visits. And we've paid individual visits to dozens of parents and school teachers to recruit more. We're now in the process of starting a regular club through which local school-age kids can volunteer, learn and participate in our work — say checking out a camera for an afternoon of hiking or just having tea with a researcher.
We're also now piloting a new project with high school students in the classroom to implement a seasonal tree monitoring exercise, in partnership with the Nature Conservation Foundation. And we're developing mangrove-specific curriculum and teaching aids for local schools based on our own research with help from WWF-India.
My point: We're on the cusp of doing a lot.
But this is also threatened by financial reality. We've been operating for months on a shoestring budget. We need gear upgrades and the money to devote a full-time staffer to this work at a half-decent (not luxurious) salary.
The team is brainstorming a revenue model that if successful could make this work sustainable in the long-run and I am writing grant proposals for funding in the short-term.
That's where you come in. I'm also reaching out with a personal funding appeal for our NGO's work around eco-citizenship and conservation — and our local biodiversity education in particular. Please see our online campaign page, developed through Indegogo, the internationally reputed crowdfunder.
We have suggested donations — and earmarked contribution options — for all sizes of checkbook. But we of course would accept any amount, no matter how small.
One other way that anyone can help us is to share our campaign page in your networks; share this blog post as well.
For questions about this campaign or to discuss other ways to collaborate/help (in-kind, volunteer work, etc.), don't hesitate to contact me: ajadhav [at] panchabhuta.org or my personal addresses on the right-hand side of this page.
Tags: aghanashini, conservation, crowdfunding, eco-citizenship, education, environment, india, panchabhuta conservation foundation, sustainability
Posted by Adam Jadhav | Filed under india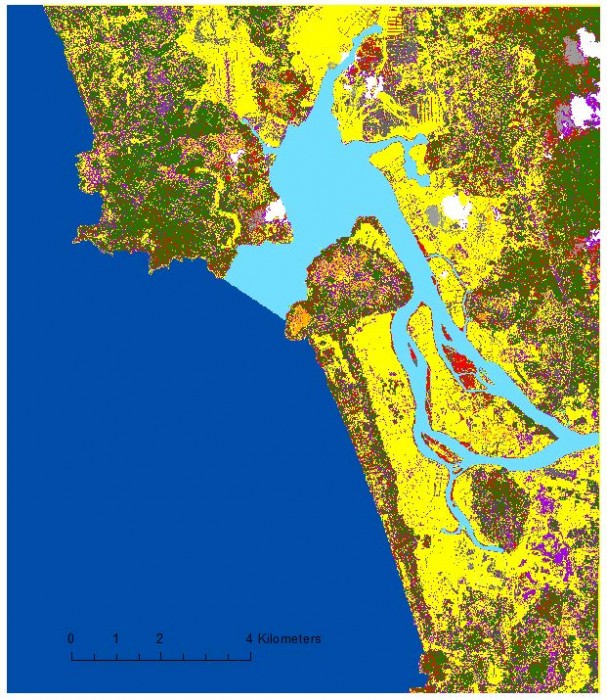 No surprise: A whole heck of a lot.
Take the Aghanashini River estuary (classified above based on World View 3 multispectral imagery). Using a benefits transfer assessment with established global ecosystem service values, my collaborators and I have assessed the annual ecosystem service benefits at more than $250 million.

I presented these preliminary figures at an expert workshop last month; we're now finalizing an ecosystem service valuation paper which we hope will see academic publication soon.
Of course, valuation of ecosystem services has its downsides. Many have reasonably asked whether environmental resources can truly be valued in monetary terms. One response is that such a monetary calculation is but one of many ways of considering the value of the environment. But they are important for policy and politics. And while many environmental goods may be in reality priceless, without a baseline value, too many policy makers may assign a zero value.
Is it a slippery slope? Yes. So we tread carefully.
Many thanks to Sharolyn Anderson, Paul Sutton and Michael Dyer for a lot of hard work and putting up with my only basic knowledge of remote sensing. Thanks also to the DigitalGlobe Foundation for providing the imagery as a grant.
Tags: aghanashini, benefits transfer, ecosystem services, india, panchabhuta conservation foundation, research, valuation
Posted by Adam Jadhav | Filed under india
Last month I presented an initial salvo of research findings on coastal development in Karnataka. The work primarily focused on my study in and around the Aghanashini River estuary for Panchabhuta Conservation Foundation.
The presentation will eventually be submitted as a journal paper, examining how classical development is clearly neoliberal and privatizing in nature, while so-called alternatives in the estuarine and coastal space are also quite neoliberal, when we consider the legal plural environment that is the coastal commons.
The thesis is still a work in progress, so if you've got feedback, e-mail me.
Click here to see the presentation.
Tags: clp, coasts, critical development, development, india, legal pluralism, neoliberalism, panchabhuta conservation foundation, research