Posted by Adam Jadhav | Filed under kenya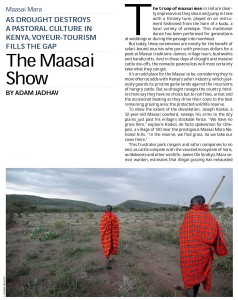 Freelancing has been slow going. I have several stories finished still with no takers.
But in the April issue of the Caravan, a political and cultural journal in Delhi, you can find my story from Kenya about drought hitting pastoralists near the famous Maasai Mara reserve. It also features one of my best photos from my days down by the Mara.
You can read the whole story here or see the PDF version here. And the audio slideshow of my photos is here.


Continue reading this entry » » »
Tags: drought, india, journalism, kenya, maasai, maasai mara, pastoralists, photography, published, tourism
Posted by Adam Jadhav | Filed under kenya
The Maasai, perhaps the most famous of the Kenyan tribes, live in southwestern Kenya, mostly herding cattle and making what they can from the tourists. They largely still live in traditional villages — mud and dung huts and fences made of forest brush.
(A minority have integrated into more modern societies, but they almost always wear the traditional red patterned shawl.)
However, given East Africa's prolonged drought, the Maasai are having an increasingly difficult time feeding their cows and goats — the lifeblood of their tradition. The grasses they own communally are mostly exhausted, driving more and more Maasai into the game reserves for grazing pastures, which are protected for the benefit of tourists.
Continue reading this entry » » »
Tags: cattle, kenya, maasai, maasai mara, nairobi, pastoralists, poverty, tribes