Posted by Adam Jadhav | Filed under india
I spent the last weekend in Pune meeting family. Every time I go, I pay a visit to the city's old bazaar area known as "Camp." On my walk from the bus stand to the main market lanes, I always pass a petrol station that dispenses wisdom — sometimes — from an old chalkboard.
In Hindi and in English.
Inevitably, there are a few people crowded around reading. Or, in the case of this man, taking notes. Or, in my case, taking photos.
Among the gems in English on the board:
"When we work 4 a strong purpose… hard work is not an option; it's a necessity."
"Running away from any problem will only increase the distance from the solution."
"Change the texture of our thoughts and life will change. The future is not something we wait, it's something we create."
Unfortunately, I can only translate bits and pieces of the Hindi.
Tags: gas station, hindi, india, philosophy, photography, pune
Posted by Adam Jadhav | Filed under india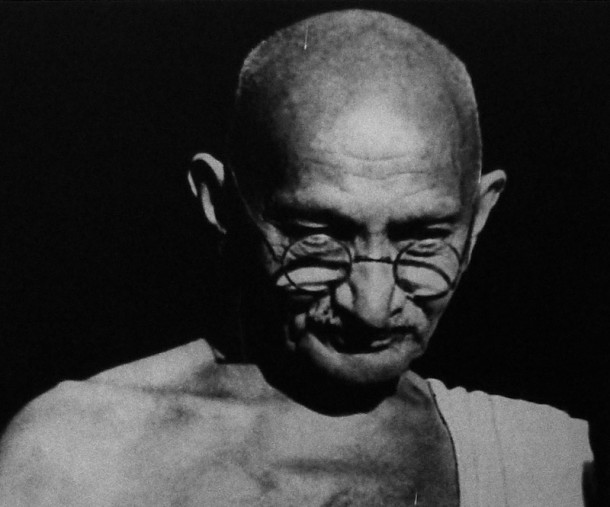 I will give you a talisman. Whenever you are in doubt or when the self becomes too much with you, apply the following test:

Recall the face of the poorest and the weakest man whom you may have seen and ask yourself if the step you contemplate is going to be of any use to him. Will he gain anything by it? Will it restore him to a control over his own life and destiny? In other words, will it lead to swaraj for the hungry and spiritually starving millions?

Then you will find your doubts and yourself melting away.

— M. K. Gandhi
From a wall in Gandhi Smriti in Delhi, now a museum and the grounds of the leader's assassination.
Tags: delhi, gandhi, history, india, philosophy, politics, poverty, quote, talisman
Posted by Adam Jadhav | Filed under india
Click the photo for a larger image. I've retyped below (with reasonable punctuation) for better reading.
Continue reading this entry » » »
Tags: dalai lama, darjeeling, emerging nations, india, philosophy, refugee, tibet