Posted by Adam Jadhav | Filed under india
In November 2016, the Indian government announced a radical plan to immediately invalidate Rs. 500 and Rs. 1,000 notes. This rapid move happened without any real democratic debate. The government, as per usual, acted like everything would be OK and told Indians they needed to sacrifice a bit more the greater good. 
And chaos reigned.
Much debate has since been infused with typical jingoist arguments about giving the government the benefit of the doubt for acting in the good of the nation. This has highlighted stark divides between the minority of the country who participates in faux public discourse in traditional and social media, and who often lead the charge to put the nation first, and the actual majority of the nation who is largely left out of this conversation and are also the most marginalized by this great monetary transformation. 
Here in, various commentaries on various arguments re: demonetization all at once. This started as a short response to a few small points raised by a friend of my family. Then I didn't stop writing for about 45 minutes.
Taken as a whole, these constitute a "common sense" reply to the utter gobar (cow shit) ideology floating around as economic justification for demonetization. These claims rooted in basic economics and, more importantly, political economy. Which is what I study/research.
I've since made a few copy edits or clarifications, but this remains more a working draft than a final argument. I also admit upfront that perhaps I have things wrong or that time will change what we know. I'll continue to make updates when someone points out where I'm wrong. I'll also add some citations later. Maybe.
One final note: I'm trying to write in a something of a common language wielding what hopefully seems like common sense to make it easier for others to engage this topic without falling back on pure ideology.
Statistics vary on just how many people (or how many households) are unbanked. But the number isn't inconsequential. Some estimates say half. Some say a third. Some say two-thirds. Whatever proportion of our nation is unbanked, those people — who are almost exclusively poor and more likely to be rural — do not have the same access to banking services as the folks who are largely of the urban middle class who also assume themselves to be "regular people." Documents needed to get a bank account are not universal for many people in rural areas as well as migrants to urban areas. Production of a PAN card, ID proof, address proof, etc., is not something everyone can do. As a (quasi) dual citizen, it took me many years to cobble together the needed paper trail to get my own bank account. Full stop. So the assumption by the government that everyone who has cash can easily move it into a bank account is willfully ignorant.
Forcing previously unbanked into the banking system exposes them to the potential for severe risks. It opens the door to financialization, greater debt, complex banking products, shadow banking, derivatives, etc. While certainly some numbers of the unbanked need access to banking, not all do at this time. One of the main effects of this policy will be to force the unbanked into the banking system (or else they may lose what cash value they have), which is forcing them into risk. Full stop.
There's a notion floating around that this is a temporary inconvenience. To people who have sufficient safety nets, who participate in a plastic economy using cards, who consume through the Internet and large stores (where prices for some goods are invariably higher), perhaps this is indeed only a short-term annoyance. I dispute that it's only trivial hardship even for the middle class (especially the poorer parts of that wide ranging category). Note the long, long lines of people who are attempting to move their money into banks. Or who wish to exchange their money for new valid cash. Daily limits on exchange complicate the matter and many people will for some time be stuck with large bills that are legally nothing more than pretty paper. Meanwhile, many are finding out how difficult it is to pay some bills in cash today even if a hospital or a particular service provider is legally required to accept the bill. In urgent scenarios, even people with substantial means may ultimately lose money by operating through grey-market or black-market changers for additional fees just to get their money converted quickly. Banks simply do not have a enough Rs. 100 notes to hand out to people to absorb the currency space previously occupied by larger notes in transactions. So yes, for the better-off portions of the middle class and for the upper class (i.e. folks who are even better off than the aam admi  farmer or laborer or construction worker or school teacher), this will still probably be more than minimal, temporary pain.
I have watched this debate play out on social media among supposed "regular" people. But we on Facebook are not regular people. Full stop. A large majority of the country is poor. A large majority of the country is rural. A large majority of the country does not debate things in English on the Internet. Still today. But many people in official positions (such as media commentators) or unofficial positions (such as Facebook commentators) are applying their personal economic experience and ideas to the majority of the nation, which remains largely rural. That is folly.
For anyone whose life and livelihood depends on cash transactions, even a few days of disruption is enough to trigger a debt and poverty trap. Consider a hypothetical: If I am sabzi wallah, I likely cannot afford to continue to make various payments in my economic circuit nor can my customers who now have great cash shortages. The lack of large bills creates the shortage of Rs. 100 notes which creates a shortage of even smaller bills. As this disruption drags on due to banking unpreparedness, dithering and changing of the rules by the government, refusal to follow the rules by some sectors (i.e. the hospital that doesn't continue to accept the Rs. 500 notes), there are mounting hardships felt by me (sabzi wallah) and people like me (the actual aam admi) working in cash economy livelihoods. If I (sabzi wallah) must take a loan to make ends meet, I may be permanently indebted (especially as another effect of this will be to permanently reduce cash business). If I expend my savings to cover my lack of business, I am also more precarious. Maybe not in debt now, but my safety net is gone. This applies to me, the sabzi wallah, as well as many other cash-only livelihoods. Think of the autorickshaw driver, who most likely does not own his own rickshaw outright. He largely works on a commission basis to pay back a kind of debt to the vehicle owner. But his customers can't easily pay him in plastic and they don't have small bills. A lack of small bills also likely makes it more difficult to buy petrol, whatever his rights might be. The cash economy worker is both losing income and losing the currency needed to maintain his him. In short, there will be people who previously operated in the cash economy who will see their livelihoods evaporate, permanently.
Why permanently? That is because this move will force a transition to a plastic economy. That might not seem like such an issue for people like me (PhD student) who already order many things on Amazon and BigBasket and travel by Uber. But this is a HUGE sop to e-commerce and larger-scale credit card-based vendors. Consider our corner store in Sanjay Nagar that does not have a credit card processing machine. We may still return to him if this debacle eventually clears (i.e. if there are enough small bills one day put into circulation). Some people certainly will. But a healthy percentage of his customers have been forced into plastic transactions — people who now turn to netbanking and credit cards and so on — and they will be less likely to return to the corner store. The same holds for the sabzi wallah or the auto-rickshaw driver or the dhaba. Meanwhile Amazon and BigBasket and Uber (and their competitors) will see business boom. The point is that it's not just cash economy livelihoods that are phased out or temporarily asked to sacrifice. There are also clear economic winners, and that is a huge injustice.
Now, I finally get to the government's supposed rationale for this. Let's start with the idea that there are fake bills endangering the economy through fraud and inflation. Maybe some folks are counterfeiting bills. If the Rs. 2,000 notes are drastically more technologically complex, this could tamp down some fraud temporarily. But if fraud can occur at one level of technology it can almost certainly occur at another. Of course, our Rs. 500 and Rs. 1,000 were already relatively high tech with watermarks, embedded security strips, etc. So we are right to be skeptical that this will slow down counterfeiters drastically. Furthermore, I'd like to see convincing evidence that it's widespread. The existence of "black money" doesn't automatically mean that counterfeit bills are a massive problem. I've encountered two fake bills, both Rs. 50 notes they're really, really poor forgeries. And changing out the bills for higher-tech ones by itself won't change an economic system that overlooks cheating and has a thriving money laundering sector. I hear the argument that terrorists are massively trading in counterfeit bills. I am skeptical that this is true, but perhaps policy/police should target the laundering systems that allows them to legitimize fraudulent currency, rather than just targeting all people who use currency.
On the subject of terrorism… As I understand it, another justification for this demonetization is that terrorists will lose whatever amount of rupees they have stockpiled in Rs. 500 and Rs. 1,000 denominations because they don't want to risk being ID'd when they try to change out that money. First of all, I ask for some definitive proof of this before subjecting the entire country to a debacle such as this one. Second, a terrorist like anyone else go through the painful process of changing small amounts at a time. An inconvenience, maybe. But remember, the government believes that everyone in the nation can endure this inconvenience. So also could a terrorist. Third, if terrorists are really, truly were willing to commit terrorism, it seems like they also probably are willing to commit other crimes and coerce or pay people to change money for them.
I've seen scant instances of serious evidence that economy altering forms of black money are held in cash as a "stock." Can a non-political entity (I realize there isn't actually one) give me a percentage? A lot of this "stock" is in property. A lot is in gold. A lot is out of the country in other currencies. Can the government really justify all the hardship I've outlined above to pursue some amount of black money that is perhaps unknown and also perhaps not significant? Are there not other ways — i.e. actual investigation of illicit revenues and improving financial bureaucracy — that don't punish all of us in order to punish some of us. But, for the sake of argument, let's suppose I do have a substantial amount of black money that I was intending to put to some nefarious purpose. At the very least, I don't wish to pay taxes so I keep my money sitting around in cash. If I'm that chalu, don't you think I'll still try to work around demonetization in the same way that a terrorist could? What's more, if I'm rolling in that much black money, then it's probably very little skin off my nose to employ enough people to help me get around it. Or I turn to the grey market for money changing. Or I work through a temple or a hospital or another service that is required to accept cash in a way that may very well become a money laundering window. Those folks who support the government on this are tacitly saying that the holder of black money in cash will simply say, "Oh, you got me. Here are those back taxes, and I'll be a good person from now on." Does that strike you as reasonable?
A related point is that this move (and illogical justifications for it) would seem to misunderstand black money. Demonetization does absolutely nothing to address the system that generates black money. Black money is not a "stock." It is a "flow." Black money is really the output of a black business (or a white business with a black accounting system). These businesses are a separate problem not addressed by this. Sure, as the owner of said "flow" of black money, I may lose some money on trading my black bills in through elaborate measures, but I can continue to operate my under the radar enterprise easily with the new Rs. 2,000 bills. As outlined above, this is unlikely to get someone who benefits from a black money stream to straighten up and fly right.
I hear the word "corruption" thrown around. As though this will stop making people pay bribes. (I'm not sure that anyone argues this will stem a deeper version of corruption that comes from legal manipulation of the system or corruption enterprise as a stream of black money). It seems like this really is meant to address a cartoon character of someone with a briefcase of cash (ostensibly black money) that changes hands illicitly. First question, which is easier to pay as a bribe: four Rs. 500 or one Rs. 2,000? As with counterfeiting, it seems like this might be at best a temporary disruption in such trade. But briefcases can still be configured to carry Rs. 2,000 notes.
A more complex justification says that perhaps property buying via hordes of black money cash will be curtailed if the cash economy is constricted. But it seems I've laid out a way around the black money rationale of the government, which then suggests I can still figure out how to buy property. Also, when Rs. 2,000 notes are back in circulation, won't cash purchase of houses return to business as usual?
There's been a justification that there is no perfect solution to a huge complex problem like this one — Multiple tentacles. Corruption, lack of tax paying, corruption, exploitation, cheating, lots of sectors that need to be regulated differently, hugely diverse economy, etc. This logic says, the Indian economy itself is a huge "problem" and therefore the government must take "surgical strike" action to fix it without the hindrance of democracy. A follow-up point is usually that, yes, there is likely to be some collateral damage but we need action. This viewpoint is naive. Huge problems are not solved by autocratic, magic bullet solutions. They're just not. Complex systems require careful, reasoned recalibration (if even that is possible) with adequate protection and consideration lest the react unpredictably. Based on the logic above, it seems like we could predict that this anti-democratic magic bullet option wouldn't work.
Which suggests that all the popular justifications, which I have tried to dispense with above, are not actually the real justification. I don't honestly think that Modi et al. are this stupid (i.e. that they actually thought this would just "fix" things), which really makes me think more a collective change to give a massive sop to the financial and credit-based economic sectors. When a solution doesn't bring benefits or answers to supposed problem, perhaps there are other people/sectors/issues it was intended to benefit all along.
I have to address the idea that this is something good and we have to give the government benefit of the doubt. Simply put, that's not how it works in a democracy. In a democracy, which we sometimes pretend we still are, large decisions that will have large impacts are discussed, debated, reasoned. Yes, that means that sometimes "decisive" action can't be taken. Sometimes that discussion leads to gridlock or causes them to be turned down or subjects them to mob rule. OK. That's how democracy goes. Because it's still better to have wide participation and general consensus about the way we all move ahead in this world than to have a few experts making decisions at the expense of the many.
A related charge — and one of the most scary — is that people who dissent are unreasonable. That we're anti-national. Yeh sabse bada gobar hei. Dissent in a democracy is healthy; it's the essence of participation in the setting of the collective will and agenda of a democratic country. But then we barely live in a democracy. We're headed toward fascism, and I have no problem saying that. It's one thing to have faith in a nation or the ideal of a nation. But it's also very democratic to criticize a government or a politician or a leader. Dissenting over a policy a core principle of democracy. Calling someone an anti-national because they dissent? Suggesting that we must support the government for the good of nation? That's drifting toward fascism. The other side of the "aren't people too worked up" coin is "people shouldn't be worked up at all." And, what is that? Fascist.
More on that point. Some folks seem to argue that critics of demonetization are really just anti-BJP and pro-Congress. Well Congress flirted with this idea and it was a bad idea then, too. And the BJP said so at the time. Congress made stupid policy, too. And deserved criticism. But the BJP bhakts seem to not take criticism well. Worse, some often interpret criticism of BJP as criticism of Hindus or being "anti-national." Which sucks us back into that rabbit hole of the previous point and tacitly argues that the nation can only be represented by Hindu politicians (i.e. the BJP).
Look, I study political economy and with it some economics. I'm not going to claim to be an expert in all matters of economics or monetary policy. There's a lot more nuance to the all of the above and maybe I've overstated or understated some things. But I've also tried to reason in common sense terms that are understandable to most folks.
That's because — and I say this with the gravest of faces — this is an anti-democractic, strong-arm tactic that will have few of its supposed benefits. But it will cause a lot of people long-term pain and an even larger number of people short-term pain. And almost no one had a say it whether it happened.
Who thinks that's what government in a democracy should do?
<small>Note: I made some style, copy and organizational changes on Friday, 18 Nov. No change in the argument.</small>
Tags: corruption, democracy, demonetization, economics, india, modi is an idiot, not really a democracy, political economy, politics, sham
Posted by Adam Jadhav | Filed under india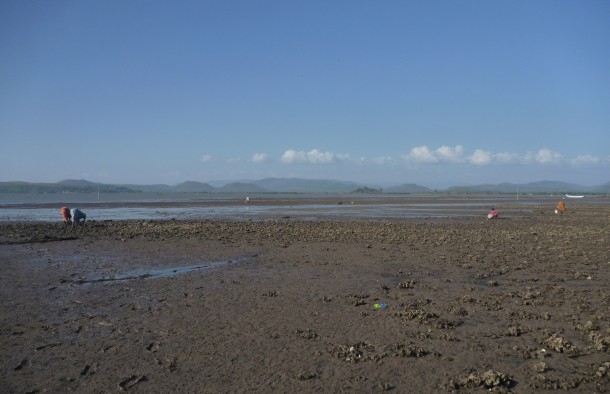 Last week I presented another set of research findings / summaries of my work with Panchabhuta Conservation Foundation. This presentation casts the Aghanashini River estuary as a political economic space, affected by multiple external and internal optics and development trends. This review ultimately ends in a call for robust valuation of this critical ecology (from non-monetary and monetary perspectives).
To see the full presentation which may yet yield a paper, click here.
Note: There are serious critiques to be made of the ecosystem services valuation paradigm. Yet such valuations remain critical for much policy and management. A balance must be struck between pricing everything all the time and pricing nothing ever. On this I straddle.
Tags: aghanashini, conservation, development, ecological economics, estuary, india, karnataka, natural resources, political economy, politics, river, valuation
Posted by Adam Jadhav | Filed under india
Hat tip to Michael Thompson on directing me to the video.
From Xaver Xylophon, a graphic designer/animator from Europe, a very cute video of an auto rickshaw driver's day in Bangalore, where I now reside.
Fun to watch and it offers lots of interesting tidbits on this facet of the transport system in major India cities (and elsewhere in the world, from Kenya to Thailand).
The artist certainly goes beyond the one-off Mario Kart-esque caricature of the rickshaw. He includes a dispute over a meter-fare, a break-down fixed by jugaad, a nap, the menagerie of passengers and even some downtime.
Still, a few things are missing from the video that are part of the routine for many an autowallah. I'm not trying to be hypercritical, but it's important to recognize reality, particularly as these three-wheelers play a large role in keeping urban transport from completely collapsing.
To start, the road traffic itself seems almost pleasant. I'm sure the artist knows how choked Bangalore roads are and I imagine the true picture would be difficult to animate. In reality, autos are becoming increasingly less visible amid the crush of cars that is overtaking most Indian cities.
We could have easily seen more of the exploitative, entitled passenger. A fare dispute is rarely resolved without some yelling. Of course, the reverse also often happens; in what is often an almost adversarial system here in Bangalore (and elsewhere), autowallahs do sometimes try to take passengers for as much as they can; many rarely go by meter so easily.
Other supporting characters deserve screen time: The police officer expecting a bribe; the upper-class, elitist bada sahib honking and shouting incessantly from behind the wheel; the chowkidar of the new building/complex scaring off the driver; the other autowallahs who are sometimes hostile to strangers who venture too far from their usual territory; even the firang cyclist (me) adding to the confusion of the rode.
Above all, we are missing the owner of the auto exacting a pound of flesh (exorbitant rent, inflated repair charges, etc.) from the driver. Though it's true that some rickshaws are owner-operated (this varies by city) and some drivers are unionized or otherwise protected, in many instances, the vehicle is owned by an investor whose profit comes from exploiting the labor class.
Again, the video is really quite wonderful, but ultimately the daily path of the autowallah involves dodging (or coping) with plenty of class conflict and exploitation, in addition to potholes, streetdogs and breakdowns.
Tags: autorickshaw, autowallah, bangalore, class struggle, exploitation, india, political economy, shenanigans, transportation, urban development, wallah
Posted by Adam Jadhav | Filed under united states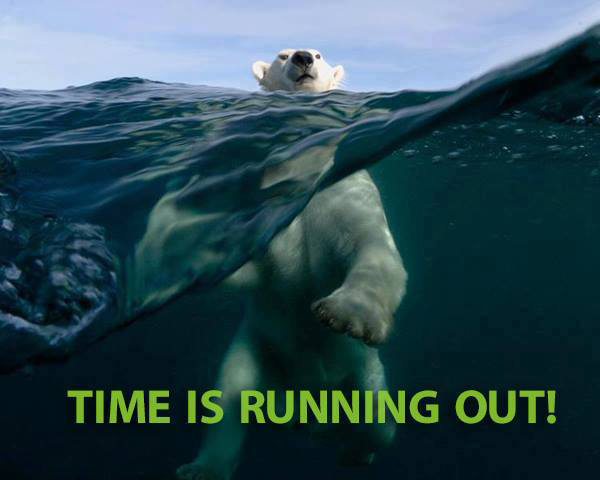 A good, smart friend recently pointed out that while the science really does argue that there is no going back to a time before climate change or Arctic ice melt or dying polar bears or ecosystem disruption, Greenpeace, an environmental NGO that I support with heart, hand and wallet, continues a campaign that suggests it's not too late to fix things.
Note: I don't believe we're really taking issue with Greenpeace's campaign to fight uber-consumptive capitalism and industrial destruction of remaining Arctic resources. Rather, it's the message which obfuscates and confounds a deeper truth: Time really has run out. We're past a point of no return.
My friend Michael:
Is this a good appeal, still? Time is not running out, it has already run out. Already released GHGs are forcing the warming that will within a few years likely make the Arctic ice free during the summers. We cannot save the polar bear, or rather, we cannot save the polar bear's habitat. I think Greenpeace knows that.

Better that we be honest about this and understand the implications, and how serious of spot we are in. To keep using this as a tool to get people on board can have the effect of giving people a sense that a) look people are doing something about this and since the polar bear is "being saved" its working, and that b) things are not all that serious if we can still do things like "save the polar bear."

I think its better to start being clear about what we have messed up and cannot fix. If I'm not wrong, the Arctic is one of those things.
His point — one that many people have certainly discussed — has been kicking around my brain for the better part of a day.
I do absolutely agree that we need to come to serious terms with reality. Full stop. There is so much that we've already broken and we're kidding ourselves if we think we can fix it. Again, full stop. A realistic picture would be a drowned polar bear washed up on a flooded city waterfront.
But for the sake of discussion… There are two concerns here. The content of the message (bears can be saved) and the goal/strategy of the message (enlist people/donors/members/activists).
The content is wrong. Polar Bears 1.0 cannot be saved. Whatever survives will be a different kind of polar bear (Not-Quite-Polar Bear V2.7.1) in a different place.
It's the strategy that I'm wrestling with. And I admit that I've more often advocated going radical/brutal first. Soft touch isn't my strong suit.
But I find myself asking, what would a picture of a drowned bear washed up in Sandy-induced flooding with a tag line of "You broke it, you bought it" or "Time done run out already" achieve? Does it move us to the goal of getting people off the bench and into the game?
It would be the brutal and honest truth, and I hope, would shake some people awake to reality. But would it also risk encouraging others to throw up their hands? Maybe such a message would just convince people to say, "Well, screw it. Smoke 'em if you got 'em. Let's drive Hummers." After all, humans are much at denial than acceptance.
This is a question we've gone round on before, but I'm asking it again. How do we communicate the truth of it?
The truth, at least to me, would seem to sound something like,
"We have screwed the pooch; a lot of people are going to suffer; a lot of natural systems — including humanity — will be irrevocably changed. Things are going to be different, which is our fault, but we have to move forward and work toward adapting to a new normal. This "normal" will ultimately be unstable and not feel very normal. But we must do [insert painful, landscape-changing, status quo-disrupting policies here] until we can achieve some sort of balance in our socio-economic-political relations with our environment. Don't get your hopes up that we're going to "fix" much of anything. Remember, we effed things up a lot. The future is going to hurt, but we have to at least try to make it hurt a little less."
So how does one communicate that and get people involved, when we're essentially saying that the best we can do is really not much? It seems like an appeal that is tagged "We're mostly munted" isn't much of an appeal.
Note: I think that the new distant future, if we succeed, will be pretty nice. Social capital, growing our own food, loving our neighbors, loving strangers, putting down roots, more biking and bowling and sweating, less plastic wrap and fake nacho cheese.
But that's my version of success, which may not get a lot of people into the game.
Tags: arctic, climate change, consumption, economics, environment, greenpeace, melt, munted, new economy, new normal, overconsumption, polar bear, political economy, sea ice, united states