Posted by Adam Jadhav | Filed under india
Word is circulating that 516 of the colonial-era bungalows (read: small palaces) in the planned center of New Delhi (Lutyen's Delhi) may be renovated/rebuilt over a period of 20 years. The state-owned bungalows house India's political elite — ministers, judges and other top officials — and are largely a perk of official power.
The price tag for updating the bungalows with so-called modern conveniences? Three thousand crore rupees, or about $482 million by today's exchange rate.
Think on that. That's not nearly half a billion dollars for public infrastructure (which is sorely needed around India). That's not even half a billion dollars for an illogical mega dam, which Indian officials have also been fond of building.
No, that's almost half a billion dollars to essentially redecorate the halls (bedrooms?) of power.
The bungalows essentially represent a faux suburban space — broad roads, leafy overhangs, large plots, individual manses — built in the middle of one of India's densest cities. The Business-Standard has a fine editorial calling out this ridiculous plan.
But more than illogical urban development, the bungalow zone represents a classist geography that replicates and reinforces both social stratification and power, reserved as they are for officials and regulated by state rules. To live in Lutyen's zone is a pipe dream for many; claiming an address there requires access and influence. Such is the attraction of this "neighborhood" that in 2012, when a private bungalow (there are a few) was for sale, it was priced at 600 crore rupees — about $96 million.
Meanwhile, most of rest of the city lives in ever densifying and increasingly over-crowded warrens. For a stark comparison, check the satellite imagery, courtesy of Google.
Certainly, all cities contain prestigious addresses. But few are so overtly the result of statist development and control. Yes, Chicago's Michigan Avenue or Gold Coast might indeed be the result of capitalist development (encouraged and aided by government) that benefits the already rich and richer. And, yes, such posh strips certainly represent stratification and gentrification.
Yet they do not approach the neo-colonial classism of Lutyen's Delhi, which is explicitly intended to benefit a ruling political elite. It's notable that such absurdity is a holdover from the British that independent India's rulers have not so subtly clung to.
I quote at length from celebrated scholar James C. Scott's wonderful treatise on state planning in development.
"Capital cities, as the seat of the state and of its rulers, as the symbolic center of (new) nations, and as the places where often powerful foreigners come, are most likely to receive close attention as veritable theme parks of high modernist development. Even in their contemporary secular guises, national capitals retain something of an older tradition of being sacred centers for a national cult. The symbolic power of high-modernist capitals depends not, as it once did, one how well they represent a sacred past but rather on how fully they symbolize the utopian aspirations that rulers hold for their nations. As ever, to be sure, the display is meant to exude power as well as the authority of the past or of the future."
Scott is writing about the state development project and its faith in legiblility, clean lines, rigid planning, bureaucracy, rules, universalism and top-down design. The state, as often as not, has seen itself as the propagator and guarantor of such a high modern order.
And to be clear, Scott had New Delhi in mind when writing.
Colonial capitals were fashioned with these functions in mind. The imperial capital of New Delhi, designed by Edwin Lutyens, was a stunning example of a capital intended to overawe its subjects (and perhaps its own officials) with its scale and its grandeur, with its processional axes for parades demonstrating military power and its triumphal arches. New Delhi was natural intended as a negation of what then became Old Delh. One central purpose of the new capital was captured nicely by the private secretary to George V in a note about the future residence of the British viceroy. It must, he wrote, be "conspicuous and commanding," not dominated by the structures of past empires or by the features of the natural landscape. "We must now let [the Indian] see for the first time the power of Western science, art, and civilization."

Standing at its center for a ceremonial occasion, one might forget for a moment that this tiny gem of imperial architecture was all but lost in a vast sea of Indian realities which either contradicted it or paid it no heed.
The organization and development — and continued maintenance — of the Lutyen's area represents a lingering official faith in high modernism in urban planning. The "neighborhood" is guarded by police and development is highly restricted; order is, under Delhi development policy, practically required and enforced.
Aesthetically the bungalow zone certainly seems more organized and tidy that most of the rest of Delhi. This is in stark contrast to the more organic/functional if seemingly chaotic development elsewhere across the city. I'm not arguing that the riot of construction that is Delhi doesn't have its own problems, nor am I arguing against urban planning in theory. Plans are needed to address Delhi's mounting challenges with illegal land grabs, environmental cataclysm, corruption at all levels of development, the list goes ever on. But I am arguing — as Scott did — that Lutyen's plan had little relevance to local conditions, needs, utility or desires.
What's more, the mandated order and seemingly elegant functioning also remain ironically dependent on the very chaotic geography Lutyen's Delhi rejected. Though haphazard to the planner's eye, the slums and ramshackle development of other neighborhoods provide the service labor to the elite. (This is generally the case in India where elite neighborhoods are served and serviced by a servant class that lives in slum or almost-slum conditions.)
Of course, it would be nice to dismiss the bungalow zone and Lutyen's Delhi as simple anachronism or architectural heritage. But they're not just history (or even a nice perk for underpaid public servants). The bungalows by their existence are an example of the state replicating class division and reinforcing geographies of inequality.
As such, the Business-Standard rightly argues that the bungalows don't need renovating/rebuilding.
They need razing.
Tags: architecture, british, business standard, class, colonialism, delhi, development, high modernism, history, imperialism, india, james c scott, lutyen's delhi, new delhi, politics, poverty, power, society, stratification, urban planning
Posted by Adam Jadhav | Filed under united states
The NYT this week had a story noting that as the BP Gulf oil spill court case winds down, the Obama administration (cautiously) and the GOP presidential front-runners (with absolute abandon) want to open up U.S. coasts to more drilling.
Their flawed logic goes like this: More drilling = more oil = lower gas prices = happy voters = elected.
Hogwash and pandering. And unfortunately, it's hogwash left unchecked by the NYT.
Here's a bit of reality, that any reasonable natural resources economist could tell you: Any extra oil from drilling will come over decades, not months, and certainly not in time to save an election. And the amount of extra oil that does bubble up from the deep (at least that which isn't spilled again) will only be a drop in the world barrel.
Yes, oil prices are a function of world supply and demand. Just because it comes from our EEZ instead of someone else's doesn't mean we get it on the cheap.
So if oil prices are controlled by the world market, then so are gas prices. Sure, some extra oil will result in some decrease. That's likely going to be three or four cents, per government estimates. Consider that the Energy Information Administration in 2008 (under President George W. Bush, mind you) said that any impact from opening up a large new source (such as ANWR) will be almost nil.
And if the U.S. brings online more oil, OPEC could close down some production to keep the price higher.
Oh wait, and then there's ever increasing demand from China, India, Brazil and the other big developing economies.
So yes, hogwash. Whatever marginal amounts are obtained in the future from expanded drilling will do very, very, very little to decrease pain at the pump.
Sadly, the NYT didn't take the time — or even a couple grafs — to give this a bit of scrutiny. I'm sure their reporters and editors know it. But somehow that counter opinion was left out.
The answers instead can be found in alternatives, in a new economy and in new consumption patterns. For example: offshore wind, a green global public transportation network and using less energy.
Tags: 2012, barack obama, BP, consumption, economics, gasoline, newt gingrich, offshore drilling, oil, politics, washington d.c.
Posted by Adam Jadhav | Filed under united states
Senator Durbin:

This is not a form letter. You and I have shaken hands plenty; for a while we were on a first-name basis when I was a political reporter at the St. Louis Post-Dispatch. How many times did I tour the Metro East with you? How many times was I there at town hall meetings in the Collinsville City Council chambers or Edwardsville or Granite City?

Today, I am in graduate school here in D.C. studying environmental policy. I'm an activist. I was arrested for protesting in front of the White House in September. I'm a scholar. I research natural resource policy, environmental degradation and sustainable development.

I'm asking you as a professional acquaintance, as someone who listened for a long time to the political concerns of southern Illinoisans, as a worried citizen and as a registered Illinois voter (my permanent address is in Champaign) to do all you can to stop GOP factions and Big Oil special interests from resurrecting the Keystone XL pipeline.

If you and your allies in the Senate take the time to talk straight to Americans (whatever the hell Fox News thinks), they will listen. If you take a moral stand, you'll be doing the right thing (whatever the hell the Tea Party thinks).

And if you need help that I can provide, contact me.

There's so much more we could be doing to invigorate our economy and protect this planet. Think about green jobs in a renewable energy economy. Think solar and offshore wind and green infrastructure. Think better quality of living and public health. Think natural splendor that warms heart and soul.

But if we instead take the cheap (actually more costly) and dirty (yes, really, really dirty) way of burning tar sands, we become that much more path dependent on oil. That's game over for our planet.

I've heard you tell me directly about how Washington needs change, how it's beholden to special interests, how our government needs bold action.

I say to you, lead the charge.

Adam Jadhav
Tags: activism, conservation, dick durbin, energy, environment, illinois, keystone xl, oil, pipeline, politics, protest
Posted by Adam Jadhav | Filed under united states
The President is now apparently waffling on the latest attempts to lay a new pipeline from Canada to the Gulf of Mexico. The administration last month announced it would review the pipeline again for additional social and environmental concerns. Those of us opposed were thrilled; the delay of more than a year would likely kill the pipe. If approved, the pipeline very well could be game over for the battle to stem climate change.
Then the John Boehner-led U.S. House decided to tack a pipeline rider to a tax cut extension. This has become a political wedge and word has it that Obama may now try to use pipeline approval to win other short-term economic aid.
Cough*bullshit*cought
I recognize that while writing a letter feels incredibly empowering it's still almost entirely symbolic. But I write to the president nonetheless. I'd encourage anyone else who cares about this to do the same.
Mr. President:

I was the 1,253rd person arrested protesting outside your house late this summer. That made me the final person to be cited for civil disobedience — officially failure to obey a lawful order — as we called on you to stem our planet's addiction to dangerous oil and, in particular, dirty crude from the Athabasca tar sands. Our nation's foremost climatologist James Hansen has called the Keystone XL pipeline "game over" for the battle to slow the tide of climate change.

Note: I'm not just a fringe tree-hugging hippy. I was a legal and political reporter at the St. Louis Post-Dispatch, raised in small-town middle America (central Illinois). I covered your campaign in 2008 as well as your efforts on behalf of others in 2006. I voted for you in your presidential run and your senate bid. I've followed you since Springfield and the state senate. I pay my taxes.

And I ride just left of center, politically.

Or at least I did. But the condition of our planet has convinced me to shed my neutral observer hat and don the fighting gloves an activist. That's why I'm in grad school at American University, researching global environmental policy and issues. That's why I was happily arrested in September for this cause. That's why I was shouting "Show me what democracy looks like!" outside your house again in November. And that's why I expect you to keep the promises you made when you were elected.

Sir, we need a fighter today; yes, the country is in dire straits economically, but you know as well as I do that short, myopic time horizons — the ones that set up the false environment-jobs dichotomy — only cause more problems in the future. Compromise is laudable to be sure, but how far will you bend?

You are a man of faith and morals; you and I pray our creator for the safety of those we love. Well, I believe that if we're truly made in God's image then we have a duty to look after our brothers and sisters and the lilies of the field as well. I heard you tell the world that we are our brothers' keepers. Well, sir, addressing the environmental destruction of our planet is part of fulfilling that responsibility. By helping to look after the planet, you help to look after all its inhabitants.

Please, stop thinking about what Boehner or Fox News pundits will say about you tomorrow or next month. Please, stop worrying about a future date with Mitt or Newt or Rick. Please, instead start thinking about what kind of a world Malia and Sasha and (some day) my children will need.

Respectfully but urgently,

Adam Jadhav
Tags: barack obama, climate change, conservation, environmentalism, keystone xl, pipeline, politics, president, tar sands, washington d.c.
Posted by Adam Jadhav | Filed under united states
Photo by Josh Lopez
See anyone familiar? (Look just above the second eight).
I now have an arrest record. And after two weeks, more than 1,250 people built (or added to) one, too.
There's more to the tale coming in subsequent posts. But in the meantime, you should read in to find out the serious trouble literally coming down the pipeline.
By the ways, "Show me what Democracy looks like! / This is what Democracy looks like!" is the best call-and-response protest chant out there.
Tags: action, arrest, environmentalism, keystone xl, oil, politics, pollution, protest, tar sands, united states, washington d.c., white house
Posted by Adam Jadhav | Filed under india
The pageantry, the pomp and the fancy-pants-ness of military ceremonies in India is something to behold. And few places is that more accessible than the daily ritual performed on both sides of the India-Pakistan border at Wagah.
Patriotic citizens and puzzled foreigners pile into bandstands along the road between the two countries. Each nation trots out an honor guard for some drill and maneuvers that could easily be a flash dance or jazzercise routine at your local Y. There's lots of shouting, huzzahing, high-kicking, grunting, "aggressive marching" (I believe that's the official term) and even a handshake. Then the border gates are officially closed and the flags of each country are lowered.
But costumes are as priceless as the show. And best of all: the hats.
India's are above. Pakistan's involve some kind of a cape (it was difficult to see) which give them a more sinister, desert-marauder appearance.
Tags: border, ceremony, hat, india, military, pakistan, photography, politics, pomp, uniform, wagah
Posted by Adam Jadhav | Filed under india
I love India for her so-called faults as much as anything else. I revel in my adopted country's chaotic, imprecise, ad hoc, ecumenical, communal, fraternal, bureaucratic, inefficient, relaxed, whimsical, anything goes, nothing goes nature.
I can argue they're not really faults at all. Yes, India has a load of problems. And, yes, some of them are exacerbated by the above characteristics.
But perhaps these character flaws, these rough edges — that's what I'll call them — may very well be completely, inevitably, undeniably unavoidable when you have 1.2 billion people trying sort out their lives, both individually and as a group.
There are plenty who will say India's democracy is a sham, that it's broken, that it's a hoax, that it needs to go. I've said such things in passing and those are certainly arguable, if not truly defensible, viewpoints.
But whatever needs or doesn't need to happen in India, we must remember she constitutes the biggest experiment in self governance and actualization in the history of sentience. To that alone, I say Jai Hind!
Tags: border, democracy, india, photography, politics, punjab, wagah
Posted by Adam Jadhav | Filed under india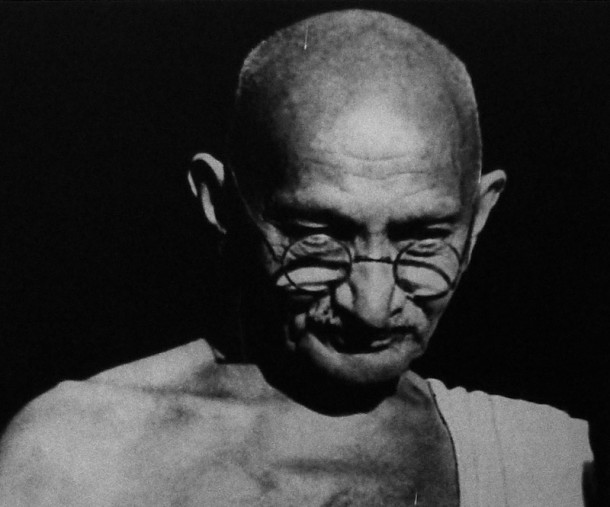 I will give you a talisman. Whenever you are in doubt or when the self becomes too much with you, apply the following test:

Recall the face of the poorest and the weakest man whom you may have seen and ask yourself if the step you contemplate is going to be of any use to him. Will he gain anything by it? Will it restore him to a control over his own life and destiny? In other words, will it lead to swaraj for the hungry and spiritually starving millions?

Then you will find your doubts and yourself melting away.

— M. K. Gandhi
From a wall in Gandhi Smriti in Delhi, now a museum and the grounds of the leader's assassination.
Tags: delhi, gandhi, history, india, philosophy, politics, poverty, quote, talisman
Posted by Adam Jadhav | Filed under india
I spent time in Darjeeling at the end of May reporting a political magazine story on the tension in the Gorkha movement after the leader of a smaller separatist party was killed in daylight near a crowded market. That story was published this month in a Delhi magazine and is available online now. The full-text version is also available here.
The photo above is from a massive political rally in Darjeeling the weekend I was there.
Tags: bimal gurung, darjeeling, gorkha, gorkha janmukti morcha, gorkhaland, india, journalism, madan tamang, photography, politics, published
Posted by Adam Jadhav | Filed under india
I recently spent a few days in Darjeeling reporting (real, live journalism!) on political tensions surrounding the Gorkhaland movement. A week before I arrived, a minority party leader was assassinated in the street.
The town was still covered in the typical green and white Gorkha colors and other than a good bit of shouting and lots of paramilitary forces, cooler heads prevailed. That story is set to run in July in a magazine.
In the mean time, I give you the above green scarfed dog.
Tags: darjeeling, dog, gorkha, india, photography, politics