Posted by Adam Jadhav | Filed under Uncategorized
In the wake of Donald Trump's election, I've been thinking, reading and writing a lot about the rural, conservative places I grew up. I've been looking through data on my hometowns. And I've been remembering my friends and former neighbors. I've been doing this mostly in a personal fashion but I'm also going to take it forward academically.
See below my call for a special session at the annual meeting of the American Association of Geographers in Boston in April 2017. This is a "late-breaking news" session, so the deadline is only 29 November.
CFP: Geographies of the conservative Other
Following the outcome of the 2016 U.S. elections, disbelief and shock still reverberate around late-night television, liberal newspaper opinion pages, dinner tables, college classrooms, water coolers, streets of protest and social media soapboxes. The success of Donald Trump's campaign, often fueled by bigotry and outlandishly discriminatory proposals, has left many progressives feeling like "they've woken up in another country" (Davis 2016). Surprise has given way to sadness — that so many Americans could vote this way — and legitimate fear about lasting, future material effects — laws rescinded, judges appointed and renewed race, class, gender and other marginalizations.
Progressive denunciations of Trump's brand of conservative politics are at once shows of strength and admirable cautions that intolerance must not be normalized. These reactions call for solidarity among a "we" who did not support Trump's campaign as opposed to a "them," backwards, hateful or regressive Trump voters. In the extreme, this discourse risks marshaling and inscribing a logic of intellectual and moral superiority by progressives over conservatives. Conservatives who voted for Trump are rendered irrational, even irredeemable, in the grips of false consciousness or possessed of impossible-to-change bigotries. Such a logic is potentially Othering — the process by which a group is repeatedly described or defined as deviant and positioned outside or marginal to a normal, acceptable center (Mount 2009). This demarcation of the Other has been routinely deployed by colonial and neo-colonial powers (c.f. Said 1978; Gregory 2004) to justify domination. Othering also overlaps Schmitt's distinction of the political enemy as "the other, the stranger… existentially something different and alien, so that in the extreme case conflicts with him are possible." Today, vehement progressive political discourse — especially the kind that lacks nuance — drifts toward an abstract of the conservative Other as a rural, white, male, bigoted enemy.
Few, however, would argue that the politics to which progressives now respond — manifested in the "surprise" win by Trump — are somehow new. They finds roots in myriad multi-generational forces: disparate effects of globalization, precarity brought on by neoliberal policy, uneven development, mutually constitutive relationships between urban and rural, campaign finance run amok, the historical legacies of slavery, cultural narratives of loss and more (Davis 2004, 2016; Frank 2004; Hochschild 2016; Wolin 2008). U.S. political division has a material spatial quality from the level of red and blue states down to red and blue neighborhoods (Bishop 2007). Of course, Othering of many groups occurs simultaneously in countervailing directions. Minorities have long been Othered throughout U.S. history and Trump himself reinforced an Othering discourse about U.S. "inner cities." The Other is also complicated as categories slip and break: For example, rural America is neither exclusively conservative nor lily white. In effect, the political Other may be written into the messy landscape and history of multiple Americas, generating what Hochschild suggests are impossibly tall "empathy walls."
This special "late-breaking" session seeks reflections and research that engage the subject position of progressive scholars and grapple with the geography of the conservative Other. What kinds of scholarship are needed to address the potential for conservative Othering by progressives? How might progressive scholars avoid or deactivate an Othering of a conservative "them" that "we" fear or even disdain? And how do "we" do so while still condemning expressions of hate or fascism?
The format of the session remains flexible, depending on interest and availability. Participation need not be limited to a traditional paper, but "submissions" might include:
Examinations of the process of Othering specifically in the 2016 elections (e.g. novel social media uses, Facebook algorithms, tenor of late-night comedy)
Deep dives on voting returns, polling or other types of electoral data
New or exploratory research post-election on political division or reinterpretation of old research in the context of the 2016 results
Reflections on the implications of "empathy walls" when progressive scholars study conservative communities
Methodological innovation/renovation (autobiography, autoethnography, "returning home," etc.) for transcending "empathy walls"
Research specifically on cases (practices, movements, sites, experiments) that bridge or challenge political divides
Reactions or disagreements with the suggestion of a colonial logic of Othering conservatives or such categories/divisions.
References:
Bishop, B (2008) The Big Sort: Why the Clustering of Like-Minded America Is Tearing Us Apart. Houghton Mifflin Harcourt.
Davis, M (2004) "Losing West Virginia" Socialist Review.
Davis, M (2016) "Not a Revolution – Yet" Verso Books Blog.
Frank, T (2004) What's the Matter with Kansas?: How Conservatives Won the Heart of America. Metropolitan Books.
Gregory, D (2004) The Colonial Present: Afghanistan, Palestine, Iraq. Wiley.
Hochschild, A (2016) Strangers in Their Own Land: Anger and Mourning on the American Right. New Press.
Mount, A (2009) "The Other" in Gallaher, C et al. eds. Key Concepts in Political Geography. Sage.
Said, E (1978) Orientalism. Pantheon.
Schmitt, C (1996) The Concept of the Political. University of Chicago Press.
Wolin, S (2008) Democracy Incorporated: Managed Democracy and the Specter of Inverted Totalitarianism. Princeton University Press.
Tags: aag, conservative, election, geography, gregory, hochschild, other, politics, said, schmitt, trump, united states
Posted by Adam Jadhav | Filed under united states
Today, fourteen years ago, Dad died. I've been thinking about him of late, though to be honest, the anniversary completely snuck up on me.
Rather, I've been considering my Indian immigrant father — and my lineage and family in general — because I mostly grew up in small towns in Central Illinois. These are places that voted earlier this month for Donald Trump to be president.
Though I was born in Decatur, a city of 74,000 people today give or take, we shifted before I have memories to Avon, population: less than 800. When I was 5, we spent a year in Quincy (41,000 people) but moved again to the country. Those earliest years are indistinct in my brain.
Beason, Illinois, in 1988, represents the real start of my remembered childhood. That's where the above photo was taken. Beason is barely even a village, an unincorporated census place. Which is to say it had a Post Office and a single soda vending machine. As of the 2010 Census, 189 people lived there. Beason's primary reason for existing was a grain elevator and a grade school. The latter has since been razed.
I spent ages 6 through 9 in Beason. My family wasn't a farm family, but I certainly grew up in that circuit. Dad was the town preacher. So many friends and neighbors also attended our church. In the school, there were about 80 kids in grades K through 8. I was often babysat by one or more church families, often on their farms. I taught myself to ride a bike in a country gravel driveway. I played with my babysitter's children (my friends and school mates) in hay lofts. I developed my still-existing fear of cows in barns and pastures, where I also learned to ride a horse.
In the Methodist tradition, preachers are itinerant. They typically relocate every several years. So after four years, we shifted to Henry, Illinois. Population: 2,600. This felt like a big city, compared to Beason. The town had industry (a fertilizer plant and a tire factory). There was a community swimming pool. A grade school AND a high school. Grocery stores (two, as I recall) and a Dollar General. County fairgrounds. Gas stations. The Internet showed up when I was 12.
But there were still farm (or country) families, whose kids were my friends. I learned to drive on country roads. My neighbor's dad took me mushroom hunting. My first W2′d job involved detassling corn during a summer. My second legal employment: Stocking shelves for one of those grocers. We lived there six years, before shifting back to Decatur when Dad got transferred again.
These memories of childhood in conservative rural America — with my immigrant father as a figure in those communities — have been in my head for a week and a half, since it became clear that indeed Trump would be the next president of the United States.
Today, I sit in a beating heart of so-called liberal America, a PhD student at the University of California at Berkeley. My primary research focuses on capitalism, India, fishers and the oceans. In the last decade, I've spent as much time out of the country as in it. I read and generally agree with a fair bit of Marx. I embrace the majority of left, liberal, progressive causes. The Democratic Party is usually to my political right.
From the perspective of many places where I grew up, I'm a neo-hippie. Or a communist. Or out-of-touch coastal elite.
In my current circles, there's a lot of head scratching at how an openly misogynist, racist, elitist, egotist, fascist like Trump could get himself elected. Why did so many of those folks in the "red" counties — places like where I grew up in — vote for Trump? Is that really the political fabric of a not-quite-majority of our nation? This concern among progressives is echoed hyperbolically in media and many late-night TV shows.
There are lots of assumptions embedded in things "liberals" say about conservatives, but many are grounded in real fear, justified by some of Trump's outspoken and openly misogynist, racist, elitist, egotist, fascist voters. But this rendering of conservatives doesn't fit neatly with my own upbringing.
To understand, look again at the family photo above. Dad was brown. My sister and I are mixed race. To be clear, we certainly met racism. My father especially. Family lore says he received death threats at different moments (though in Decatur, which is not actually the most rural of places). In Henry, I didn't understand the term "sand nigger" the first time it was directed at me. I'm not denying that rural conservative America is not always welcoming of diversity.
But race hardly framed my upbringing in these communities. I'm sure my parents sheltered me somewhat (and my sister probably had a different experience), but discrimination wasn't the overriding theme of my childhood. My family also knew kindness from at least some of the same people who probably also voted for Trump. In Henry, after the parish fundraised a few thousand dollars with a community shrimp boil, the church turned around and surprised our family by paying for a trip for Mom and Dad to go back to India so they could visit his parents. Dad performed baptisms and marriages and funerals for many people in these places. He counseled and prayed with and ministered to many people, some of whom today might be labeled as racist.
(There are also "blue" voters in majority "red" places. Thirty percent of Marshall County, where Henry sits, voted for Hillary Clinton.)
And in every church my father pastored, I had umpteen adoptive grandparents, who might have feared a person of color but nonetheless treated the preacher and his children like their own. I was given advantages in school — bumped up in math class, taken to state journalism conferences, pushed to be a good student. The local grocery store hired me before I was 16 (and did adhere to child labor laws); the owner hired my sister, too. Even an old man in the community, who I believe was probably a bigot, once paid me to teach him to use his computer.
The point of these anecdotes: The political, social, economic (and even ecological) reality in the rural America I knew was complex. I do not give racism, xenophobia and other bigotries a pass. But I also have sympathy for conservatives that is rooted in my own upbringing. I honestly do believe that progressives today engage in Othering conservative America as a place that is mysterious, irrational and sometimes — in a rather colonial logic — inferior.
I'm following political geographers here, who describe Othering as a process of distinguishing people and places hierarchically, of drawing boundaries between who/where/what is included in a collective identity and those people, places and things that are excluded as the Other. Think Edward Said's history of denigration of Asia by European colonizers. More recent application of the process of Othering can be found in Derek Gregory's analysis of the way Islamic people have been Othered as barbarians, particularly since the Bush years.
As a youngish geography scholar, I want to explore a deeper why behind the conservative vote, to overcome this process of Othering of conservatives by liberals. I'm now looking at voting patterns and economic data, for example, for Henry. The county last voted Democrat for president in 1992 and 1996. Before that? Johnson. Meanwhile, the county has also watched inflation-adjusted median income fall from 1990 to 2010 by 20 percent or so. Farm jobs are down. Population is flat. The tire factory? Carved up into units, one of which is owned by a global equity firm. The fertilizer plant? Now under control of the Koch bros.
These are material happenings that deserve consideration alongside socialpolitical reality. I suggest they need to be approached, perhaps by scholars with sympathy and method rooted in autobiography (even autoethnography), or at the very least transparent consideration of subject position. In this regard, I'm thinking of Thomas Frank's What's the Matter with Kansas as well as Arlie Russell Hochschild's Strangers in Their Own Land.
And today I'm remembering my father mostly because he lived as a brown man, raising family amid these places, and actively ministering to the emotional and spiritual needs of this Other. And I'd desperately like to talk to him about that.
Tags: american, biography, conservative, family, farming, geography, history, illinois, lineage, politics, rural, The other, trump
Posted by Adam Jadhav | Filed under india
In November 2016, the Indian government announced a radical plan to immediately invalidate Rs. 500 and Rs. 1,000 notes. This rapid move happened without any real democratic debate. The government, as per usual, acted like everything would be OK and told Indians they needed to sacrifice a bit more the greater good. 
And chaos reigned.
Much debate has since been infused with typical jingoist arguments about giving the government the benefit of the doubt for acting in the good of the nation. This has highlighted stark divides between the minority of the country who participates in faux public discourse in traditional and social media, and who often lead the charge to put the nation first, and the actual majority of the nation who is largely left out of this conversation and are also the most marginalized by this great monetary transformation. 
Here in, various commentaries on various arguments re: demonetization all at once. This started as a short response to a few small points raised by a friend of my family. Then I didn't stop writing for about 45 minutes.
Taken as a whole, these constitute a "common sense" reply to the utter gobar (cow shit) ideology floating around as economic justification for demonetization. These claims rooted in basic economics and, more importantly, political economy. Which is what I study/research.
I've since made a few copy edits or clarifications, but this remains more a working draft than a final argument. I also admit upfront that perhaps I have things wrong or that time will change what we know. I'll continue to make updates when someone points out where I'm wrong. I'll also add some citations later. Maybe.
One final note: I'm trying to write in a something of a common language wielding what hopefully seems like common sense to make it easier for others to engage this topic without falling back on pure ideology.
Statistics vary on just how many people (or how many households) are unbanked. But the number isn't inconsequential. Some estimates say half. Some say a third. Some say two-thirds. Whatever proportion of our nation is unbanked, those people — who are almost exclusively poor and more likely to be rural — do not have the same access to banking services as the folks who are largely of the urban middle class who also assume themselves to be "regular people." Documents needed to get a bank account are not universal for many people in rural areas as well as migrants to urban areas. Production of a PAN card, ID proof, address proof, etc., is not something everyone can do. As a (quasi) dual citizen, it took me many years to cobble together the needed paper trail to get my own bank account. Full stop. So the assumption by the government that everyone who has cash can easily move it into a bank account is willfully ignorant.
Forcing previously unbanked into the banking system exposes them to the potential for severe risks. It opens the door to financialization, greater debt, complex banking products, shadow banking, derivatives, etc. While certainly some numbers of the unbanked need access to banking, not all do at this time. One of the main effects of this policy will be to force the unbanked into the banking system (or else they may lose what cash value they have), which is forcing them into risk. Full stop.
There's a notion floating around that this is a temporary inconvenience. To people who have sufficient safety nets, who participate in a plastic economy using cards, who consume through the Internet and large stores (where prices for some goods are invariably higher), perhaps this is indeed only a short-term annoyance. I dispute that it's only trivial hardship even for the middle class (especially the poorer parts of that wide ranging category). Note the long, long lines of people who are attempting to move their money into banks. Or who wish to exchange their money for new valid cash. Daily limits on exchange complicate the matter and many people will for some time be stuck with large bills that are legally nothing more than pretty paper. Meanwhile, many are finding out how difficult it is to pay some bills in cash today even if a hospital or a particular service provider is legally required to accept the bill. In urgent scenarios, even people with substantial means may ultimately lose money by operating through grey-market or black-market changers for additional fees just to get their money converted quickly. Banks simply do not have a enough Rs. 100 notes to hand out to people to absorb the currency space previously occupied by larger notes in transactions. So yes, for the better-off portions of the middle class and for the upper class (i.e. folks who are even better off than the aam admi  farmer or laborer or construction worker or school teacher), this will still probably be more than minimal, temporary pain.
I have watched this debate play out on social media among supposed "regular" people. But we on Facebook are not regular people. Full stop. A large majority of the country is poor. A large majority of the country is rural. A large majority of the country does not debate things in English on the Internet. Still today. But many people in official positions (such as media commentators) or unofficial positions (such as Facebook commentators) are applying their personal economic experience and ideas to the majority of the nation, which remains largely rural. That is folly.
For anyone whose life and livelihood depends on cash transactions, even a few days of disruption is enough to trigger a debt and poverty trap. Consider a hypothetical: If I am sabzi wallah, I likely cannot afford to continue to make various payments in my economic circuit nor can my customers who now have great cash shortages. The lack of large bills creates the shortage of Rs. 100 notes which creates a shortage of even smaller bills. As this disruption drags on due to banking unpreparedness, dithering and changing of the rules by the government, refusal to follow the rules by some sectors (i.e. the hospital that doesn't continue to accept the Rs. 500 notes), there are mounting hardships felt by me (sabzi wallah) and people like me (the actual aam admi) working in cash economy livelihoods. If I (sabzi wallah) must take a loan to make ends meet, I may be permanently indebted (especially as another effect of this will be to permanently reduce cash business). If I expend my savings to cover my lack of business, I am also more precarious. Maybe not in debt now, but my safety net is gone. This applies to me, the sabzi wallah, as well as many other cash-only livelihoods. Think of the autorickshaw driver, who most likely does not own his own rickshaw outright. He largely works on a commission basis to pay back a kind of debt to the vehicle owner. But his customers can't easily pay him in plastic and they don't have small bills. A lack of small bills also likely makes it more difficult to buy petrol, whatever his rights might be. The cash economy worker is both losing income and losing the currency needed to maintain his him. In short, there will be people who previously operated in the cash economy who will see their livelihoods evaporate, permanently.
Why permanently? That is because this move will force a transition to a plastic economy. That might not seem like such an issue for people like me (PhD student) who already order many things on Amazon and BigBasket and travel by Uber. But this is a HUGE sop to e-commerce and larger-scale credit card-based vendors. Consider our corner store in Sanjay Nagar that does not have a credit card processing machine. We may still return to him if this debacle eventually clears (i.e. if there are enough small bills one day put into circulation). Some people certainly will. But a healthy percentage of his customers have been forced into plastic transactions — people who now turn to netbanking and credit cards and so on — and they will be less likely to return to the corner store. The same holds for the sabzi wallah or the auto-rickshaw driver or the dhaba. Meanwhile Amazon and BigBasket and Uber (and their competitors) will see business boom. The point is that it's not just cash economy livelihoods that are phased out or temporarily asked to sacrifice. There are also clear economic winners, and that is a huge injustice.
Now, I finally get to the government's supposed rationale for this. Let's start with the idea that there are fake bills endangering the economy through fraud and inflation. Maybe some folks are counterfeiting bills. If the Rs. 2,000 notes are drastically more technologically complex, this could tamp down some fraud temporarily. But if fraud can occur at one level of technology it can almost certainly occur at another. Of course, our Rs. 500 and Rs. 1,000 were already relatively high tech with watermarks, embedded security strips, etc. So we are right to be skeptical that this will slow down counterfeiters drastically. Furthermore, I'd like to see convincing evidence that it's widespread. The existence of "black money" doesn't automatically mean that counterfeit bills are a massive problem. I've encountered two fake bills, both Rs. 50 notes they're really, really poor forgeries. And changing out the bills for higher-tech ones by itself won't change an economic system that overlooks cheating and has a thriving money laundering sector. I hear the argument that terrorists are massively trading in counterfeit bills. I am skeptical that this is true, but perhaps policy/police should target the laundering systems that allows them to legitimize fraudulent currency, rather than just targeting all people who use currency.
On the subject of terrorism… As I understand it, another justification for this demonetization is that terrorists will lose whatever amount of rupees they have stockpiled in Rs. 500 and Rs. 1,000 denominations because they don't want to risk being ID'd when they try to change out that money. First of all, I ask for some definitive proof of this before subjecting the entire country to a debacle such as this one. Second, a terrorist like anyone else go through the painful process of changing small amounts at a time. An inconvenience, maybe. But remember, the government believes that everyone in the nation can endure this inconvenience. So also could a terrorist. Third, if terrorists are really, truly were willing to commit terrorism, it seems like they also probably are willing to commit other crimes and coerce or pay people to change money for them.
I've seen scant instances of serious evidence that economy altering forms of black money are held in cash as a "stock." Can a non-political entity (I realize there isn't actually one) give me a percentage? A lot of this "stock" is in property. A lot is in gold. A lot is out of the country in other currencies. Can the government really justify all the hardship I've outlined above to pursue some amount of black money that is perhaps unknown and also perhaps not significant? Are there not other ways — i.e. actual investigation of illicit revenues and improving financial bureaucracy — that don't punish all of us in order to punish some of us. But, for the sake of argument, let's suppose I do have a substantial amount of black money that I was intending to put to some nefarious purpose. At the very least, I don't wish to pay taxes so I keep my money sitting around in cash. If I'm that chalu, don't you think I'll still try to work around demonetization in the same way that a terrorist could? What's more, if I'm rolling in that much black money, then it's probably very little skin off my nose to employ enough people to help me get around it. Or I turn to the grey market for money changing. Or I work through a temple or a hospital or another service that is required to accept cash in a way that may very well become a money laundering window. Those folks who support the government on this are tacitly saying that the holder of black money in cash will simply say, "Oh, you got me. Here are those back taxes, and I'll be a good person from now on." Does that strike you as reasonable?
A related point is that this move (and illogical justifications for it) would seem to misunderstand black money. Demonetization does absolutely nothing to address the system that generates black money. Black money is not a "stock." It is a "flow." Black money is really the output of a black business (or a white business with a black accounting system). These businesses are a separate problem not addressed by this. Sure, as the owner of said "flow" of black money, I may lose some money on trading my black bills in through elaborate measures, but I can continue to operate my under the radar enterprise easily with the new Rs. 2,000 bills. As outlined above, this is unlikely to get someone who benefits from a black money stream to straighten up and fly right.
I hear the word "corruption" thrown around. As though this will stop making people pay bribes. (I'm not sure that anyone argues this will stem a deeper version of corruption that comes from legal manipulation of the system or corruption enterprise as a stream of black money). It seems like this really is meant to address a cartoon character of someone with a briefcase of cash (ostensibly black money) that changes hands illicitly. First question, which is easier to pay as a bribe: four Rs. 500 or one Rs. 2,000? As with counterfeiting, it seems like this might be at best a temporary disruption in such trade. But briefcases can still be configured to carry Rs. 2,000 notes.
A more complex justification says that perhaps property buying via hordes of black money cash will be curtailed if the cash economy is constricted. But it seems I've laid out a way around the black money rationale of the government, which then suggests I can still figure out how to buy property. Also, when Rs. 2,000 notes are back in circulation, won't cash purchase of houses return to business as usual?
There's been a justification that there is no perfect solution to a huge complex problem like this one — Multiple tentacles. Corruption, lack of tax paying, corruption, exploitation, cheating, lots of sectors that need to be regulated differently, hugely diverse economy, etc. This logic says, the Indian economy itself is a huge "problem" and therefore the government must take "surgical strike" action to fix it without the hindrance of democracy. A follow-up point is usually that, yes, there is likely to be some collateral damage but we need action. This viewpoint is naive. Huge problems are not solved by autocratic, magic bullet solutions. They're just not. Complex systems require careful, reasoned recalibration (if even that is possible) with adequate protection and consideration lest the react unpredictably. Based on the logic above, it seems like we could predict that this anti-democratic magic bullet option wouldn't work.
Which suggests that all the popular justifications, which I have tried to dispense with above, are not actually the real justification. I don't honestly think that Modi et al. are this stupid (i.e. that they actually thought this would just "fix" things), which really makes me think more a collective change to give a massive sop to the financial and credit-based economic sectors. When a solution doesn't bring benefits or answers to supposed problem, perhaps there are other people/sectors/issues it was intended to benefit all along.
I have to address the idea that this is something good and we have to give the government benefit of the doubt. Simply put, that's not how it works in a democracy. In a democracy, which we sometimes pretend we still are, large decisions that will have large impacts are discussed, debated, reasoned. Yes, that means that sometimes "decisive" action can't be taken. Sometimes that discussion leads to gridlock or causes them to be turned down or subjects them to mob rule. OK. That's how democracy goes. Because it's still better to have wide participation and general consensus about the way we all move ahead in this world than to have a few experts making decisions at the expense of the many.
A related charge — and one of the most scary — is that people who dissent are unreasonable. That we're anti-national. Yeh sabse bada gobar hei. Dissent in a democracy is healthy; it's the essence of participation in the setting of the collective will and agenda of a democratic country. But then we barely live in a democracy. We're headed toward fascism, and I have no problem saying that. It's one thing to have faith in a nation or the ideal of a nation. But it's also very democratic to criticize a government or a politician or a leader. Dissenting over a policy a core principle of democracy. Calling someone an anti-national because they dissent? Suggesting that we must support the government for the good of nation? That's drifting toward fascism. The other side of the "aren't people too worked up" coin is "people shouldn't be worked up at all." And, what is that? Fascist.
More on that point. Some folks seem to argue that critics of demonetization are really just anti-BJP and pro-Congress. Well Congress flirted with this idea and it was a bad idea then, too. And the BJP said so at the time. Congress made stupid policy, too. And deserved criticism. But the BJP bhakts seem to not take criticism well. Worse, some often interpret criticism of BJP as criticism of Hindus or being "anti-national." Which sucks us back into that rabbit hole of the previous point and tacitly argues that the nation can only be represented by Hindu politicians (i.e. the BJP).
Look, I study political economy and with it some economics. I'm not going to claim to be an expert in all matters of economics or monetary policy. There's a lot more nuance to the all of the above and maybe I've overstated or understated some things. But I've also tried to reason in common sense terms that are understandable to most folks.
That's because — and I say this with the gravest of faces — this is an anti-democractic, strong-arm tactic that will have few of its supposed benefits. But it will cause a lot of people long-term pain and an even larger number of people short-term pain. And almost no one had a say it whether it happened.
Who thinks that's what government in a democracy should do?
<small>Note: I made some style, copy and organizational changes on Friday, 18 Nov. No change in the argument.</small>
Tags: corruption, democracy, demonetization, economics, india, modi is an idiot, not really a democracy, political economy, politics, sham
Posted by Adam Jadhav | Filed under india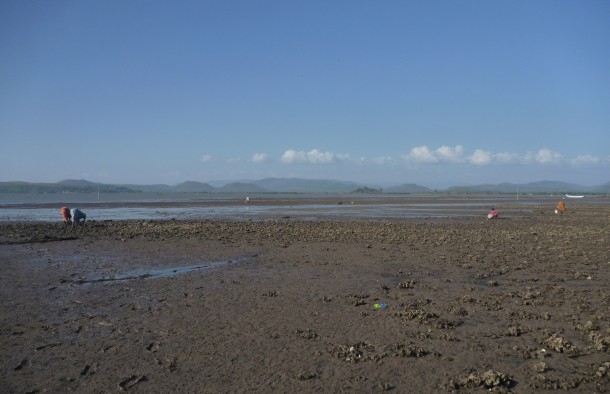 Last week I presented another set of research findings / summaries of my work with Panchabhuta Conservation Foundation. This presentation casts the Aghanashini River estuary as a political economic space, affected by multiple external and internal optics and development trends. This review ultimately ends in a call for robust valuation of this critical ecology (from non-monetary and monetary perspectives).
To see the full presentation which may yet yield a paper, click here.
Note: There are serious critiques to be made of the ecosystem services valuation paradigm. Yet such valuations remain critical for much policy and management. A balance must be struck between pricing everything all the time and pricing nothing ever. On this I straddle.
Tags: aghanashini, conservation, development, ecological economics, estuary, india, karnataka, natural resources, political economy, politics, river, valuation
Posted by Adam Jadhav | Filed under india
Word is circulating that 516 of the colonial-era bungalows (read: small palaces) in the planned center of New Delhi (Lutyen's Delhi) may be renovated/rebuilt over a period of 20 years. The state-owned bungalows house India's political elite — ministers, judges and other top officials — and are largely a perk of official power.
The price tag for updating the bungalows with so-called modern conveniences? Three thousand crore rupees, or about $482 million by today's exchange rate.
Think on that. That's not nearly half a billion dollars for public infrastructure (which is sorely needed around India). That's not even half a billion dollars for an illogical mega dam, which Indian officials have also been fond of building.
No, that's almost half a billion dollars to essentially redecorate the halls (bedrooms?) of power.
The bungalows essentially represent a faux suburban space — broad roads, leafy overhangs, large plots, individual manses — built in the middle of one of India's densest cities. The Business-Standard has a fine editorial calling out this ridiculous plan.
But more than illogical urban development, the bungalow zone represents a classist geography that replicates and reinforces both social stratification and power, reserved as they are for officials and regulated by state rules. To live in Lutyen's zone is a pipe dream for many; claiming an address there requires access and influence. Such is the attraction of this "neighborhood" that in 2012, when a private bungalow (there are a few) was for sale, it was priced at 600 crore rupees — about $96 million.
Meanwhile, most of rest of the city lives in ever densifying and increasingly over-crowded warrens. For a stark comparison, check the satellite imagery, courtesy of Google.
Certainly, all cities contain prestigious addresses. But few are so overtly the result of statist development and control. Yes, Chicago's Michigan Avenue or Gold Coast might indeed be the result of capitalist development (encouraged and aided by government) that benefits the already rich and richer. And, yes, such posh strips certainly represent stratification and gentrification.
Yet they do not approach the neo-colonial classism of Lutyen's Delhi, which is explicitly intended to benefit a ruling political elite. It's notable that such absurdity is a holdover from the British that independent India's rulers have not so subtly clung to.
I quote at length from celebrated scholar James C. Scott's wonderful treatise on state planning in development.
"Capital cities, as the seat of the state and of its rulers, as the symbolic center of (new) nations, and as the places where often powerful foreigners come, are most likely to receive close attention as veritable theme parks of high modernist development. Even in their contemporary secular guises, national capitals retain something of an older tradition of being sacred centers for a national cult. The symbolic power of high-modernist capitals depends not, as it once did, one how well they represent a sacred past but rather on how fully they symbolize the utopian aspirations that rulers hold for their nations. As ever, to be sure, the display is meant to exude power as well as the authority of the past or of the future."
Scott is writing about the state development project and its faith in legiblility, clean lines, rigid planning, bureaucracy, rules, universalism and top-down design. The state, as often as not, has seen itself as the propagator and guarantor of such a high modern order.
And to be clear, Scott had New Delhi in mind when writing.
Colonial capitals were fashioned with these functions in mind. The imperial capital of New Delhi, designed by Edwin Lutyens, was a stunning example of a capital intended to overawe its subjects (and perhaps its own officials) with its scale and its grandeur, with its processional axes for parades demonstrating military power and its triumphal arches. New Delhi was natural intended as a negation of what then became Old Delh. One central purpose of the new capital was captured nicely by the private secretary to George V in a note about the future residence of the British viceroy. It must, he wrote, be "conspicuous and commanding," not dominated by the structures of past empires or by the features of the natural landscape. "We must now let [the Indian] see for the first time the power of Western science, art, and civilization."

Standing at its center for a ceremonial occasion, one might forget for a moment that this tiny gem of imperial architecture was all but lost in a vast sea of Indian realities which either contradicted it or paid it no heed.
The organization and development — and continued maintenance — of the Lutyen's area represents a lingering official faith in high modernism in urban planning. The "neighborhood" is guarded by police and development is highly restricted; order is, under Delhi development policy, practically required and enforced.
Aesthetically the bungalow zone certainly seems more organized and tidy that most of the rest of Delhi. This is in stark contrast to the more organic/functional if seemingly chaotic development elsewhere across the city. I'm not arguing that the riot of construction that is Delhi doesn't have its own problems, nor am I arguing against urban planning in theory. Plans are needed to address Delhi's mounting challenges with illegal land grabs, environmental cataclysm, corruption at all levels of development, the list goes ever on. But I am arguing — as Scott did — that Lutyen's plan had little relevance to local conditions, needs, utility or desires.
What's more, the mandated order and seemingly elegant functioning also remain ironically dependent on the very chaotic geography Lutyen's Delhi rejected. Though haphazard to the planner's eye, the slums and ramshackle development of other neighborhoods provide the service labor to the elite. (This is generally the case in India where elite neighborhoods are served and serviced by a servant class that lives in slum or almost-slum conditions.)
Of course, it would be nice to dismiss the bungalow zone and Lutyen's Delhi as simple anachronism or architectural heritage. But they're not just history (or even a nice perk for underpaid public servants). The bungalows by their existence are an example of the state replicating class division and reinforcing geographies of inequality.
As such, the Business-Standard rightly argues that the bungalows don't need renovating/rebuilding.
They need razing.
Tags: architecture, british, business standard, class, colonialism, delhi, development, high modernism, history, imperialism, india, james c scott, lutyen's delhi, new delhi, politics, poverty, power, society, stratification, urban planning
Posted by Adam Jadhav | Filed under united states
The NYT this week had a story noting that as the BP Gulf oil spill court case winds down, the Obama administration (cautiously) and the GOP presidential front-runners (with absolute abandon) want to open up U.S. coasts to more drilling.
Their flawed logic goes like this: More drilling = more oil = lower gas prices = happy voters = elected.
Hogwash and pandering. And unfortunately, it's hogwash left unchecked by the NYT.
Here's a bit of reality, that any reasonable natural resources economist could tell you: Any extra oil from drilling will come over decades, not months, and certainly not in time to save an election. And the amount of extra oil that does bubble up from the deep (at least that which isn't spilled again) will only be a drop in the world barrel.
Yes, oil prices are a function of world supply and demand. Just because it comes from our EEZ instead of someone else's doesn't mean we get it on the cheap.
So if oil prices are controlled by the world market, then so are gas prices. Sure, some extra oil will result in some decrease. That's likely going to be three or four cents, per government estimates. Consider that the Energy Information Administration in 2008 (under President George W. Bush, mind you) said that any impact from opening up a large new source (such as ANWR) will be almost nil.
And if the U.S. brings online more oil, OPEC could close down some production to keep the price higher.
Oh wait, and then there's ever increasing demand from China, India, Brazil and the other big developing economies.
So yes, hogwash. Whatever marginal amounts are obtained in the future from expanded drilling will do very, very, very little to decrease pain at the pump.
Sadly, the NYT didn't take the time — or even a couple grafs — to give this a bit of scrutiny. I'm sure their reporters and editors know it. But somehow that counter opinion was left out.
The answers instead can be found in alternatives, in a new economy and in new consumption patterns. For example: offshore wind, a green global public transportation network and using less energy.
Tags: 2012, barack obama, BP, consumption, economics, gasoline, newt gingrich, offshore drilling, oil, politics, washington d.c.
Posted by Adam Jadhav | Filed under united states
Senator Durbin:

This is not a form letter. You and I have shaken hands plenty; for a while we were on a first-name basis when I was a political reporter at the St. Louis Post-Dispatch. How many times did I tour the Metro East with you? How many times was I there at town hall meetings in the Collinsville City Council chambers or Edwardsville or Granite City?

Today, I am in graduate school here in D.C. studying environmental policy. I'm an activist. I was arrested for protesting in front of the White House in September. I'm a scholar. I research natural resource policy, environmental degradation and sustainable development.

I'm asking you as a professional acquaintance, as someone who listened for a long time to the political concerns of southern Illinoisans, as a worried citizen and as a registered Illinois voter (my permanent address is in Champaign) to do all you can to stop GOP factions and Big Oil special interests from resurrecting the Keystone XL pipeline.

If you and your allies in the Senate take the time to talk straight to Americans (whatever the hell Fox News thinks), they will listen. If you take a moral stand, you'll be doing the right thing (whatever the hell the Tea Party thinks).

And if you need help that I can provide, contact me.

There's so much more we could be doing to invigorate our economy and protect this planet. Think about green jobs in a renewable energy economy. Think solar and offshore wind and green infrastructure. Think better quality of living and public health. Think natural splendor that warms heart and soul.

But if we instead take the cheap (actually more costly) and dirty (yes, really, really dirty) way of burning tar sands, we become that much more path dependent on oil. That's game over for our planet.

I've heard you tell me directly about how Washington needs change, how it's beholden to special interests, how our government needs bold action.

I say to you, lead the charge.

Adam Jadhav
Tags: activism, conservation, dick durbin, energy, environment, illinois, keystone xl, oil, pipeline, politics, protest
Posted by Adam Jadhav | Filed under united states
The President is now apparently waffling on the latest attempts to lay a new pipeline from Canada to the Gulf of Mexico. The administration last month announced it would review the pipeline again for additional social and environmental concerns. Those of us opposed were thrilled; the delay of more than a year would likely kill the pipe. If approved, the pipeline very well could be game over for the battle to stem climate change.
Then the John Boehner-led U.S. House decided to tack a pipeline rider to a tax cut extension. This has become a political wedge and word has it that Obama may now try to use pipeline approval to win other short-term economic aid.
Cough*bullshit*cought
I recognize that while writing a letter feels incredibly empowering it's still almost entirely symbolic. But I write to the president nonetheless. I'd encourage anyone else who cares about this to do the same.
Mr. President:

I was the 1,253rd person arrested protesting outside your house late this summer. That made me the final person to be cited for civil disobedience — officially failure to obey a lawful order — as we called on you to stem our planet's addiction to dangerous oil and, in particular, dirty crude from the Athabasca tar sands. Our nation's foremost climatologist James Hansen has called the Keystone XL pipeline "game over" for the battle to slow the tide of climate change.

Note: I'm not just a fringe tree-hugging hippy. I was a legal and political reporter at the St. Louis Post-Dispatch, raised in small-town middle America (central Illinois). I covered your campaign in 2008 as well as your efforts on behalf of others in 2006. I voted for you in your presidential run and your senate bid. I've followed you since Springfield and the state senate. I pay my taxes.

And I ride just left of center, politically.

Or at least I did. But the condition of our planet has convinced me to shed my neutral observer hat and don the fighting gloves an activist. That's why I'm in grad school at American University, researching global environmental policy and issues. That's why I was happily arrested in September for this cause. That's why I was shouting "Show me what democracy looks like!" outside your house again in November. And that's why I expect you to keep the promises you made when you were elected.

Sir, we need a fighter today; yes, the country is in dire straits economically, but you know as well as I do that short, myopic time horizons — the ones that set up the false environment-jobs dichotomy — only cause more problems in the future. Compromise is laudable to be sure, but how far will you bend?

You are a man of faith and morals; you and I pray our creator for the safety of those we love. Well, I believe that if we're truly made in God's image then we have a duty to look after our brothers and sisters and the lilies of the field as well. I heard you tell the world that we are our brothers' keepers. Well, sir, addressing the environmental destruction of our planet is part of fulfilling that responsibility. By helping to look after the planet, you help to look after all its inhabitants.

Please, stop thinking about what Boehner or Fox News pundits will say about you tomorrow or next month. Please, stop worrying about a future date with Mitt or Newt or Rick. Please, instead start thinking about what kind of a world Malia and Sasha and (some day) my children will need.

Respectfully but urgently,

Adam Jadhav
Tags: barack obama, climate change, conservation, environmentalism, keystone xl, pipeline, politics, president, tar sands, washington d.c.
Posted by Adam Jadhav | Filed under united states
Photo by Josh Lopez
See anyone familiar? (Look just above the second eight).
I now have an arrest record. And after two weeks, more than 1,250 people built (or added to) one, too.
There's more to the tale coming in subsequent posts. But in the meantime, you should read in to find out the serious trouble literally coming down the pipeline.
By the ways, "Show me what Democracy looks like! / This is what Democracy looks like!" is the best call-and-response protest chant out there.
Tags: action, arrest, environmentalism, keystone xl, oil, politics, pollution, protest, tar sands, united states, washington d.c., white house
Posted by Adam Jadhav | Filed under india
The pageantry, the pomp and the fancy-pants-ness of military ceremonies in India is something to behold. And few places is that more accessible than the daily ritual performed on both sides of the India-Pakistan border at Wagah.
Patriotic citizens and puzzled foreigners pile into bandstands along the road between the two countries. Each nation trots out an honor guard for some drill and maneuvers that could easily be a flash dance or jazzercise routine at your local Y. There's lots of shouting, huzzahing, high-kicking, grunting, "aggressive marching" (I believe that's the official term) and even a handshake. Then the border gates are officially closed and the flags of each country are lowered.
But costumes are as priceless as the show. And best of all: the hats.
India's are above. Pakistan's involve some kind of a cape (it was difficult to see) which give them a more sinister, desert-marauder appearance.
Tags: border, ceremony, hat, india, military, pakistan, photography, politics, pomp, uniform, wagah