Posted by Adam Jadhav | Filed under india
I love India for her so-called faults as much as anything else. I revel in my adopted country's chaotic, imprecise, ad hoc, ecumenical, communal, fraternal, bureaucratic, inefficient, relaxed, whimsical, anything goes, nothing goes nature.
I can argue they're not really faults at all. Yes, India has a load of problems. And, yes, some of them are exacerbated by the above characteristics.
But perhaps these character flaws, these rough edges — that's what I'll call them — may very well be completely, inevitably, undeniably unavoidable when you have 1.2 billion people trying sort out their lives, both individually and as a group.
There are plenty who will say India's democracy is a sham, that it's broken, that it's a hoax, that it needs to go. I've said such things in passing and those are certainly arguable, if not truly defensible, viewpoints.
But whatever needs or doesn't need to happen in India, we must remember she constitutes the biggest experiment in self governance and actualization in the history of sentience. To that alone, I say Jai Hind!
Tags: border, democracy, india, photography, politics, punjab, wagah
Posted by Adam Jadhav | Filed under india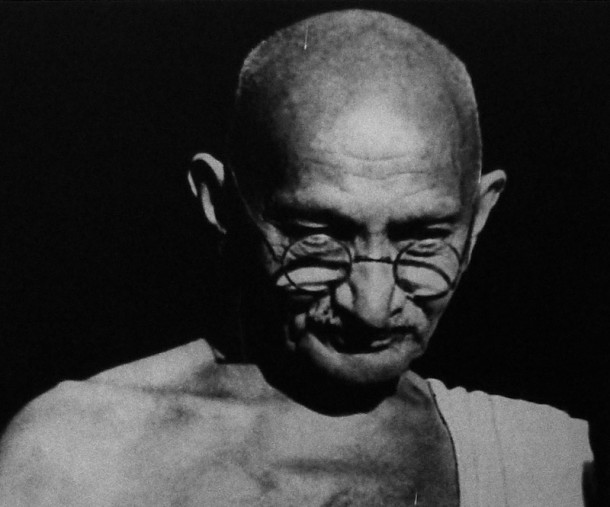 I will give you a talisman. Whenever you are in doubt or when the self becomes too much with you, apply the following test:

Recall the face of the poorest and the weakest man whom you may have seen and ask yourself if the step you contemplate is going to be of any use to him. Will he gain anything by it? Will it restore him to a control over his own life and destiny? In other words, will it lead to swaraj for the hungry and spiritually starving millions?

Then you will find your doubts and yourself melting away.

— M. K. Gandhi
From a wall in Gandhi Smriti in Delhi, now a museum and the grounds of the leader's assassination.
Tags: delhi, gandhi, history, india, philosophy, politics, poverty, quote, talisman
Posted by Adam Jadhav | Filed under india
I spent time in Darjeeling at the end of May reporting a political magazine story on the tension in the Gorkha movement after the leader of a smaller separatist party was killed in daylight near a crowded market. That story was published this month in a Delhi magazine and is available online now. The full-text version is also available here.
The photo above is from a massive political rally in Darjeeling the weekend I was there.
Tags: bimal gurung, darjeeling, gorkha, gorkha janmukti morcha, gorkhaland, india, journalism, madan tamang, photography, politics, published
Posted by Adam Jadhav | Filed under india
I recently spent a few days in Darjeeling reporting (real, live journalism!) on political tensions surrounding the Gorkhaland movement. A week before I arrived, a minority party leader was assassinated in the street.
The town was still covered in the typical green and white Gorkha colors and other than a good bit of shouting and lots of paramilitary forces, cooler heads prevailed. That story is set to run in July in a magazine.
In the mean time, I give you the above green scarfed dog.
Tags: darjeeling, dog, gorkha, india, photography, politics
Posted by Adam Jadhav | Filed under india
The hillside roads of the Darjeeling region share an artistic vein: Demands for Gorkhaland. Signs are painted everywhere calling for the new Indian state for Gorkhas, Indians who are ethnically Nepali. Green and white flags — Gorkha colors — hang everywhere.
Now, the region is growing more tense by the hour, as a leader of one of the Gorkha factions was killed at a rally. Gorkha groups have been demanding their own cohesive state for years. They don't want to simply be a part of the larger, Calcutta-dominated West Bengal.
They above and below photos were taken when I visited Darjeeling in January. I was conveniently there during one of the Gorkha movement's regular, bandhs, or strikes, of area transportation and business, to press their cause to the state and central governments.


Continue reading this entry » » »
Tags: darjeeling, gorkha, india, photography, politics, separatism, violence
Posted by Adam Jadhav | Filed under thailand
My only day in Bangkok a few weeks ago, I wandered the streets and, in particular, the Red Shirt protest zone. The protests are making the news more frequently as the political situation worsens and violence breaks out.
I can't pretend to sort out the full politics, but the tension includes a healthy dose of class struggle. The Red Shirts, the protesters that are camped in the Thai capital, are mostly poor villagers with nothing better to do, led by a populist leader. They accuse the other side — the Yellow Shirts — and the current government of being morally bankrupt and only focused on urban wealth.
I should also note that it's generally accepted, if not publicly agreed to, that there's corruption on both sides of the political-cum-violent struggle.
Tempers are clearly rising now, but the one day I was there, things were peaceful. Aside from a bit of rallying which I stayed away from, the Red Shirts mostly were hanging out as above and below. Police were on guard, but seemed half-asleep at their posts when I spoke to them briefly.


Continue reading this entry » » »
Tags: bangkok, journalism, photography, politics, protest, red shirt, red shirts, street, thailand
Posted by Adam Jadhav | Filed under united states
Today, in Washington, D.C., on the floor of the chamber of the U.S. House, your elected officials will tilt on the topic of health care. This is being billed as a marquee showdown, an epic vote.
I've read through parts and summaries of reports from the Congressional Budget Office and followed the big news outlets now and then, but I can't claim to have been very diligent. I also will note that this blog is mostly a-political. After the better part of four years as a political reporter, I find politics vital but bluster and bombast all the same.
But I will offer a personal plea now for calm, cool reason. And for compassion. And for common sense, which tells us the system is broken for more than 30 million Americans, myself included.
I will try to be brief:

Continue reading this entry » » »
Tags: cluster, congress, exercise, health, health care, india, medicine, politics, poverty, united states
Posted by Adam Jadhav | Filed under india
Quite regularly, the Darjeeling region in West Bengal organizes a bandh, or strike, to show support for creation of a separate state called Gorkhaland. On those days, the usually choked, winding mountain road and rail tracks between Ghoom and Darjeeling are practically empty.
Perfect time for a pickup cricket game. Indians will play anywhere, after all.
Of course, on the other side of the road, the valley plummets hundreds of meters. Best not to swing for that side.
Tags: cricket, darjeeling, gorkhaland, india, mountains, photography, politics, strike
Posted by Adam Jadhav | Filed under kenya
I fully expected Kenya's honeymoon affair with America to end when the Obama administration dropped the threat of a travel ban on numerous Kenyan politicians alleging they had stood in the way of reform. Here was the superpower trying to dictate local politics.
Instead, according to most of the locals I spoke to, Obama had won points, rather than lost them.
Kenyans for decades have labored under corrupt regime after corrupt regime since independence from the British in 1963. Even the country's celebrated first leader, Jomo Kenyatta, is considered to have been corrupt. And don't get me started on Daniel arap Moi. His legacy of gutting the constitution lingers today; so does his plundering the treasury (and really the economy).
Continue reading this entry » » »
Tags: barack obama, corruption, daniel arap moi, government, jomo kenyatta, journalism, kenya, maasai, mwai kibaki, nairobi, politics, raila odinga
Posted by Adam Jadhav | Filed under kenya
Kenya's major cities boast gleaming shopping centers and 24-hour big box marts (detailed previously).
Bush villages however rely on a more traditional option: sprawling open air markets.
I visited Ahero's weekly market last week to see and smell and taste. There, I met Tom Odero, a 56-year-old retired Army sergeant major, who is active in politics and now farms rice in his quiet days.

Continue reading this entry » » »
Tags: ahero, drought, economy, farming, fish, kenya, kisumu, market, mwai kibaki, nakumatt, photography, politics, raila odinga, village