Posted by Adam Jadhav | Filed under india
My latest reporting: a magazine-style, travelogue/environmental essay published by my favorite Indian magazine, Caravan.
The piece focuses on my various experiences diving in India and asks in general whether the Indian government, environmental movement and people are in a position to conserve or consume this great underwater natural resource.
Many thanks to Dave, my editor, who gave me leeway to experiment in form and content. And to think it all started with a giddy, roof-top conversation over small cups of tea.
Tags: andaman and nicobar, conservation, environment, fishing, islands, journalism, ocean, photography, published, scuba diving, tourism
Posted by Adam Jadhav | Filed under india
I spent time in Darjeeling at the end of May reporting a political magazine story on the tension in the Gorkha movement after the leader of a smaller separatist party was killed in daylight near a crowded market. That story was published this month in a Delhi magazine and is available online now. The full-text version is also available here.
The photo above is from a massive political rally in Darjeeling the weekend I was there.
Tags: bimal gurung, darjeeling, gorkha, gorkha janmukti morcha, gorkhaland, india, journalism, madan tamang, photography, politics, published
Posted by Adam Jadhav | Filed under madagascar
My reporting from Madagascar last fall has finally been published. Globalpost.com picked up the story of the Rio Tinto mine that claims to be environmentally friendly.
The company has laid out an ambitious — some say impossible — environmental agenda in exchange for the rights to mine strips of coastal land for titanium
The Web site ran one of my photos as well. You can also see my entire gallery here.
Critics of the mine say its attempts at conservation and community development are little more than window dressing to procure mining rights. Indeed, the mine does have a lot of work yet to do, but it does have some NGOs on its side; time will tell, I suppose.
Tags: economy, environment, ft dauphin, journalism, madagascar, mining, photography, published, rio tinto, titanium
Posted by Adam Jadhav | Filed under india
This morning, the St. Louis Post-Dispatch published a travelogue from my time in the Andamans where I became obsessed with scuba diving.
Just reading the story again makes me want to be back diving.
Perfect excuse for the scuba/clownfish photo above.
Tags: andaman and nicobar, anemone, anemonefish, fish, havelock, india, journalism, North Indian Anemonefish, ocean, published, scuba diving
Posted by Adam Jadhav | Filed under kenya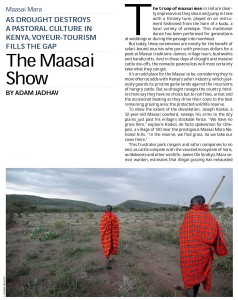 Freelancing has been slow going. I have several stories finished still with no takers.
But in the April issue of the Caravan, a political and cultural journal in Delhi, you can find my story from Kenya about drought hitting pastoralists near the famous Maasai Mara reserve. It also features one of my best photos from my days down by the Mara.
You can read the whole story here or see the PDF version here. And the audio slideshow of my photos is here.


Continue reading this entry » » »
Tags: drought, india, journalism, kenya, maasai, maasai mara, pastoralists, photography, published, tourism
Posted by Adam Jadhav | Filed under kenya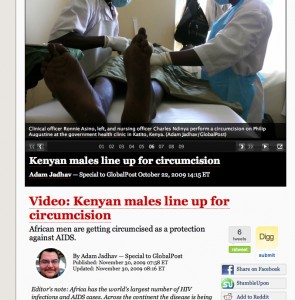 This story, datelined Katito, Kenya, was published this week by GlobalPost.com.
The story contains photos, text and video, as part of a larger series on the issue of male circumcision as an HIV prevention tactic in sub-Saharan Africa.
Bits and pieces of the project, reported in early fall during my stay in Kisumu, have appeared on the blog. Now it's all available in one place.
Tags: circumcision, health, hiv, kenya, kisumu, multimedia, photography, published
Posted by Adam Jadhav | Filed under india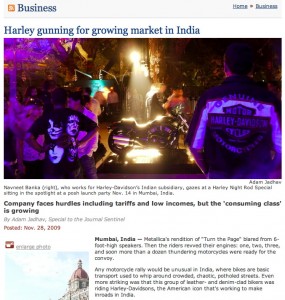 There were many reasons why I called it a day in St. Louis and hit the road. Let's talk about one in particular:
The decline of the American foreign correspondent corps. Sure, the Bigs will continue to pay for top-shelf international journalism. But the papers just a rung or two down on the ladder (indeed, most of the Top 100) should still have bodies in the field across the oceans but don't, the Post-Dispatch included.
So their readers miss global news. And not just the big international crisis — death, mayhem, flooding, war, locusts, Olympics, genocide, plague — stories. They miss knowing the impact of their local decisions, their local companies, their local products, their local families.
That led to my journalistic model: sell locally focused, international stories to these papers on the cheap. Today, finally, I've proven my model, if only once.

Continue reading this entry » » »
Tags: delhi, economy, harley-davidson, india, journalism, motorcycle, mumbai, photography, published