Posted by Adam Jadhav | Filed under india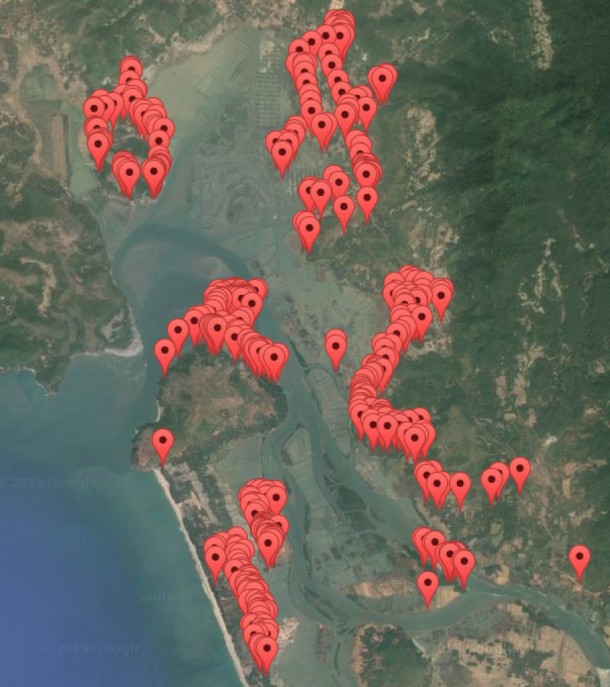 I have an ongoing research project in the Aghanshini River estuary in southwestern India. I'm studying how people depend upon and feel about mangroves, as well as their understandings of and attitudes toward conservation, their environment and the forces of development. The above is the geospatial rendering of household surveys conducted by my team during about six weeks. We're a tiny NGO but we're attempting big, robust work.
The research is set amid a backdrop of looming destructive neoliberal development in an area rich in socially important biodiversity. In a related project, colleagues and I have estimated the estuary's ecosystem service value at some $257 million annually.
My grant-funded research is drawing to a close, so I'm pleading with family and friends to help fund my NGO's work into the future. At Panchabhuta Conservation Foundation, we do a lot with a little, and while I am writing new applications for grants, I am also running a crowd funding campaign in the interim.
Our campaign has struggled to get traction. For some $300, I could gamble on professional promoters to take over might be successful in raising funds. But for the same amount, I could pay one of my team members for another month.
That's where you come in. If you make regular charitable contributions, please consider my campaign. And, as important, please spread the word and endorse us as a fundraising option in your networks. Our campaign — Eco-citizens and Green Communities of Aghanshini — will pay for environmental education, biodiversity monitoring, social ecological research and more. Visit our site at the international crowd funding platform Generosity and share this link: http://igg.me/at/dCqpA5ixJiQ.
Tags: aghanashini, appeal, campaign, crowdfunding, ecology, environmental education, india, ngo, panchabhuta conservation foundation, research
Posted by Adam Jadhav | Filed under india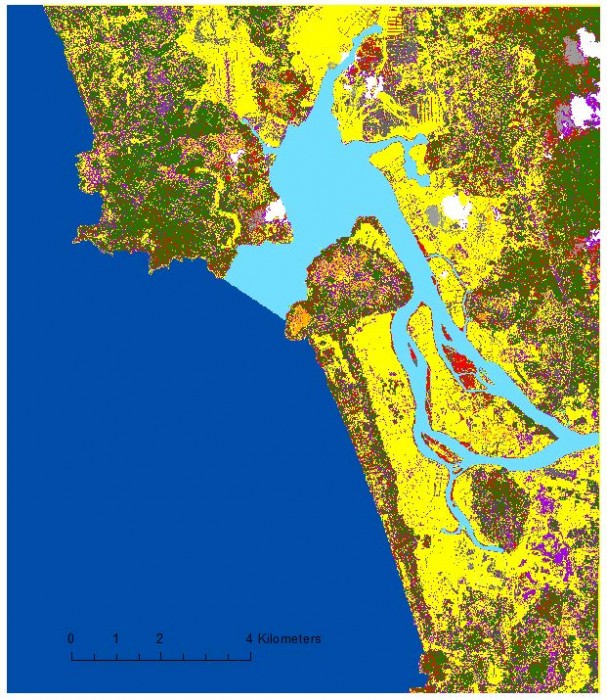 No surprise: A whole heck of a lot.
Take the Aghanashini River estuary (classified above based on World View 3 multispectral imagery). Using a benefits transfer assessment with established global ecosystem service values, my collaborators and I have assessed the annual ecosystem service benefits at more than $250 million.

I presented these preliminary figures at an expert workshop last month; we're now finalizing an ecosystem service valuation paper which we hope will see academic publication soon.
Of course, valuation of ecosystem services has its downsides. Many have reasonably asked whether environmental resources can truly be valued in monetary terms. One response is that such a monetary calculation is but one of many ways of considering the value of the environment. But they are important for policy and politics. And while many environmental goods may be in reality priceless, without a baseline value, too many policy makers may assign a zero value.
Is it a slippery slope? Yes. So we tread carefully.
Many thanks to Sharolyn Anderson, Paul Sutton and Michael Dyer for a lot of hard work and putting up with my only basic knowledge of remote sensing. Thanks also to the DigitalGlobe Foundation for providing the imagery as a grant.
Tags: aghanashini, benefits transfer, ecosystem services, india, panchabhuta conservation foundation, research, valuation
Posted by Adam Jadhav | Filed under india
Last month I presented an initial salvo of research findings on coastal development in Karnataka. The work primarily focused on my study in and around the Aghanashini River estuary for Panchabhuta Conservation Foundation.
The presentation will eventually be submitted as a journal paper, examining how classical development is clearly neoliberal and privatizing in nature, while so-called alternatives in the estuarine and coastal space are also quite neoliberal, when we consider the legal plural environment that is the coastal commons.
The thesis is still a work in progress, so if you've got feedback, e-mail me.
Click here to see the presentation.
Tags: clp, coasts, critical development, development, india, legal pluralism, neoliberalism, panchabhuta conservation foundation, research
Posted by Adam Jadhav | Filed under india
After net gains for several years, India's forest cover is in decline. The full data is available now from the Forest Survey of India in its newly released State of the Forest Report 2011.
The government writes off any major backsliding, saying the reduction is due to shifting cultivation patterns in the rural northeast, plantation harvesting and Naxal rebels cutting trees. That last one is a dubious.
More likely, there are many factors at play in a complex dynamic that varies state by state. I'm in the process of designing a statistical research project looking for explanation among a number of variables, biological, economic, political and social.
The photo above comes from tropical forest in the Andaman Islands.
Tags: andaman and nicobar, conservation, deforestation, forest, india, jangal, jungle, photography, research, sky through trees, trees
Posted by Adam Jadhav | Filed under india
I've only been back stateside less than a week. I spent my winter break in India and specifically Delhi, visiting friends (and one incredibly important person), laying the ground work for research, meeting scholars and activists, reading development material — Seeing Like a State, The Bottom Billion and Development Redefined — and eating.
This included visits to the Nehru Memorial Museum and Library, the Energy and Resources Institute, Greenpeace India, JNU, WWF India, an organic farm and the Centre for Science and Environment.
It also meant many meals of gunpowder and paratha and curry and thugpa and paranthe and chana and bhel puri and, well, everything. I had the best Indian meals of my life in an out of the way faux village and probably consumed more Tibetan momos in the three weeks there than in my entire life previously. Sadly, almost none of this food was properly photographed. This seems like an incredible oversight now.
Unfortunately, the trip was too short. It always is. But I'll be back in May.
Tags: cse, delhi, environment, food, greenpeace, india, jnu, nmml, research, shenanigans, wwf
Posted by Adam Jadhav | Filed under united states
I spent much the past semester debating all the various ways society and individuals might protect the environment. What else would you expect from a policy program?
One answer I stumbled upon and investigated is India's traditional form of local government, made constitutionally secure not quite two decades ago: the panchayat — literally the council of five.
Panchayats represent India's attempts at decentralization, the supposed transfer of powers from the central and state governments down to village-level actors. For the environment, this theoretically promises that resource, conservation and protection decisions are made at the level where they are actually felt. In reality, panchayats today are hardly robust institutions of local governance. They're mostly used as implementing agencies for India's development agenda. Meanwhile they face competition from other less than secure or democratic institutions specifically designed to manage resources.
I'm not promising it's the most riveting read; and I'm not certain I like the final product. This issue could be a much longer paper involving substantial field work. But click here if you really want to know.
Tags: american university, conservation, decentralization, environment, global environmental politics, government, graduate school, india, local government, natural resource management, panchayat, research, washington d.c.
Posted by Adam Jadhav | Filed under india
Presenting a native son of Wandoor, the
Andaman Islands Day Gecko
. (More on this adventure later.)
Tags: andaman and nicobar, andaman islands day gecko, beach, ecology, environment, india, photography, port blair, research, science, wandoor, wildlife