Posted by Adam Jadhav | Filed under india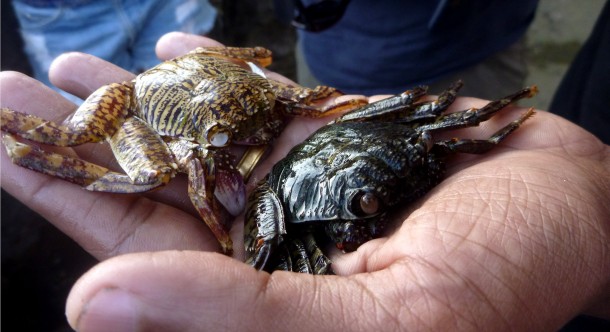 Twitter informs me there's something called #NationalSendaNudeDay. Am I doing this right?
(Maybe the Post Office and/or Hotmail are desperate to justify their existence.)
Anyway… here is a recently molted crab we found during an early morning intertidal zone hike with students adventure travelers during our seminar adventure tour in the Andamans near Wandoor in 2015.
The one on the right is basically nude. A nude crab. And on the left… crab pants.
For a bit of background on why a crab would take off its pants, let's turn to NOAA:
Crabs (and other crustaceans) cannot grow in a linear fashion like most animals. Because they have a hard outer shell (the exoskeleton) that does not grow, they must shed their shells, a process called molting. Just as we outgrow our clothing, crabs outgrow their shells. Prior to molting, a crab reabsorbs some of the calcium carbonate from the old exoskeleton, then secretes enzymes to separate the old shell from the underlying skin (or epidermis). Then, the epidermis secretes a new, soft, paper-like shell beneath the old one. This process can take several weeks.

A day before molting, the crab starts to absorb seawater, and begins to swell up like a balloon. This helps to expand the old shell and causes it to come apart at a special seam that runs around the body. The carapace then opens up like a lid. The crab extracts itself from its old shell by pushing and compressing all of its appendages repeatedly. First it backs out, then pulls out its hind legs, then its front legs, and finally comes completely out of the old shell. This process takes about 15 minutes.
Note: It pulls this off while leaving the original shell more or less intact. That'd be like getting out of a wedding saari without actually undoing any fold or wrap and leaving the hole thing standing. Could you do that, Ishani?
Tags: andaman and nicobar islands, biodiversity, crab, crustacean, molting, nude, science, sexy, wildlife
Posted by Adam Jadhav | Filed under united states
TO: Sandy K. Johnson
President of the National Press Foundation:
Ms. Johnson, I respect your career as a journalist, particularly your legacy as Associated Press COB in Washington, DC. I also respect the mission of the National Press Foundation, especially these days when journalism as a craft and a community is on the ropes.
Yet I was so very dismayed to learn of the National Press Foundation's Food, from Farm to Table "bootcamp," which sounds like little more than junket, paid at least in part by Monsanto. As disheartening were your recent comments defending such a program.
"Johnson did say that she personally initiated the NPF's sponsorship relationship with Monsanto after she found herself seated next to a member of the Monsanto board of directors at a dinner party in January. She also said that once Monsanto signed on as a sponsor, the NPF decided to locate the conference in St. Louis in order to include a visit to the company's labs in their programming. When asked if she was familiar with Monsanto's controversial reputation, Johnson replied, "In whose eyes? In your eyes? I'm familiar with the Monsanto that created research and science around agriculture that has allowed the United States to feed the world."
Now I understand that the food journalism community can be pretty quick to pounce. And there are many sides to the complex story of food and food politics. But this program and your conversation with Helen Rosner at Eater reveal two disturbing problems.
FUNDING.
Now, you might rightly stand on your word that this junket would be fair and balanced, that adult journalists can decide for themselves, that NPF wants to shed light on a multifaceted issue, etc. I agree that a tour of Monsanto should be included in such a program as should your planned tour of an organic farm. And yes, I think that Monsanto's side needs to be heard, and questioned critically. I think a visit Whole Foods and to Aldi is on order. I think checking out the refrigerators of the rich in Clayton and the poor in North St. Louis would be revealing. Go stand in the middle of vast corn fields in southern Illinois. Compare their soil to that of a permaculture plot developed by EarthDance Farms of Ferguson, Mo. Speak with scientists at the Missouri Botanical Garden (or bring some from the University of Illinois at Urbana-Champaign or the University Missouri at Columbia). Take a day trip up to Decatur, Ill. and visit Archer Daniels Midland. On your way back check the small and largish dairy production around Breese, Ill.
Such activities will surely make your junket less junket-y.
But why should Monsanto foot the bill? Do you/NPF not see a real conflict of interest? Do you not think that there's at least the potential for impropriety or the appearance there of? Can you swear that Monsanto at no point has influence on the itinerary? Do you not see that by taking Monsanto's money, you allow them to buy influence? The rules of the exchange are changed, right?
I remember the old AP "rules" that I learned as an intern and stringer. We took free water if we were thirsty; the rest of the sponsorships, junkets, food at events, transportation with the campaign — I was taught — was to be refused or paid back if absolutely necessary. I'm sure you haven't forgotten why those rules — informal or official — were so strictly promoted as a code of conduct.
Is it the case that the junket couldn't happen without Monsanto funding? I do suspect you wouldn't be able to offer an all-expenses-paid trip to St. Louis. Which is also probably what Monsanto wants. In that case, don't do it; find other funding creative ways to train journalists on these matters without compromising your/NPF's integrity.
BIAS
Now, on a more personal note, your blathering and defensiveness reveals you as biased on these issues — consciously or not.
You say got the idea from a NatGeo issue? You were sitting at a dinner party next to a Monsanto bigshot and struck up a conversation? Congratulations. Are you so removed from these concepts that you weren't already aware of their complexity and Monsanto's role? Are you really claiming you are unaware that Monsanto is controversial and not always considered an altruistic corporation interested in ending hunger? Do you think Monsanto critics are just some hippy fringe? There's no reason for concern with GMOs and the politics of GMOs and corporate control of the food system? You're absolutely unbiased in all this?
No, Ms. Johnson, I think you have plenty of bias, and you quite plainly reveal it. You apparently got riled up and pushed back at Ms. Rosner, but in doing so, you openly take a stand on your benefactor Monsanto — and apparently the highly contentious politics of food, aid, subsidies, intellectual property rights, trade, policy, freedom of expression, tort law and more. Your unskeptical description of Monsanto as supporting the food-providing United States is company salespitch and/or jingoistic propaganda more than truth.
As a final justification, you attempt to dismiss your skeptical interviewer because you claim some authority, having grown up on a farm. I agree that once perhaps put you closer to some of these issues (though probably not the extensive complexity of agro-food politics today) than people who don't grow up in and around farming towns.
But that last credential doesn't excuse your (and NPF's) abrogation of basic journalistic principles. You might like Monsanto enough to take their money. And you apparently can't see your own bias (bias is funny that way).
But I hope enough journalists do see through Monsanto's attempt to buy media coverage, in which you are now complicit.
Sincerely,
Adam Jadhav
P.S. Before you dismiss me. My very first job was detasseling corn. My second was stocking food at a grocery store. Several years later I interned with the Associated Press. I became a political reporter in St. Louis. I left journalism for a graduate degree in global environmental politics. I now live in India conducting research (and hands-on experiments) in sustainable agro-ecology. From there to here, it's very interesting to how Monsanto and the United States do or do not "feed the world."
Tags: agriculture, bias, GMO, journalism, monsanto, national press foundation, press freedom, sandy johnson, science, united states, washington dc
Posted by Adam Jadhav | Filed under united states
In between fevered bouts of studying for Environmental Economics and Environmental Science, I've been dreaming of the himalayas. Here's an old favorite photo.
I'm officially powering down the blog for a while (possibly until after the new year, but I almost never succeed at leaving it alone). Happy holidays to all.
Tags: american university, economics, environment, grad school, himalaya, india, photography, science, united states
Posted by Adam Jadhav | Filed under ecuador
Meet the nudibranch, about the size of the tip of my smallest finger. It's an underwater sea creature whose exact scientific classification is still under some debate as new species are discovered regularly. Nudibranchs are known for their vibrant colors and are often referred to commonly though not quite accurately, as sea slugs.
The are shell-less and frequently tiny (though not all) and many of the common types breathe though unprotected "lungs," hence the name: nudibranch means naked gills. They are typically carnivorous, eating sponges and other stationary creatures on the reef.
Most nudibranchs are also hermaphroditic, though they mate with others, with both parties producing egg strings.
The above nudibranch was shot off North Seymour. These are common throughout coastal Ecuador and particularly the Galapagos Islands.
Tags: ecuador, environment, galapagos, nudibranch, ocean, photography, science, scuba diving, species, tiny, wildlife
Posted by Adam Jadhav | Filed under ecuador
Galapagos finches — more a dozen different species — with their specially adapted beaks and features were among the inspiration for Charles Darwin's theories on evolution and natural selection. The finches actually played a relatively minor part in all of Darwin's research, but they are perhaps the most renown, simply because the Galapagos drew so much attention and provided such a mysterious location for science.
They're all over the islands today, mostly unwary of humans. They are admittedly very cute and often curious enough that it's easy to see why they attracted Darwin's attention.
This one comes from Tortuga Bay, not far from the main tourist center and capital of Puerto Ayora.
Tags: biology, charles darwin, ecuador, environment, evolution, finch, galapagos, natural selection, photography, santa cruz, science, wildlife
Posted by Adam Jadhav | Filed under ecuador
One of the main conservation programs of the beleaguered Galapagos tortoises is conducted at the Charles Darwin Research Station on Santa Cruz just outside Puerto Ayora. Scientists there have had success rescuing some species from the brink though the zoo-like nature of the breeder pens make the tortoises seem rather sad.


Continue reading this entry » » »
Tags: charles darwin research station, conservation, ecuador, environment, espanola, galapagos, photography, science, tortoise, wildlife
Posted by Adam Jadhav | Filed under india
Presenting a native son of Wandoor, the
Andaman Islands Day Gecko
. (More on this adventure later.)
Tags: andaman and nicobar, andaman islands day gecko, beach, ecology, environment, india, photography, port blair, research, science, wandoor, wildlife
Posted by Adam Jadhav | Filed under india
A few days ago, I went out hunting geckos and frogs and reptiles, oh my! with a team of researchers from Serbia/Croatia. The Andaman Islands, where I've been for a couple weeks, are relatively unexplored, scientifically. The researchers were doing initial scouting for a grant proposal. I was playing tag-along journalist.
I also managed to embed several spines from a random vine in my hand. Note to self: Don't grab random plants in the jungle. They finally worked their way out today (four days later).
One key mission was to find the rare and largely unstudied Andaman Islands Day Gecko, but more about that later. In the meantime, enjoy this little guy, a common lizard.
Also, I was dark for four days, have one day near the Internet and will be mostly dark again (more scuba and remote beach time) for some time until January 8 or so. Happy New Year!
Tags: andaman and nicobar, environment, exploring, island, journalism, lizard, photography, science, wandoor, wildlife