Posted by Adam Jadhav | Filed under india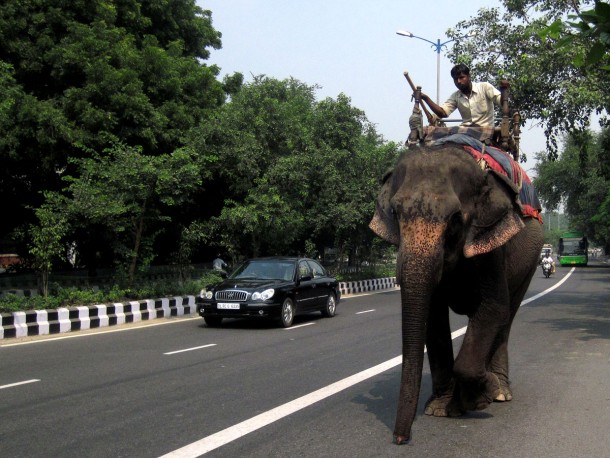 Meet a Delhi elephant. There are a few dozen of the beasts captive in Delhi, taken care of by their very loving mahouts (traditional, often tribal, elephant driver) as well as some wildlife NGOs. Their life isn't great, but this is a facet of Indian culture that isn't likely to wither under the animal-loving glare of the West.
Here, they are used for weddings, festivals and other ceremonies, though outside the city in parts of the country they are still beasts of burden. Sounds weird to say it, but these elephants are domesticated.
I'm sometimes a little leery of posting photos of the colorful juxtaposition of India's traditions alongside her modern ambitions. What I don't want is for this mediocre shot — from an abnormally uncrowded Aurobino Marg, a major Delhi traffic artery — to give the impression that India is simply a backward, funny land.
But this is also reality in a major Indian city, a glorious if also quirky reality. There aren't many places in the world to find the urban elephant.
Tags: conservation, culture, delhi, elephant, india, mahout, photography, tradition, urban, wildlife
Posted by Adam Jadhav | Filed under india
The heat brings out the laziness in street dogs. Lucky for my camera (see below).
Continue reading this entry » » »
Tags: delhi, dog, hauz khas, india, photography, street, urban, wildlife