Posted by Adam Jadhav | Filed under united states
Pollination, it's the cool thing to do. Especially when so many other pollinator bees are dying and colony collapse disorder looms. Hooray for monoculture and pesticides.
Tags: agriculture, bee, environment, flower, pollination, washington d.c.
Posted by Adam Jadhav | Filed under united states
A bike thief obliterated my U-lock and made off with my old road bike. I miss her something awful; she was my first roadie. *Sniff*
But I had been contemplating an upgrade for a while. Sadly, I don't get to finance the new bike on the sale of the old (though I'm filing my claim with Kryptonite so I hope for some money back).
But I pulled the trigger on this wonder: Ti frame, Full SRAM Rival drive train, Mavic Aksium rims, Ritchey everything else. This certainly makes me happy and I'm back on the road again.
Tags: bike, bike thief, kryptonite, motobecane, u-lock, washington d.c.
Posted by Adam Jadhav | Filed under united states
I spent the semester conducting a statistical analysis to explain variation across Indian states in forest cover change from 2000 to 2009. After a preliminary literature review, looking at deforestation across the world, I compiled a database of more than 200 relevant variables. From that I computed and tested more than 100 variables (averages, percentage change, raw change, etc.) before narrowing my regression to several key indicators of an individual Indian state's economic reliance on agriculture and the presence of alternative lifestyles and livelihoods.
This culminated in a series of univariate, bivariate and multivariate analyses; I presented the research in a spring quantitative analysis symposium at American University. The poster is viewable here.
The ultimate conclusion from the research: Agricultural output value is strongly and negatively associated with forest expansion, coinciding with slow forest cover growth or even powering forest cover loss. In the alternative, a number other variables — all of which represent diversity in economic opportunity, livelihoods and lifestyles — have positive associations with forest cover growth. This all appears in several models of an OLS regression.
I've written a draft paper of the analysis that needs to be refined, edited and combined with an introduction, abstract and the results of my literature review — a summer project to be sure.
Anyone who wants some heavier reading can read that draft here. I'd welcome any and all feedback, even from complete strangers. (Forgive the writing. This was done in pieces and certainly is repetitive in phrasing.)
Tags: agriculture, american university, deforestation, fishing, forest cover change, forest survey india, india, multivariate regression, NREGA, ols regression, statistics, washington d.c.
Posted by Adam Jadhav | Filed under united states
Taking an 8-minute break from ruminating and writing about India's global economic engagement.
Tags: biodiversity, deep sea, marine, ocean, TED, washington d.c.
Posted by Adam Jadhav | Filed under united states
I'm in the middle of a giant research project on India's engagement with the international economy and what it means for sustainable development. So it's particularly weird when, as I read news stories from the Times of India about foreign institutional investor outflows, I am treated to Victoria's Secret ads.
I get that Web advertising senses where I am and delivers me local advertising. But VS ads seem a bit of stretch.
I suppose it does add humorous new meaning to portfolio investment's derogatory moniker: hot money.
Tags: advertising, economics, foreign institutional investor, india, internet, newspaper, portfolio investment, victoria's secret, washington d.c., wictoria's secret
Posted by Adam Jadhav | Filed under united states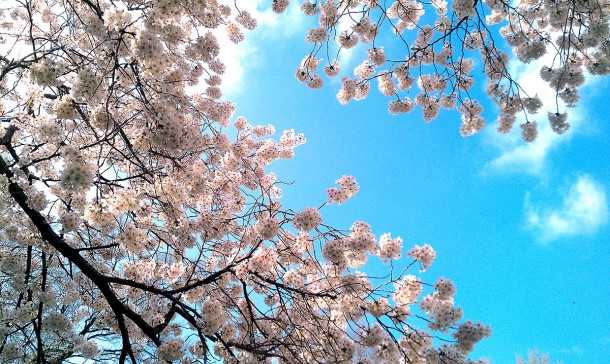 A season for Neruda.


Continue reading this entry » » »
Tags: american university, cherry blossoms, cherry trees, pablo neruda, seasons, sky through trees, sonnet 14, sonnet xiv, spring, washington d.c., weather
Posted by Adam Jadhav | Filed under united states
The NYT this week had a story noting that as the BP Gulf oil spill court case winds down, the Obama administration (cautiously) and the GOP presidential front-runners (with absolute abandon) want to open up U.S. coasts to more drilling.
Their flawed logic goes like this: More drilling = more oil = lower gas prices = happy voters = elected.
Hogwash and pandering. And unfortunately, it's hogwash left unchecked by the NYT.
Here's a bit of reality, that any reasonable natural resources economist could tell you: Any extra oil from drilling will come over decades, not months, and certainly not in time to save an election. And the amount of extra oil that does bubble up from the deep (at least that which isn't spilled again) will only be a drop in the world barrel.
Yes, oil prices are a function of world supply and demand. Just because it comes from our EEZ instead of someone else's doesn't mean we get it on the cheap.
So if oil prices are controlled by the world market, then so are gas prices. Sure, some extra oil will result in some decrease. That's likely going to be three or four cents, per government estimates. Consider that the Energy Information Administration in 2008 (under President George W. Bush, mind you) said that any impact from opening up a large new source (such as ANWR) will be almost nil.
And if the U.S. brings online more oil, OPEC could close down some production to keep the price higher.
Oh wait, and then there's ever increasing demand from China, India, Brazil and the other big developing economies.
So yes, hogwash. Whatever marginal amounts are obtained in the future from expanded drilling will do very, very, very little to decrease pain at the pump.
Sadly, the NYT didn't take the time — or even a couple grafs — to give this a bit of scrutiny. I'm sure their reporters and editors know it. But somehow that counter opinion was left out.
The answers instead can be found in alternatives, in a new economy and in new consumption patterns. For example: offshore wind, a green global public transportation network and using less energy.
Tags: 2012, barack obama, BP, consumption, economics, gasoline, newt gingrich, offshore drilling, oil, politics, washington d.c.
Posted by Adam Jadhav | Filed under united states
The President is now apparently waffling on the latest attempts to lay a new pipeline from Canada to the Gulf of Mexico. The administration last month announced it would review the pipeline again for additional social and environmental concerns. Those of us opposed were thrilled; the delay of more than a year would likely kill the pipe. If approved, the pipeline very well could be game over for the battle to stem climate change.
Then the John Boehner-led U.S. House decided to tack a pipeline rider to a tax cut extension. This has become a political wedge and word has it that Obama may now try to use pipeline approval to win other short-term economic aid.
Cough*bullshit*cought
I recognize that while writing a letter feels incredibly empowering it's still almost entirely symbolic. But I write to the president nonetheless. I'd encourage anyone else who cares about this to do the same.
Mr. President:

I was the 1,253rd person arrested protesting outside your house late this summer. That made me the final person to be cited for civil disobedience — officially failure to obey a lawful order — as we called on you to stem our planet's addiction to dangerous oil and, in particular, dirty crude from the Athabasca tar sands. Our nation's foremost climatologist James Hansen has called the Keystone XL pipeline "game over" for the battle to slow the tide of climate change.

Note: I'm not just a fringe tree-hugging hippy. I was a legal and political reporter at the St. Louis Post-Dispatch, raised in small-town middle America (central Illinois). I covered your campaign in 2008 as well as your efforts on behalf of others in 2006. I voted for you in your presidential run and your senate bid. I've followed you since Springfield and the state senate. I pay my taxes.

And I ride just left of center, politically.

Or at least I did. But the condition of our planet has convinced me to shed my neutral observer hat and don the fighting gloves an activist. That's why I'm in grad school at American University, researching global environmental policy and issues. That's why I was happily arrested in September for this cause. That's why I was shouting "Show me what democracy looks like!" outside your house again in November. And that's why I expect you to keep the promises you made when you were elected.

Sir, we need a fighter today; yes, the country is in dire straits economically, but you know as well as I do that short, myopic time horizons — the ones that set up the false environment-jobs dichotomy — only cause more problems in the future. Compromise is laudable to be sure, but how far will you bend?

You are a man of faith and morals; you and I pray our creator for the safety of those we love. Well, I believe that if we're truly made in God's image then we have a duty to look after our brothers and sisters and the lilies of the field as well. I heard you tell the world that we are our brothers' keepers. Well, sir, addressing the environmental destruction of our planet is part of fulfilling that responsibility. By helping to look after the planet, you help to look after all its inhabitants.

Please, stop thinking about what Boehner or Fox News pundits will say about you tomorrow or next month. Please, stop worrying about a future date with Mitt or Newt or Rick. Please, instead start thinking about what kind of a world Malia and Sasha and (some day) my children will need.

Respectfully but urgently,

Adam Jadhav
Tags: barack obama, climate change, conservation, environmentalism, keystone xl, pipeline, politics, president, tar sands, washington d.c.
Posted by Adam Jadhav | Filed under united states
There's been no sign of snow around, and the weather has actually been unseasonably warm until this weekend. But per tradition, I have had a decorated Christmas tree in my apartment and holiday music on the stereo for weeks now.
I actually bought the seven-foot Frazier fir on Thanksgiving itself (the grocery store was open and I had no desire to go the next day and put up with Black Friday crowds). In keeping with my goal of not using cars, I Metro'd and walked to a Whole Foods, bought the tree, carried it back to the Metro stop, rode in an almost empty car with my tied tree and then marched the rest of the way home.
I of course left a breadcrumb trail of needles and broken fir branches along the way.
The tree is spartanly decked with ribbon, white lights, wall hangings with sayings of the Dalai Lama and some strings of Indian door hangings, including the papier-mâché parrots. I also strung some holly garland around a few lamps and tied a long red ribbon around a door (giving it the loose impression of a wrapped present.
The apartment smells like a combination of cinnamon scented pine cones, a lovely sage candle and that beautiful fir.
I've also hung the annual string of lights across the top of the blog.
I realize this season is too often a celebration of gluttony and satisfying material addiction. But perhaps we can cleave to peace and goodwill amongst all, instead. Happy holidays everyone.
Tags: christmas, decorations, holiday, photography, tree, washington d.c.
Posted by Adam Jadhav | Filed under united states
I spent much the past semester debating all the various ways society and individuals might protect the environment. What else would you expect from a policy program?
One answer I stumbled upon and investigated is India's traditional form of local government, made constitutionally secure not quite two decades ago: the panchayat — literally the council of five.
Panchayats represent India's attempts at decentralization, the supposed transfer of powers from the central and state governments down to village-level actors. For the environment, this theoretically promises that resource, conservation and protection decisions are made at the level where they are actually felt. In reality, panchayats today are hardly robust institutions of local governance. They're mostly used as implementing agencies for India's development agenda. Meanwhile they face competition from other less than secure or democratic institutions specifically designed to manage resources.
I'm not promising it's the most riveting read; and I'm not certain I like the final product. This issue could be a much longer paper involving substantial field work. But click here if you really want to know.
Tags: american university, conservation, decentralization, environment, global environmental politics, government, graduate school, india, local government, natural resource management, panchayat, research, washington d.c.